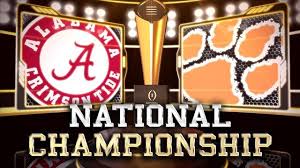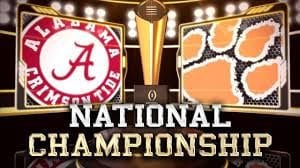 It's just about all done but for the game and our free pick. So here we go with our Clemson plays Alabama college football free pick for the National Championship. The Tigers are 13-1, having lost one game this season to Pittsburgh. The Crimson Tide come to this game with a perfect record of 14-0. Clemson won the Atlantic Coast Conference title and Alabama the Southeastern Conference championship.
Clemson and Alabama Numbers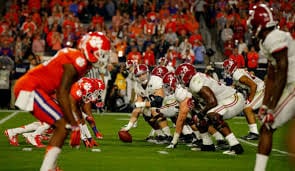 We focused on Clemson and Alabama statistics the other day. Here's what we found. First, on offense, points per game are Clemson 39.5 and Alabama 39.4. Clemson has a solid ground attack and an impressive aerial barrage. They have 42 passing TDs to Alabama's 25. The Tide has made 30 scores rushing, while Clemson has 28.
Those scoring stats when totaled have Clemson at 70 TDs and Alabama at 55 for a scoring gap of 15 TDs. The Tide makes up the scoring gap on touchdowns in three ways, field goals, turnover scoring, and punt returns. They have made seven more field goals and have run back four more interceptions for scores than tonight's opponents. Plus, 'Bama has four punt runbacks for scores and Clemson has zero.
Penalties can be huge and the Tide has a big advantage in that area. They have been penalized 77 times for 578 yards. The Tigers have taken 92 penalties for 835 yards. However, when it comes to converting on third and fourth downs, Clemson is better by about six percentage points in each scenario. They are also better at protecting their QB from sacks.
Quarterbacks and Offenses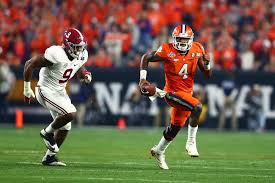 It is the freshman Jalen Hurts vs. the junior Deshaun Watson. Hurts has played well as a freshman QB. This is a huge game. It will be interesting to see how he handles the pressure. Watson has a mission, as does the Clemson team, and that is to win the title they almost captured last year.
Here's what we know. Hurts is an accurate passer with 22 touchdown passes and nine interceptions. He's also a solid runner with 12 TDs. The quarterback has been sacked 19 times. He's got accomplished receivers like ArDarius Stewart and Calvin Ridley and a running back, Damien Harris, who's averaging 7.3 YPA.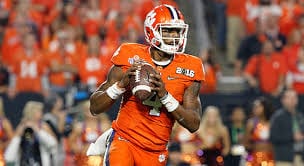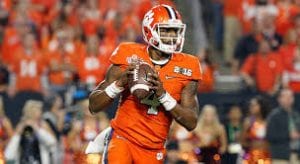 For Clemson, QB Watson is a bit more accurate in terms of completion percentage. He's thrown 38 TD passes, 17 INTs, and been sacked 13 times. And like Hurts, he can run, having averaged 4.1 YPA and scored eight touchdowns. Wayne Gallman is the primary back for the Tigers, averaging 5.1 YPC and scoring 16 TDs. Clemson is especially deep in receivers. They have four guys, including Mike Williams who leads all Clemson pass catchers with 10 TDs, who can break a game wide open.
Defenses
If this game comes down to defense, and it may, then Alabama has the edge when it comes to stats. Their defense has scored more points than Clemson's. Plus the Tide D is holding opponents to 11.4 PPG while Clemson's average is 17.1. Alabama has a better rush defense.
Sacks are even, while, and this may be an important figure, the Tigers have almost double the TFL that Alabama has. Clemson also has four more picks. The Tide outpaces the Tigers in QB hurries 80 to 36 and on forced fumbles 16-9.
Clemson Plays Alabama College Football Free Pick
So what does all of this come down to when it comes to our Clemson plays Alabama College Football free pick? In their semi-final game, Clemson shutout Ohio State 31-0, which was something that had never occurred to an Urban Meyer Buckeye football team. Alabama beat Washington 24-7 in their game to get to this final contest.
The latest lines have Alabama at -7.0 and the over/under at 51 points. We're going with Clemson today and taking the over, despite two amazing defenses. The game starts at 8:00 p.m. ET.
Clemson Plays Alabama College Football Free Pick: Clemson +7.0 and over 51