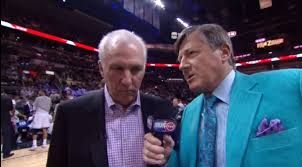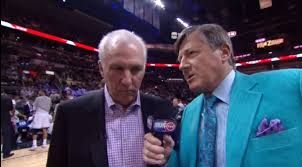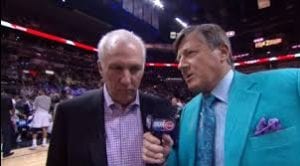 Craig Sager was a consummate professional broadcaster who was known for covering an array of sports, but who was best known for his work in the NBA. Players, coaches, and fans grew to truly admire Sager as he bravely battled acute myeloid leukemia while embracing all that life had to offer and was able to find joy in being alive even as his life was slipping away from him. As he noted, he was always a glass half-full guy.
Sager's Fight and Inspiration
Craig Sager was known for his direct reporting style and for his outrageous and loud togs. Players and coaches would often comment on his apparel before, during, and after an interview. It became clear as Sager fought the disease how much coaches and players admire him and how much they simply wanted him to live. They openly told him how he gave them strength and hope.
On July 13, 2016 at the 2016 ESPY Awards Vice President Joe Biden presented Sager with the Jimmy V Perseverance Award for the courage he showed in battling cancer. The terminally ill Sager gave a truly amazing and inspirational speech.
Sager said, as he faced his own mortality, "Time is something that cannot be bought; it cannot be wagered with God, and it is not in endless supply. Time is simply how you live your life."
Just two days before his death, on December 13, 2016, the sportscaster was inducted into the Sports Broadcasting Hall of Fame.
Craig Sager Passes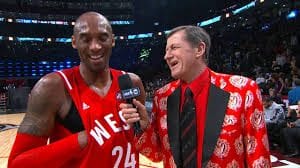 On the day he died, Turner Sports, for him he worked, noted in part, "While he will be remembered fondly for his colorful attire and the TNT sideline interviews he conducted with NBA coaches and players, it's the determination, grace and will to live he displayed during his battle with cancer that will be his lasting impact. Our thoughts and prayers are with Craig's wife, Stacy, and the entire Sager family during this difficult time. We will forever be Sager Strong."
Sometimes in sports it's important to keep in mind that it is just a game and that those who are involved in life's real battles can offer every one of us so much more than a three-point shot that gives our team the win as the last seconds drain off the clock. Sager, through his optimism, bravery, and love of life, which he exhibited to the very end, offered us such in his real life battle.
Craig Sager died on Dec. 15, 2016 at the age of 65 after a 40-year career in broadcasting. He will be missed but his spirit will live on a long time.