Football
Sports News
Week 5 College Football Coaches Poll: Ups and Downs
West Virginia Moves Up as Oregon Moves Out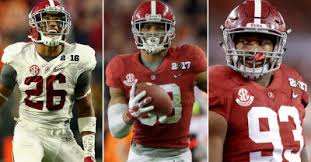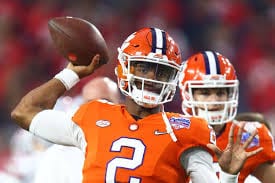 The 2017 week five college football Coaches Poll reveals some movement and some stability. The top teams may be established for the season. That is, until they lose a game, and then things will get shaken up again. Here's a look specifically at the Coaches Top 25 and how it's remained the same and changed from week four to week five.
Top Six the Same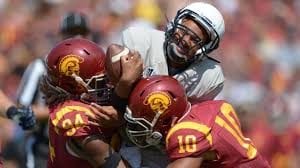 Teams that were ranked first through sixth in the fourth week remain in the same place. The Alabama Crimson Tide, which beat Vandy in a handy manner, 59-0, is ranked first, while Clemson, who took down Boston College 34-7, is second. Third ranked Oklahoma beat Baylor 49-41 to stay where they are. The fourth ranked Penn State Nittany Lions snuck by a tough Iowa team 21-19 to keep their ranking. Finally USC remained in fifth after beating California 30-20 and Washington held onto sixth, as they took down Colorado 37-10.
Dropping Down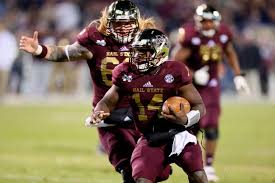 A few teams went down considerably between weeks four and five. One more loss by any of these teams and chances are they will be off the chart next week. Oklahoma State was seventh, but dropped to 14th as they lost to TCU 44-31. Florida State plummeted from 11th to 25th after they lost to unranked NC State 27-21. The Mississippi State Bulldogs, who just made it into the top 25 in week four being ranked 19th, lost to Georgia 31-3. MSST is now 24th.
Moving Up and Dropping Off
With their win over MSST, Georgia moved up from 12th to eighth. TCU also gained traction going from 15th to 11th with their win over Oklahoma State. One team dropped down and off the top 25. That was the Oregon Ducks who were at 24th. Oregon's loss to unranked Arizona State by two points was enough to shake them out of the rankings, which allowed previously unranked West Virginia, which soundly beat Kansas 56-34 this past week, to be ranked 23rd.
2017 Week Five College Football Coaches Poll: Games to Watch
Looking at the vulnerability factor, there are a few teams in the 2017 week five college football Coaches Poll that you want to watch this Saturday. These teams are involved in big games that could have a major impact on their status in week six.
#24 Mississippi State plays #13 Auburn tonight at 6 p.m. E.T. Auburn moved up a bit from last week's 16th ranking. As noted above, MSST lost a big game to Georgia last week after just getting into the top 25. One more loss and they are out. But with a win, they move up. We've got our Mississippi State at Auburn free pick ready for you. Although we doubt neither #2 Clemson nor #12 Virginia Tech will be off the top 25 with a loss, tonight's meeting between these two teams has major ramifications regarding where they will be ranked in week six. That game starts at 8:00 p.m. E.T.