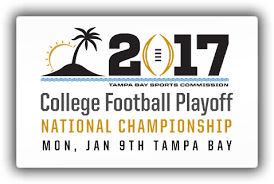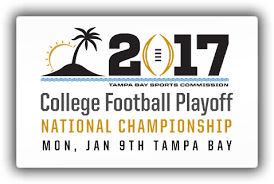 Okay, here we go again. As it was last year, the 2017 CFP Championship Game will have the Clemson Tigers playing the Alabama Crimson Tide. This is our first article on this matchup that will attract millions of fans and millions of sports bettors. Here's a look at the game and some considerations for sports bettors. The fact is a huge game like this has to be analyzed and considered much differently than other games.
Early Odds
The early odds have Alabama at -7.0. The over/under is at 51.5. The game opened with the Tide at -6.0 and the over/under at 54. Last year's game was 45-40 in favor of Alabama. Will the 2017 CFP Championship Game be the same type of event?
#3 Clemson Tigers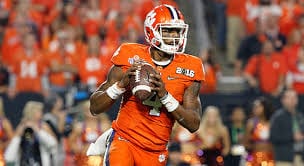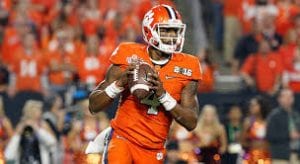 In the semi-final game, the Tigers took no prisoners when they beat #2 Ohio State 31-0. OSU coach Urban Meyer suffered his first-ever shutout of his successful coaching career. Clemson (13-1 Overall, 7-1 ACC) took the ACC Atlantic Division and then beat Virginia Tech 42-35 for the conference championship. They lost one game all season and that was to Pittsburgh 43-42.
#1 Alabama Crimson Tide
In their semi-final game, Alabama took down and pinned the #4 Washington Huskies earning a 24-7 victory in the Peach Bowl. The Crimson Tide (14-0 Overall, 8-0 SEC) had a perfect season. They won the SEC West and then beat the Florida Gators 54-16 for the conference title. For the record, Alabama played two close games this season. Their encounter with #19 Mississippi ended 48-43. Plus, the Tide got by LSU 10-0. They have impossible to beat. Can they win a second national title in a row?
2017 CFP Championship Game Betting
There should be a lot of betting on this game and there will be many bets placed by those who have not wagered on a college football game for the entire season. Big games attract fans with a passing interest in betting and bettors with a passing interest in the sport de jour. That means there will be a lot of wagering on the favorite, and although betting the favorite may make sense, it may not.
Here are a few points of advice:
Don't automatically bet the favorite
Don't automatically bet on either team, consider the over/under instead
Do your homework before betting
Don't get involved in props, as there should be quite a few
Stay focused on the basics of sound sports betting
We'll be posting more on the 2017 CFP Championship Game and these two teams. Next up will be a look at some of the important stats that define these team's offenses and defenses.