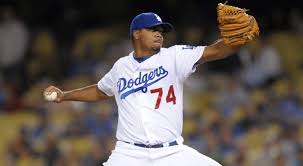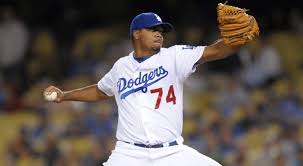 The 2016-17 MLB hot stove league news has begun to come out as some big deals have been made. The Boston Red Sox, New York Yankees made news at the winter meetings last week. Plus, the Los Angeles Dodgers sealed an important recently. Here's the skinny on some MLB hot stove contracts that may make a difference in 2017! They all involve pitching.
What a Relief!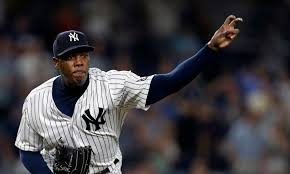 Perhaps the biggest 2016-17 MLB hot stove league news is a story involving the Yankees. Who else, right? What's a premium closer worth? Apparently, $86 million as that's the deal Aroldis Chapman got with the Yankees during the winter meetings in Florida. Chapman, a former Yankee, went to the Cubs midway through this season and helped them win their first World Series in forever. Now Chapman, who was a free agent, is back with New York. He signed for five years.
The Dodgers just made a deal with reliever Kenley Jansen for $80 million. That deal kept him with Los Angeles. The big deal that Jansen signed was certainly influenced by the fact that a bunch of other teams wanted and needed him. The Washington Nationals and Miami Marlins made bids to get him. But for Jansen there's no place like home. He decided to stay with the Dodgers.
Closing in on Other Closers
Before the Chapman signing, Mark Melancon got a record-breaking deal for closers with a four-year pact with the Giants. It's worth $62 million. Then the Cubs got a real deal as they traded for closer Wade Davis of the Royales, sending Jorge Soler to the Kansas City.
The Richer Get Pitchers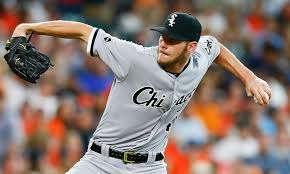 Then there are the Red Sox. They managed to suddenly have the best starting pitching in the AL. They did so by adding Chris Sale to their already massive roster of starters. Sale is a left-handed ace who has posted a 74-50 record over seven seasons and who has five double digit winning seasons in a row.
Last season with the White Sox, he had a 3.34 ERA with 9.3 K/9, 1.8 BB/9 and a 41.2 percent ground-ball rate in 226 2/3 innings. Since he became an ace, five years ago, Sale has garnered a collective 3.04 ERA with 10.0 K/9 and 2.0 BB/9 in a total of 1015 2/3 innings. He's a deal as far as salary goes. He'll get $12 million in 2017, and the Red Sox will then have on hand club options worth $12.5 million and $13.5 million for the 2018 and 2019 seasons respectively.
Lots of teams wanted Sale, including the Nationals, Astros, and Braves. The Red Sox sent prospects Yoan Moncada, Michael Kopech, Luis Alexander Basabe and Victor Diaz to the White Sox, a team that is in rebuilding mode. The starters the Red Sox have on hand include David Price and Rick Porcello, in addition to Eduardo Rodriguez, Steven Wright, Drew Pomeranz and Clay Buchholz. Wow!
More 2016-17 MLB Hot Stove League News?
There will certainly be more 2016-17 MLB hot stove league news to come. There are a bunch of deals still to be made. One thing we do know, the Dodgers, Yankees, and Red Sox are serious about the 2017 season.