NCAA Previews
#24 Iowa State Cyclones Preview 2019
Can ISU Offense Step Up?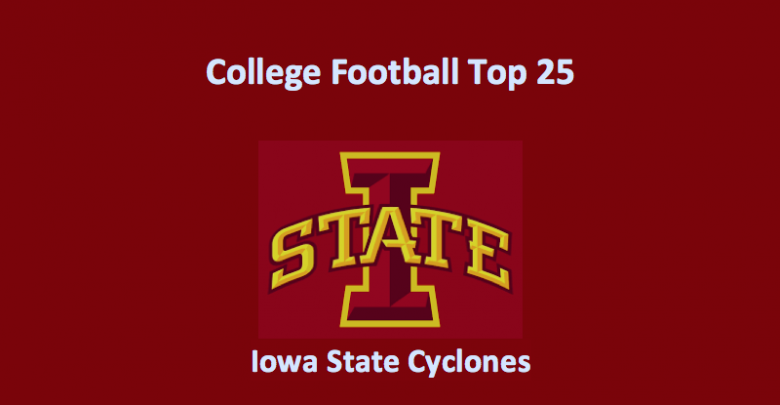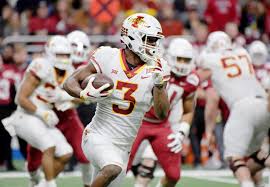 This Iowa State Cyclones Preview 2019 finds that this team may struggle to stay in the top 25. Our Iowa State Cyclones football preview for 2019 notes that this team has a solid defense but question marks on offense. In 2018, the Cyclones were third in the Big 12. They finished the regular season with a 6-3 conference record and an overall record of 8-4. In the postseason, ISU lost the Alamo Bowl to Washington State 26-28.
In 2018, the Iowa State offense averaged 371.0 offensive yards per game, ranking them 95th. Their pass attack ranked 57th (240.9 YPG) and ground game 111th (130.1 YPG). In terms of points, the Cyclones scored on average 26.8 PPG (82nd). The defense performed better, tying for 37th in points allowed (22.9 PG). They were tough versus the rush, giving up 115.0 YPG (14th). However, the D did allow 234.3 YPG in the air (72nd). In overall yardage allowed, ISU ranked 33rd (349.2 PG).
Iowa State Cyclones Preview 2019 – Offense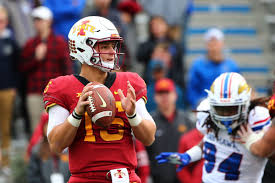 Sophomore QB Brock Purdy (66.4 COMP%, 16 TDs, 7 INTs) passed for 2,250 yards last season and rushed for 308, averaging 3.1 YPA and scoring five running TDs. As he did last season, Purdy will start. Two of Iowa State's top four pass catchers depart, including top receiver Hakeem Butler (60 REC, 22.0 AVG, 9 TDs). Returning is senior Deshaunte Jones (43 REC, 8.5 AVG, 4 TDs) and sophomore Tarique Milton (34 REC, 12.3 AVG, 1 TD). Joining the unit and adding depth is Arkansas graduate transfer La'Michael Pettway. Also, sophomore tight end Charlie Kolar (11 REC, 12.5 AVG, 3 TDs). He earned second-team All-Big 12 honors last season.
Gone from the Cyclone rush attack is two time All-Big 12 running back David Montgomery (1,216 YDs, 4.7 AVG, 13 TDs). He will be a tough talent to replace. Our Iowa State Preview 2019 does not expect the rush attack to improve. In fact, it could drop even lower than it was in 2018. Although Johnnie Lang (79 YDs, 3.6 AVG, 1 TD) and Sheldon Croney (56 YDs, 2.4 AVG, 1 TD) return having combined for 45 carries last season, there are two true freshmen who could get the nod, Jirehl Brock and Breece Hall. There is good news in that the O-line is much improved from last season. That could really help the ISU ground attack.
Defense and Special Teams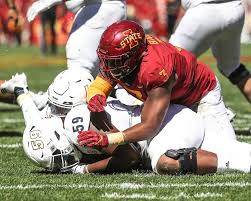 Our Iowa State Cyclones preview observes that seven of the team's top 10 tacklers return. Both the ISU defensive line and line backing group are experienced and skilled. Of the trio upfront, senior DE JaQuan Bailey (46TKLs, 8 SCks, 6.5 TFL) is the glue. Bailey, who has 18.5 career sacks, also posted five PBU and three QBHs last season. In 2018, this line allowed just 10 rushing TDs. The LB unit features Mike Rose (75 TKLs, 7.5 TFL, 5 QBHs) and Marcel Spears (69 TKLs, 5.5 TFL, 5 QBHs). NB Greg Eisworth (87 TKLs, 3 TFL, 5 PBU) topped the team in tackles. The defensive backs are a bit depleted, but they are experienced and include senior strong safety Braxton Lewis (70 TKLs, 2 PBU, 3 INTs).
On special teams, Milton (12 RT, 12.7 AVG, 0 TDs) is solid on punt returns. Also, Kene Nwangwu (24 RT, 26.8 AVG, 0 TDs) offers top-notch kick returns. Punter Corey Dunn (53 Punts, 40.2 YPP 23-53 In20) has an accurate and strong leg. Red-shirted freshman Brayden Narveson could take over kicking chores from Conner Assalley (36-38 XP, 16-23 FG). Assalley, a walk-on sophomore last year, did well at the start, hitting his first eight field goal attempts. His longest was 52 yards. But he struggled as the season wore on.
Coaching and Recruitment
Last year, for the second straight season, Matt Campbell (19-19 ISU, 54-34 Overall) was named Big 12 Coach pf the Year. Campbell, who starts his fourth season at the Iowa State helm, spent four seasons as Toledo's head coach. Tom Manning returns to ISU as offensive coordinator after spending last season as tight end coach for the NFL's Indianapolis Colts. From 2012-2015, Manning was OC for the Cyclones. Defensive coordinator Jon Heacock starts his fourth year with the team. Prior to that, he was DC for two seasons at Toledo and, prior to that, DB coach for Purdue and Kent State for a total of three years. Our Iowa State Preview 2019 observes that this year's recruiting class is ranked sixth in the Big 12 and includes two four-star and 20 three-star players.
Our Iowa State Cyclones Preview 2019 – Final Word
Our Iowa State Cyclones Preview 2019 notes that this team has not beaten the Iowa Hawkeyes since 2014. This could be the year they finally take back the Cy-Hawk Trophy. That game is at home on September 14. TCU at home on October 5 is a huge mid-season test for the Cyclones. Later, this team plays Oklahoma away on November 9 and then Texas at home the following week. If they can navigate at least two of those four games, ISU could take second or even first in the Big 12.
Click here to go back to Big 12
Click here to go back to NCAAF Hub