NCAA Previews
#16 Auburn Tigers Preview 2019
Comeback Season for the Tigers?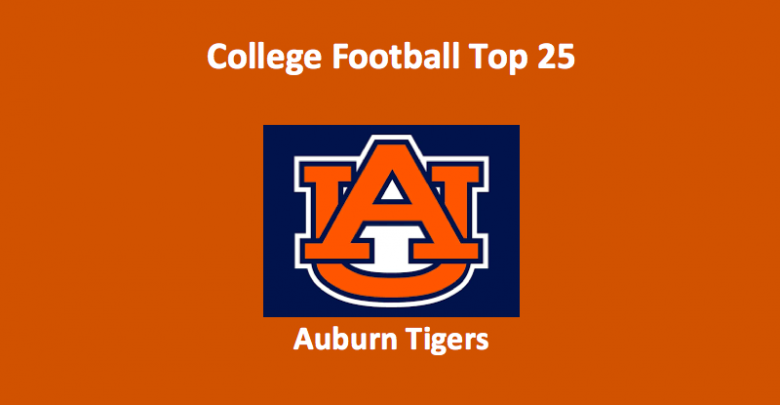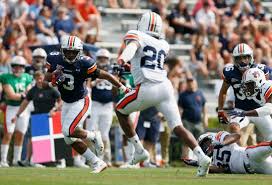 Our Auburn Tigers Preview 2019 sees the 16th-ranked team as having some challenges. In developing this Auburn Tigers preview we note that although the team was 8-5 overall, they were just 3-5 in the SEC West. They finished fifth in the division. The Tigers lost to LSU 21-22, Mississippi State 9-23, Tennessee 24-30, and Georgia 10-27. In their final game of the season, the Tigers were taken down by the Crimson Tide 21-52. But the postseason ended on an up note, as Auburn hammered Purdue 63-14 in the Music City Bowl.
Overall, the Tigers put up some good stats last season. They averaged 30.9 PPG (47th) and held teams to 19.2 PPG (14th). But their offense was mediocre at best, averaging 167.5 rushing (68th) and 222.5 passing yards per game (74th). Auburn was ranked 78th for total offensive yards with 389.8 PG. The defense did well versus the run, holding teams to 135.9 YPG (32nd). But they were less successful against the air game, as they allowed 219.5 YPG (58th). Total defensive yardage came in at 355.4 per game, which earned them a ranking of 38th.
Auburn Tigers Tide Preview 2019 – Offense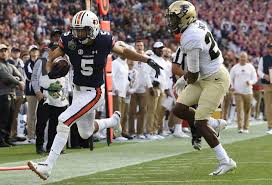 The quarterback question is a major one for this team. There's a boatload of true and red-shirted freshman in line for the job. Two primary contenders are early-enrollee Box Nix and red-shirted frosh Joey Gatewood. Both QBs are fine athletes, big, and dual threats. Plus, former minor league baseball player Cord Sandburg is in the wings. The other issue is the fact that Auburn's receiving group is depleted. The two top receivers from 2019, Darius Slayton (35 REC, 19.1 AVG, 5 Tds) and Ryan Davis (69 REC, 7.9 AVG, 1 TD), are gone. Seth Williams (26 REC, 20.5 AVG, 5 TDs), a sophomore, is the top returning receiver. Also back is sophomore pass catcher Anthony Schwartz (22 REC, 16.2 AVG, 2 TDs).
The four most productive rushers from last season return. That includes dual JaTarvious Whitlow (787 YDs, 5.2 AVG, 6 TDs). Along with 150 carries, Whitlow had 15 catches with two going for scores. Schwartz, also a capable double threat, rushed for 211 yards, averaging 7.8 YPA and scoring five times. The rush attack will be helped by what is one of the best offensive lines in the SEC, which sees just about everyone return.
Defense and Special Teams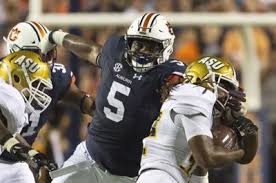 Once again, Auburn will have one of the best defensive lines in the nation. Returning are senior DE Marlon Davidson (46 TKLs, 3.5 SCKs, 11 QBHs), senior DT Derrick Brown (48 TKLS, 4.5 SCKs, 6 TFL) and junior BUCK Nic Coe (27 TKLs, 7 SCKs, 6.5 TFL). Our Auburn Tigers Preview 2019 observes that last season, Davidson led the team in QBHs, Brown was second in QNHs (6) and TFL, and Coe topped Auburn in sacks and TFL. They are formidable. Although the line is a strength, the LB unit could be a weakness. The linebackers are talented but they have less experience than one would like. Each of the four starting deep backs from last season come back. That includes senior safeties Daniel Thomas (74 TKLs, 3 PBU, 2 INTs) and Jeremiah Dinson (64 TKLs, 3 PBU, 2 INTs). Junior BC Noah Igbinoghene (50 TKLs, 11 PBU, 1 TD) had a stellar 2018 season. Senior FC Javaris Davis (41 TKLs, 8 PBU, 2 INTs) is also top-notch.
Junior Arryn Siposs (56 Punts, 41.9 YPP, 17 In20), an Aussie punter, had a fine season. On the other hand, last year freshman placekicker Anders Carlson (44-44 XP, 15-25 FG) missed 10 field goals. Then again, seven were from 50-plus yards. Carlson did hit two from 50-plus, including a 53-yard effort. On kick returns, Igbinoghene (11 RTs, 28.3 AVG, 1 TD) proved to be highly effective. Ryan Davis, who averaged 9.9 yards per punt return, has to be replaced.
Coaching and Recruitment
In seven of his eight seasons as a head coach, Gus Malzahn (53-22 Auburn, 62-30 overall) has been guiding Auburn. Over the past five years, the Tigers have posted one double-digit winning season. That was in 2017 when they beat Georgia, Texas A&M, and Alabama. The other four seasons, the Tigers earned either seven or eight wins and lost to Alabama and Georgia. There's a new offensive coordinator, Kenny Dillingham. Dillingham spent the three previous seasons in various capacities with the Memphis Tigers. He joins second-year Co-OC Kodi Burns. Neither will call plays. That will be done by Malzahn. The Co-DCs are Kevin Steele and Travis Williams. Steele was a Broyles Award finalist in 2018. Of the 21 recruits, seven are three-star, 11 four-star, and two five-star.
Our Auburn Tigers Tide Preview 2019 – Final Word
This team ended the 2018 season unranked. They made it back into the top 25 when the poll was taken for 2019 preseason rankings. Auburn is one of six teams from the SEC and one of four from the West to make it into the national rankings. The big question is will they stay there? They have a very tough season that includes a home opener against the Oregon Ducks and away games with Texas A&M, Florida, and LSU. They also play Georgia and, of course, Alabama. To be taken seriously on the national front, our Auburn Tigers Preview 2019 notes that the Tigers will need to win a minimum of half those games. Beating Oregon at the top of the season would give them a major boost.
Click here to go back to SEC West
Click here to go back to NCAAF Hub