NCAA Previews
2017 Sun Belt Conference College Football Preview
Appalachian State and Arkansas State Top The SBC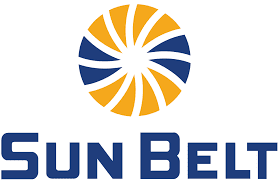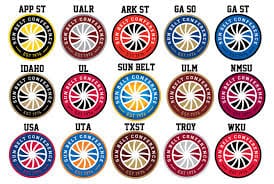 Like many college football conferences, the Sun Belt Conference (SBC) has 12 teams, but unlike other conferences there are no divisions. All 12 teams fight to be number one in the league. Our 2017 SBC CFB Preview sees five of those dozen teams being awarded bowl berths with the top team going to the Dollar General Bowl. Here's our look at each of the Sun Belt teams, including in what position each of the 12 six teams will end up.
Sun Belt Conference – Finish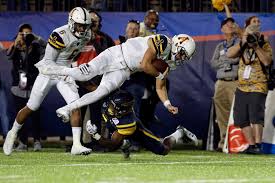 Last year, the three teams that finished in the first three places were Appalachian State, Arkansas State, and Troy. When the upcoming season ends we think that those same teams will be in those exact same spots. After that, teams start to move around a bit with New Mexico State showing the most improvement, going from 11th last season to sixth in 2017 and South Alabama showing the next-most movement upward from eighth to fifth.
By the way, Coastal Carolina makes a big move up by going from being at the FCS level to becoming a FBS program. They were 10-2 in 2016; we feel they will struggle in their first SBC season and end up in 10th place. The other schools in the SBC will either finish in the same place they did in 2016 or move a tad up or down.
1. Appalachian State Mountaineers
Appalachian State limited teams to just 17.8 PPG, while they averaged 29.2 PPG. With seven starters returning on both sides of the ball, you can expect the Mountaineers to once again be stingy on defense and productive on offense. There are a lot of veteran players, but not a lot of depth on this team. That means staying injury-free is essential. Senior QB Taylor Lamb, a dual threat, tossed 15 TD passes and ran for nine ore scores, while RB Jalin Moore was good for 1,400-plus yards and 10 scores. The D welcomes back top tackler DE Eric Boggs (98 TCKLS, 3 SCKS, 3 INTs) and top sack-man ILB Antonious Sims (7 SCKS, 5 TFL, 4 QBH). CB Clifton Duck led the team with five picks and eight passes broken up.
2. Arkansas State Red Wolves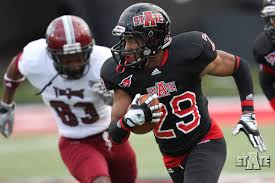 Arkansas State sees their top four performers on offense return, including junior QB Justice Hansen (57.9 COMP%, 2,719 YDS, 19 TDs, 8 INTs). The receivers on this team are accomplished but the rush attack can use a boost. The O-line is one of the weaker ones in the league. On defense, senior MLB Kyle Wilson, who had 79 tackles, 12.5 TFL and nine QBH and senior DE Javon Rolland-Jones, who notched 13.5 sacks, seven TFL and seven QBH, are both stellar. The Red Wolves will be very tough on defense.
3. Troy Trojans
The biggest problem for the Trojans is they don't get a chance to play Appalachian State. That will make it tough for them to have a real shot at the title. Like the Mountaineers and Red Wolves, the Trojans are solid on both sides of the ball. Eight starters return to the most prolific offense in the conference, averaging 33.7 PPG. Senior QB Brandon Silvers, who threw 23 TD passes in 2016, sees his top four receivers return. Plus, senior RB Jordan Chunn (1,288 YDs, 16 TDs, 4.6 YPA), and senior WR Emmanuel Thompson (80 REC, 10.2 YPC, 6 TDs) were both All-SBC picks last year. The defense includes veterans Kris Weatherspoon at corner/safety and Cedarius Rookard at free safety, each of whom had 52 tackles last season. The frontline and secondary are both especially accomplished.
4. Louisiana Ragin' Cajuns
The Ragin' Cajuns have a very tough schedule that includes seven taxing road games. This will work against them. Their defense is good, but not spectacular. Seven players return, including strong safety Tracy Walker who had three interceptions and three passes broken up. The team lacked a strong pass rush last season; they may be in the same boat in 2017. The Cajuns have to replace all major starters on offense. One area that may benefit is that of quarterback as junior Jordan Davis comes in after former QB Anthony Jennings tossed 11 TD passes and 13 INTs. Replacing star RB Elijah McGuire will be a whole other thing. The offensive line is sound and tough.
5. South Alabama Jaguars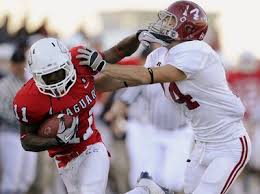 Over the past few seasons, despite some very fine play, this team has suffered from inconsistency. If they can alter that tendency, this team will have a fine season. One problem for the Jaguars is that there's not much splash on either side of the ball, but there is a lot of mediocre talent. Junior QB Dallas Davis, who tossed 11 TD passes and 12 interceptions, needs to be more accurate, while senior RB Xavier Johnson, who ran for 831 yards and 10 scores in 2016, could be a difference-maker. On D, MLB Darrell Songy, who led the team with 100 tackles and 6.5 TFL, and BC Jalen Thompson, who grabber four picks and had six PBU, are solid. Senior FS Jeremy Reaves (85 TCKLs, 5.5 TFL, 3 INTs) led the team in PBU with seven.
6. New Mexico State Aggies
If RB Larry Rose III can stay healthy in his senior year, he will have a major effect on this team's destiny. Last season, plagued by injuries, he ran for 865 yards and scored four TDs while averaging 5.4 YPA. Senior QB Tyler Rogers threw 16 touchdown passes, but he also tossed a dozen picks and connected on just 55% of his passes. He does have some decent talent at wideout. Nine players return on defense with the best being the linebackers. OLBs Dalton Herrington and Terrill Hanks each had more than 100 tackles and combined for 17 TFL. The pass defense is weak.
7. Idaho Vandals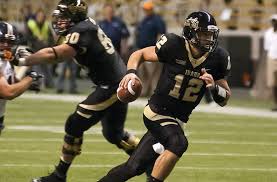 If the Vandals had a better O-line, they would be very dangerous with senior Matt Linehan (61.9 COMP%, 3,184 YDs, 19 TDs, 10 INTs) at QB and junior Isaiah Sanders (731 YDs, 9 TDs, 4.6 YPA) at RB. Plus, the ground attack group is deep. On defense, there are question up front and in the secondary, while the linebackers are sound. Junior MLB Tony Lashley, who led the team with 107 tackles and nine TFL, is the anchor.
8. Georgia Southern Eagles
The new offensive coordinator, Bryan Cook, will try to get what is a talented line on the same page. Running back, quarterback and wideouts are all questionable. Plus, the team will revert back to an option attack, which calls for a QB with lightning-fast decision skills. Look for a lot of adjustments on this side of the ball in 2016. Every unit of the defense is being rebuilt with the LB group being the most inexperienced. The team's top two tacklers from last season, Ukeme Eligwe and Ironhead Gallon, who each had 100-plus bring downs, are gone.
9. ULM Warhawks
Last season, the Warhawks scored just 23.3 PPG while giving up 39.1 PPG. There may be some uptick in points scored in 2017, but the defense, which teams ran over last season, still looks vulnerable. One question on offense is can Alabama transfer Derrick Gore help the rush attack? In addition, what about the QB spot? Last season, Garrett Smith struggled, as did Caleb Evans and Will Collins, all of whom started at the QB spot. Plus, the team used four starters at running back and eight at the wideout positions. ULM also has a tough early schedule, making four total wins difficult.
10. Costal Carolina Chanticleers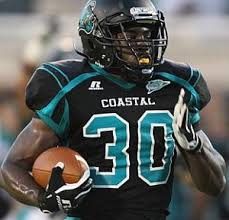 Along with going from being a FCS team to a FBS, the Costal Carolina Chanticleers find themselves in rebuilding mode. The quarterback spot is in flux but there is some depth there, the team's two top rushers are gone, and six of their 11 top tacklers have to be replaced. But we do think they will be competitive against the lower half of the conference. Plus, they open at home against Massachusetts. They could win that one.
11. Georgia State Panthers
Shawn Elliot comes to Georgia State after a partial year as the interim head coach for South Carolina where he went 1-5. Don't expect a lot from him or the team in this first season. Last year, the Panthers averaged just 19.9 PPG. With a weak ground attack and an under-average O-line, they'll have a difficult time doing much better in 2017. On defense, the secondary is in fine shape, but the front seven need a lot of work.
12. Texas State Bobcats
Texas State allowed 41.1 PPG last year, which earned them last place in that category in the SBC and 125th nationally. On offense, they scored just 18.6 PPG, which was once again last in the conference and this time 124th nationally. We don't expect much more this season, especially with the holes in the O-line and the lack of a pass rush.
2017 SBC CFB Preview
Bowl Projections
Appalachian State Mountaineers: Dollar General Bowl
Troy Trojans: New Orleans Bowl
Arkansas State Red Wolves: Camellia Bowl
Louisiana Ragin' Cajuns: Cure Bowl
South Alabama Jaguars: Arizona Bowl
2017 SBC CFB Preview
Projected Best Bets
It's important to realize that our 2017 SBC CFB Preview Best Bets are projections based on current information. A lot can occur during the college football season to change how we see the games listed below. Always take time to research and crunch the latest data.
Aug 31: ULM @Memphis- Memphis by no more than -28
Sep 2: Troy @Boise State- Troy at no less than +12.5
Sep 16: Appalachian State @Texas State- Appalachian State by no more than -22
Oct 12: Louisiana @Texas State- Louisiana by no more than -20
Oct 19: Louisiana @Arkansas State- Arkansas State by no more than -7
Oct 28: Arkansas State @New Mexico State- Arkansas State by no more than -28
Nov 18: Coastal Carolina @Troy- Coastal Carolina at no less than +10
Nov 18: ULM @Auburn- Auburn by no more than -30
Dec 2: Louisiana @Appalachian State- Appalachian State by no more than -21
Dec 2: Idaho @Georgia State- Idaho by no more than -23