NCAA Previews
2017 Conference USA College Football Preview
The Hilltoppers and the Red Raiders Are Favored For Now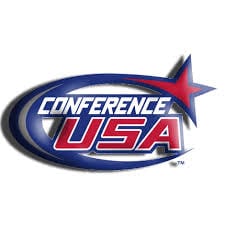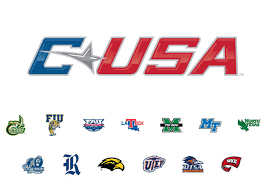 Of the 10 FBS conferences, Conference USA (C-USA) is considered to be the ninth ranked college football conference. Still, they offer some great teams and exciting play. Our 2017 C-USA CFB Preview offers sports bettors and fans a quick look at all 14 teams in this conference. About six teams from this conference will appear in some of the lesser bowl games. Along with fantastic action, C-USA clubs do have the potential to upset or cover against teams in the Big Ten, Big 12, ACC, and other major conferences.
In the East, we like the Western Kentucky (WKU) Hilltoppers, while in the West the Louisiana Tech Red Raiders will be the club to beat. Of those two teams, WKU is strongest, offering one of the better pass attacks in the nation and a strong D-line and secondary. The Red Raider 0-line is tops in the conference and will offer what is a fairly mediocre offense a big advantage.
C-USA East- Finish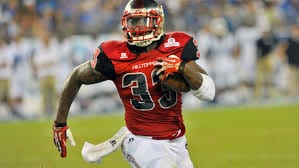 Coming into the 2017 season, the WKU Hilltoppers are the strongest team in the division, featuring one of the best LB unites and fine secondary, as well as a top quarterback. However, the Marshall Thundering Herd should not be discounted, as they field a tough D and feature a great pass attack. The Old Dominion ground attack will be difficult to stop, while Middle Tennessee's air game will be overpowering.
1. WKU Hilltoppers
Western Kentucky will be going for its third straight C-USA title. They will have to navigate a few unknowns to do so, including a questionable O-line and the fact that first-time head coach Mike Sanford Jr. takes over for the highly successful Jeff Brohm who moved onto Purdue. Senior QB Mike White, who threw for over 4,000 yards last year and made 37 TD passes while giving up just seven picks, will run the top-ranked offense and fifth-ranked passing game in the nation. Just four starters return on offense, but this team should still churn out points.
2. Marshall Thundering Herd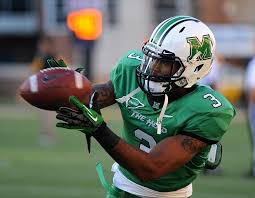 Marshall, which posted a 3-9 record last season, certainly underachieved on offense. Still, they see QB Chase Litton come back for his third season as a starter. In addition, the team has the best TE in C-USA, Ryan Yurachek. Although the receiving unit has lost some top players, there are some solid transfers and junior college guys coming on board. On defense, five of the team's top six tacklers return. However, on that side of the ball, which gave up 35.3 PPG, there must be improvement. The secondary is the strongest group on D.
3. Middle Tennessee Blue Raiders
Will this be the breakthrough season that the Blue Raiders have been in quest of finally come to fruition in 2017? The Bent Stockwell-to-Richie James connection is huge, as Stockwell threw 31 TD passes last year and James caught a dozen of them. Middle Tennessee averaged 39.7 PPG in offense. The LB group is stacked with starters and backups, but the frontline needs to be rebuilt, as new D-coordinator Scott Shafer takes on that task. The defense gave up 35.8 PPG; that has to change.
4. Old Dominion Monarchs
Who will be the QB? There's competition and that's a good thing, as David Washington, who tossed 31 TD passes and just five interceptions last season, is gone. The team's two top running backs, Ray Lawry and Jeremy Cox, who together scored 24 TDs, are back. Five of the team's top six pass catchers are also back. The Old Dominion defense was ranked second in points allowed and third in yards allowed in C-USA. The Monarchs have a massive pass rush.
5. Florida Atlantic Owls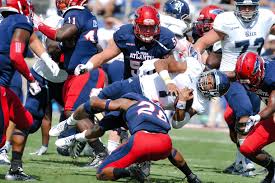 The defense has a lot of holes in it, and it has lost one of its best performers, Trey Hendrickson. The Owls are deep at receiver and running back. RBs Devin Singletary and Greg Howell scored 12 and 13 TDs and averaged 6.7 and 5.0 YPA respectively. Sophomore Andre Johnson looks to be the primary QB candidate, but there are two others who can fill the role. On defense, the line is very tough and anchors the second ranked D in the conference.
6. FIU Panthers
Panther first-year coach Butch Davis brings a 79-43 overall mark and 5-2 bowl record with him. He's a top recruiter who should see some very good results in a few years. There are also quite a few fine vets on the team and spread across various units. The offensive line is the weakest part of this team and needs underpinning. QB Alex Gardner is the team's best rusher, but needs to be more accurate when passing. On defense, nine of the team's top 10 tacklers return.
7. Charlotte 49ers
QB Hassan Klugh will look to improve over his initial season. Klugh, a senior, threw 13 TD passes and three interceptions. The team lost three key players, its top rusher, pass catcher and tackler, from last season. The 49ers are in rebuilding mode, as they return just six starters on both sides of the ball. This team will most likely not win as many games as it did last season, which came out to four.
C-USA West- Finish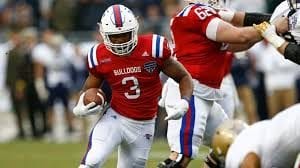 The strength of the Louisiana Tech defensive line will go a long way in controlling opponent rushing games, while their offense should be good enough to keep them in the hunt for first place in the C-USA West. The UTSA Roadrunners and Southern Miss Golden Eagles certainly come with their challenges, as the former is weak on offense, while the latter has issues on defense. However, both will play to their strengths and be involved in the divisional mix.
1. Louisiana Tech Bulldogs
Sophomore J'mar Smith takes over at QB but well be without last year's two top receivers, wideouts Trent Taylor who had 136 catches and Carlos Henderson who took down 82. Last season, the Bulldogs scored 44.3 PPG, which was second in the nation and conference, while allowing 33.6 PPG, which was sixth in C-USA and 97th nationally. DE Jaylen Ferguson, a junior, had 14.5 sacks last season. He will be a major force and leader on this team. The LB unit looks fairly strong, while safety Seedrick Cooper, who last season had 73 tackles, five TFL, and seven PBU, could be all-conference this year.
2. UTSA Roadrunners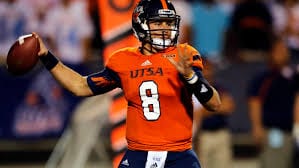 The Roadrunners see seven starters return on both sides of the ball. That includes QB Dalton Sturm, who last season passed for 20 TDs and ran for four more, while tossing six INTs, and LB Josiah Tauaefa, who led the team in tackles with 115 tackles, while also notching six sacks, seven QBH, and three TFL. Although Strum generated points, he needs to raise his completion percentage above 56.5%, and the Roadrunner secondary must step up.
3. Southern Miss Golden Eagles
Starting QB Nick Mullens has to be replaced but the possible candidates may not be adequate. In 2016, now senior RB Ito Smith ran for over 1,400 yards, averaging 5.5 YPA and scoring 17 TDs. WR Allenzae Staggers caught 63 passes, averaging 18.5 YPC and scoring seven TDs. The Eagle D was tough versus the pass last season, but two of their best pressure men are gone, however two others return. The best news on the D is that every starter will either be a junior or senior and that means solid experience all-around.
4. Rice Owls
The Owls will have eight starters return on defense, however this a D that gave up 32.6 PPG in 2016. There are a lot of issues on this side of the ball, as last season Rice had a tough time stopping both the run and pass. The best part of the defense are the safety spots, which are ably manned by senior Destri White and junior JT Ebi, while the corners are much less experienced. Senior ILB Emmanuel Ellerbee topped the team with 118 tackles while also posting 3.5 sacks, 4.5 TFL, and 3 QBH. The offensive line, which was a strength by the end of the season, welcomes back every starter.
5. North Texas Mean Green
This team won five last season but will struggle to hit that mark this year. Sophomore QB Mason Fine returns with a year under his belt and will hopefully improve, making better choices on the field. Junior RB Jeffery Wilson ran for almost 1,000 yards last season, while scoring 14 times. The Mean Green secondary is strong and deep, but the front seven are suspect and thin.
6. UTEP Miners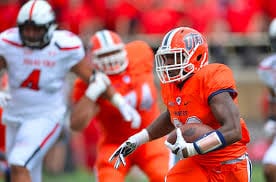 This is a young and talented team that should break through next season. Still, they will certainly make things interesting in C-USA this season. Junior QB Ryan Metz completed 67.4% of hos passes last season and hit for 14 TDs while throwing four picks. The biggest challenge for this team will be replacing their all-time leading rusher Aaron Jones and his 17 TD runs. The defense sees seven starters return, including some of their best defenders in the secondary and top LBs.
7. UAB Blazers
UAB welcomes back college football after a two-year hiatus. There's a lot of excitement, but also a lot of work to do. In 2014, the last time the Blazers had a team on the field, they finished third with a 3-3 divisional record and a 6-6 overall mark. This year UAB and coach Bill Clark will pull out a win or two, mainly because they managed to keep a decent number of players from 2014, and, also, they've attracted some good transfers. Still, this is a team that's basically starting from scratch. Look for them to surprise a team or two.
2017 C-USA CFB Preview
Bowl Projections
WKU Hilltoppers: Boca Raton Bowl
Marshall Thundering Herd: New Mexico Bowl
Louisiana Tech Bulldogs: St. Petersburg Bowl
Middle Tennessee Blue Raiders: New Orleans Bowl
UTSA Roadrunners: Arizona Bowl
Southern Miss Golden Eagles: Heart of Dallas Bowl
2017 C-USA CFB Preview
Projected Best Bets
Our 2017 C-USA CFB Preview Best Bets are basically futures. Like all futures, these are based on the latest available information. However, a lot can change during the course of a season so always research any game and teams on which you are going to wager prior to making any bet.
Sep 2: Northwestern State @Louisiana Tech- Louisiana Tech by no more than -17
Sep 9: Old Dominion @Massachusetts- Old Dominion by no more than -19
Sep 16: Middle Tennessee @Minnesota- Middle Tennessee by at least +21
Sep 21: Ball State @WKU- WKU by no more than -21
Oct 7: Louisiana Tech @UAB- Louisiana Tech by no more than -30
Oct 21: UAB @Charlotte- UAB by at least +10
Oct 28: UTSA @UTEP- UTSA by no more than -11
Nov 3: Marshall @ Florida Atlantic- Marshall even or by no more than -3
Nov 11: UAB @UTSA- UTSA by no more than -25
Nov 18: Charlotte @Southern Miss- Southern Miss by no more than -10