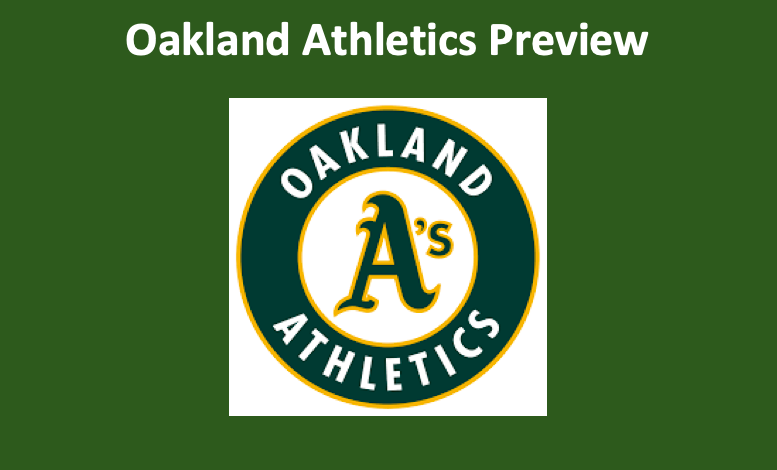 Our 2020 Oakland Athletics preview notes that the Billy Beane engineered Oakland A's are often playoff-bound. But they can't seem to do much more than get to the postseason. In 2018 and 2019, the Athletics recorded 97-65 records and both times they earned a wildcard playoff berth. But that's been it. Both times they lost in the wildcard game. From 2012 to 2014 when they made the playoffs, the A's never got past the division series. This 2020 Oakland Athletics preview finds that this team may simply suffer the same fate this season. That is if they can get to the postseason.
Oakland Athletics Preview – Pitchers
In 2019, Oakland pitching was ranked fourth in opponent batting average (.242) and ERA (3.97). The staff was third in shutouts with 12 and fourth in saves with 45. However, the Athletics tied Boston for first in most blown saves with 31. That made their save percentage a measly 59.21 (11th). Oakland pitchers kept the ball in the park, allowing just 201 homers, which were the third-fewest in the AL. They gave up the fifth-fewest walks, however, Oakland also recorded the 12th-fewest strikeouts.
Starters
In 2019, Sean Manaea (4 W – 0 L, 1.21 ERA, 0.78 WHIP) came back early from his 2018 shoulder injury. Although his velocity was down, he utilized his slider in a major way to get positive results. In the month he pitched, batters hit just .161 against him. Frankie Montas (9 W – 2 L, 2.63 ERA, 1.11 WHIP) looked like he was going to have a breakout season. But a PED suspension derailed him. His new splitter and 97-mph fastball were both effective. Third in the rotation, Mike Fiers (15 W – 4 L, 3.90 ERA, 1.19 WHIP) proved last season that along with pitching a team-high 184.2 innings, he had another no-hitter in him.
Jesus Luzardo (0 W – 0 L, 1.50 ERA, 0.67 WHIP) is the fourth starter. The top prospect, who sat out most of last season with injuries, brings a killer curve as well as a scorching fastball to the mound. Starting fifth, A.J. Puk (2 W – 0 L, 3.18 ERA, 1.32 WHIP), who spent all of 2018 and most of 2019 recovering from Tommy John surgery, looks ready to go. He features a 98-mph fastball and a 90-mph slider.
Relievers
Righty Yusmeiro Petit (5 W – 3 L, 2.71 ERA, 0.81 WHIP), who led the AL in appearances with 80, held batters to .221 OBP. In 2019, his rookie season, Lou Trivino (4 W – 6 L, 5.25 ERA, 1.53 WHIP) recorded 17 holds with his high-velocity fastball and tough-to-hit sinker. Liam Hendriks (25 Saves, 4 W – 4 L, 1.80 ERA, 0.98 WHIP), a righty, set an Oakland record for relievers averaging 13.1 Ks/9 IP. His four-seam fastball comes in at 96.5-mph as he posted a 37.3 K-rate.
Athletics – Everyday Players
Our Oakland Athletics preview observes that the team hit .249 (8th) while recording an OBP of .327, slugging percentage of .448, and OPS of .776. All three ranked fifth in the AL. They were fourth in dingers with 257. Oakland did not run much, as they had 60 steal attempts. They were successful 70% of the time. Overall, the Athletics were in the lower third of the league when it came to steals.
Oakland – Top of the Order
Marcus Semien (.285 BA, 95 RBI, 33 HR), who plays shortstop, has the leadoff spot. Last season, he scored 123 times, tying Reggie Jackson's club record. Semien's offense and defense improved as he came in third in AL MVP voting. Third baseman Matt Chapman (.249 BA, 91 RBI, 36 HR) bats second while first baseman Matt Olson (.267 BA, 91 RBI, 36 HR) is third. Chapman is one the AL's best two-way third baseman. He offers excellent defensive skills and power at the plate. Olson brings power to the plate. DH Khris Davis (.220 BA, 73 RBI, 23 HR) is the cleanup man. Davis, who dealt with numerous injuries last season, saw his production fall off. If he's on his game, he should hit 40-plus dingers.
A's – Middle and Bottom of the Order
Stephen Piscotty (.249 BA, 44 RBI, 13 HR), who plays right, hits in the middle of the order. He crushed lefties last year. His season was marred by injuries as he played just 93 games. Centerfielder Ramon Laureano (.288 BA, 67 RBI, 24 HR) bats sixth, and left fielder Mark Canha (.273 BA, 58 RBI, 26 HR) is seventh. Last season, Laureano hit .356 in the second half. In 2019, Canha put up his best numbers, earning the 30-year-old a permanent spot in the lineup. Eighth up is catcher Sean Murphy (.245 BA, 8 RBI, 4 HR). Murphy, a rookie this season, appeared in 20 games in 2019 hitting four homers. He's a top prospect. Second baseman Sheldon Neuse (.250 BA, 7 RBI, 0 HR) hits last. Neuse, another promising rookie, appeared in 25 games last year.
Oakland – Coaching and Management
Bob Melvin has been managing the A's since 2011. He works well with analytics and is a master at getting a lot out of very little. He knows how to handle the bullpen and the lineup. Billy Beane and GM David Forst are the best at what they do. However, what they do has its limitations especially in the postseason.
Oakland Athletics Preview – Our Prediction
Our 2020 Oakland Athletics preview finds that this team will come close to taking a wildcard spot. But we think that the Tampa Bay Rays and Chicago White Sox will beat them out by just a few games. The pitching staff has promise, but it also possesses some question marks. Between the promising rookies and aging veterans, there are some solid players in their prime. However, there are too many unanswered questions and variables concerning the 2020 edition of the Oakland Athletics.
Oakland Athletics Summary
Oakland Athletics – 2nd AL West (92 Wins – 70 Losses)