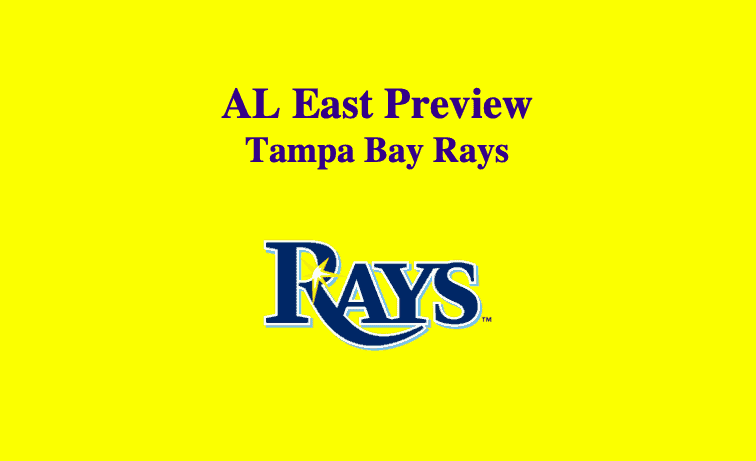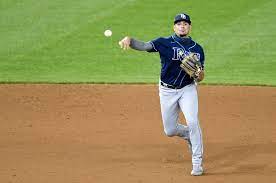 Our AL Tampa Bay Rays preview 2021 notes that last season this team had the best record in the league as they were 40-20. The adjusted mark was 108-54. They made it to the World Series playing the team with the best record in the majors, the Dodgers who were 43-17. The playoff road included victories over the Blue Jays (2-0 ALWC), Yankees (3-2 ALDS), and Astros (4-3). In the end, the Rays lost to the Dodgers four games to two.
Despite their success, during the offseason, Tampa Bay parted with starters Blake Snell and Charlie Morton as well as other members of their pennant-winning team. The ned to cut loose players was blamed on financial losses due to COVID. Although the Rays will be without some of their key players, GM Erik Neander is confident that they will be contenders once again.
AL Tampa Bay Rays Preview 2021 – Pitching
The pitching staff's 3.56 ERA was second in the league, while their 23 saves were first. Tampa Bay ranked fifth in opponent batting average (.238) and third in WHIP (1.22). The 70 homers they allowed and the 168 walks were the fourth fewest in the AL. Finally, the Rays recorded 552 strikeouts, which ranked second. This was an especially solid pitching staff.
Tampa Bay Rotation
Six-year veteran Tyler Glasnow starts his seventh MLB season and his fourth with the Rays. Last season, Glasnow, who relies on a stunning 98mph four-seam fastball and an 83mph curveball that arcs high and dips low, went 5-1 over 11 starts. He recorded a 4.08 ERA and 1.13 WHIP. In 57.1 IP, he notched 91 strikeouts while allowing 22 walks. He's the first man in the rotation, while lefty Ryan Yarbrough starts in the second spot.
Yarbrough started nine games and appeared in 11. He was 1-4 with a 3.56 ERA and 1.19 WHIP. Although he's been used as both a reliever and a starter, this season he appears to be firmly in the rotation. Yarbrough won't overpower hitters. Instead, he changes speeds and location while focusing on control. To that end, he uses an 83mpg cutter, an under-80mph change, and a low-speed fastball. His most effective pitch is his cutter, while his fastball suffers from a lack of movement.
Three through Five
This season, the Rays have signed a trio of longtime vets to bolster the three through five spots.
Eight-year veteran Michael Wacha comes from one season with the Mets to join the Rays on a one-year deal. He's the solid veteran, and it's hoped that he can use his experience and knowledge to its fullest to stabilize what is a young staff. Wacha, a righty, has had some good seasons, but over the last three seasons, his endurance and health have been a challenge. He'll use a medium-speed four-seam fastball as well as a change the utilizes a circle change grip. He'll also access an 89mph cutter. All of his pitches offer plenty of movement, keeping hitters off-balance.
After spending seven seasons with the Rays, righty Chris Archer went to the Pirates for three seasons. The righty returns to his original team for the 2021 season. Archer sat out 2020 due to surgery to relieve symptoms of neurogenic thoracic outlet syndrome (TOS). He appears to be healthy and could be a decent number four. Rich Hill, who's been a starter in the majors since 2005, can still offer innings and wins. Last year with the Twins, he started eight games and was 2-2 with a 3.03 ERA and 1.16 WHIP. He'll rely on two pitches, a 73mph curve that floats up and down and an 88mph fastball that bottoms out as it comes to the plate. He has four other pitches that he rarely uses.
Relief
Our Tampa Bay Rays preview 2021 observes that last season as a rookie Ryan Thompson made 25 appearances. Over 26.1 IP, he struck out 23 and walked eight. He had one save, four holds, and a record of 1-2. Thompson ended up with an ERA of 4.44 and a WHIP of 1.41. He uses a 77mph arcing slider as well as a 92mph sinker and 93mph fastball. The last two pitches offer a quick arc that tops out; the ball then dives downward in a straight line. Eight-year veteran Collin McHugh last pitched for Houston. He'll offer solid middle relief. Chaz Roe is a solid reliever who offers 60 or more appearances and innings a season.
At this point, Diego Castillo is the closer. Last season over 22 appearances, he was 3-0 with four saves, five holds, and two blown saves. He recorded an ERA of 1.66 and WHIP of 1.06. His 97mph sinker offers massive movement and his 87mph slider dips in and out. Both pitches are tough on batters.
Tampa Bay Rays Preview 2021 – Everyday Players
The Rays batted .238 (11th) while they had an OBP if .328 (4th). They were sixth in OPS (.429) and eight in SLG&% (.753). Their 243 walks, which were second in the AL, and 48 stolen bases (4th) certainly helped this team generate 289 runs (6th). The Rays were also sixth in RBI (274), second in doubles (104), and in a three-way tie for the top spot in triples (12). One problem area was the team's 608 strikeouts. No team in the American League struck out more times than Tampa Bay.
DH Austin Meadows comes up first with second baseman Brandon Lowe hitting in the second spot. After Lowe, it's left fielder Randy Arozarena and fourth up the productive x Ji-Man Choi, who plays first. Right fielder Manuel Margot steps up in the middle of the order. On the other side of the order, third baseman Joey Wendle is sixth and shortstop Willy Adames seventh. The last two spots go to centerfielder Kevin Kiermaier and backstop Mike Zunino.
Tampa Bay – Infield and DH
The middle outfield features two young guys who are ready to excel. At short, Willy Adames offers Gold-Glove caliber defense, and at the plate, he has 20-plus homer potential. Second baseman Brandon Lowe, last year's team MVP, hit .269 with 14 homers, 37 RBI, and 25 BB. He had an OBP of .362 and OPS of .916.
In the right corner, first baseman Ji-Man Choi proved that he could be an everyday player. while in the other corner, Joey Wendle looks to provide more consistent play than that offered by Yandy Diaz over the past few seasons. Choi, a solid fielder, proved to be a fine doubles hitter, while last season over 50 games, Wendle hit .286 with four homers, nine doubles, and three triples. He drove in 17 runs.
Catcher Mike Zunino is a defensive expert and an offensive liability. Although the Rays recognize his weakness at the plate, they opted to sign him again for his consistent play behind the plate. In 2020, DH Austin Meadows had a tough season, appearing in 36 games and hitting just .205. His season started with a tough COVID bout, and it was cut short due to an oblique strain. If he's healthy, our Tampa Bay Rays preview 2021 finds that Meadows has the potential to hit in the .290s and launch 30-plus homeruns while driving in 90 runs.
Outfield
Centerfielder Kevin Kiermaier anchors the outfield. In the field, he's got great range and a powerful arm. However, he underperforms at the plate. Randy Arozarena is in left and Manuel Margot in right. Arozarena is coming off of a highly productive postseason. The Rays will need his bat to be active throughout the regular season. In 23 games last year, he hot .281 with seven homers and 11 RBI. Margot is a sound fielder, but like Kiermaier offers little as a hitter.
AL Tampa Bay Rays Preview 2021 – Final Word
Our AL Tampa Bay Rays preview 2021 finds that this team will have yet another opportunity to run the table in the postseason. Kevin Cash, who was selected as 2020 AL Manager of the Year, certainly proved that he knows how to run the ship. His ability to convince his players to buy into a team-first approach and to skill in making the right moves based on matchups served him and the team well. The Rays will finish a close second to the Yankees.
Summary – Tampa Bay Rays Preview
Record: 95-67 (Second-place AL East)