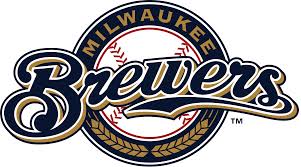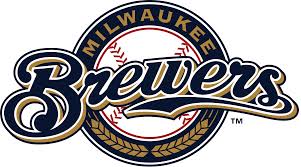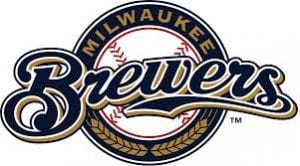 During the past five seasons, the Milwaukee Brewers (73-89) have finished out of the playoffs with their best showing being second in the NL Central with an 82-80 mark. In 2016, David Stearns was hired as Brewer GM. The 30-year-old started a youth campaign as he traded for various new talents. The results of his labors, which are not yet complete, will probably not be seen this season. But our 2017 Milwaukee Brewers preview sees the Brewers as having a bright future in a few years.
Starting Pitching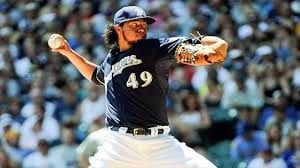 The top two Milwaukee starters for 2017 were not even on the roster on opening in 2016. Zach Davies (R, 11-17 W/L, 3.97 ERA), a youngster, and Junior Guerra (R, 9-3 W/L, 2.81 ERA), a vet with a tough to hit split finger fastball, both showed some great stuff last season. Also in the rotation is the number three starter in the rotation Jimmy Nelson (R, 8-16 W/L, 4.62 ERA) who had a great first half posting a 3.62 ERA and 77.0% strand rate and a disastrous second half with a 6.10 ERA and 64.2% stand rate. Once again, Matt Garza (R, 6-8 W/L, 4.51 ERA) had a tough time performing up to expectations due to injuries. The fifth starter, Chase Anderson (R, 9-11 W/L, 4.39 ERA), ended the season in fine fashion going 5-1 over 12 starts and posting a 2.56 ERA. Last season, this was a mediocre staff. This season they could move up a few notches.
Bullpen
There are some good candidates for closer, although exactly who it will be is not clear. We expect that Corey Knebel (R, 1-4 W/L, 4.68 ERA, 2 SV) will get the first shot as the closer role and Jacob Barnes (R, 0-1 W/L, 2.71 ERA) will be the setup man. There's competition for middle relief as Michael Blazek (R, 3-1 W/L, 5.66 ERA), Jhan Marinez (R, 0-1 W/L, 3.22 ERA), Tommy Milone (L, 3-5 W/L, 5.71 ERA), and others will vie for spots. Blazek had the ninth-highest walk rate (13.4%) amongst all relievers
Hitting and Fielding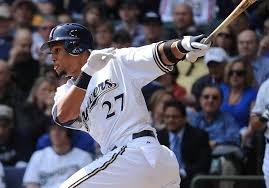 Second baseman Jonathan Villar (.285 BA, 19 HR, 63 RBI) has a good glove and an even better bat. He's a fine leadoff man and an able base stealer, leading the majors with 62 last season. At shortstop, prospect Orlando Arcia (.219 BA, 4 HR, 17 RBI) is a major talent who should blossom this season. Both corners are new as Eric Thames (.317 BA, 40 HR, 118 RBI), who's had three big years in Korea, comes to the Brewers for $16 million over three years. Travis Shaw (.242 BA, 16 HR, 71 RBI) comes over on a deal with the Red Sox. Shaw brings some very fine offensive tools and a decent glove. Two young catchers will share those duties. Andrew Susac (.235 BA, 1 HR, 2 RBI), formerly with the Giants, and Jett Bandy (.234 BA, 8 HR, 25 RBI), who was with the Angels, will be behind the plate. Sucsac is better on offense, while Bandy offers more refined defensive chops.
In the outfield, Ryan Braun (.305 BA, 30 HR, 91 RBI), who in 2016 moved from center to left and played with a surgically repaired back that held up fine, found his swing again. He'll bat third, while Keon Broxton (.242 BA, 9 HR, 19 RBI), who made center his own midway through 2016, will be at the plate just before him. Domingo Santana (.256 BA, 11 HR, 32 RBI) had a strong finish late in the season, hitting .301 and crunching seven homers in his last 24 games, looks to start in right field. The team was last in the league in fielding percentage with a .978 mark. They should do better this season.
Coaching and Management
Stearns will not be spending piles of money, but he'll be looking for deals as well as bringing guys up from the farm. Manager Craig Counsell, who's a local boy, just signed a three-year extension. Counsell is good with young talent, and like GM Stearns, has a lot of energy to put towards the rebuilding effort.
2017 Milwaukee Brewers Preview Final Word
In our 2017 Milwaukee Brewers preview, we don't expect this team to show a lot of progress, but the Brewers will reveal enough to make them interesting. We think that both Stearns and Counsell will work well together and expect Milwaukee to have a bright future.
2017 Milwaukee Brewers Preview Projected Finish: 4th in NL Central