Legal
Sports Betting Legalization: Rhode Island Stays Busy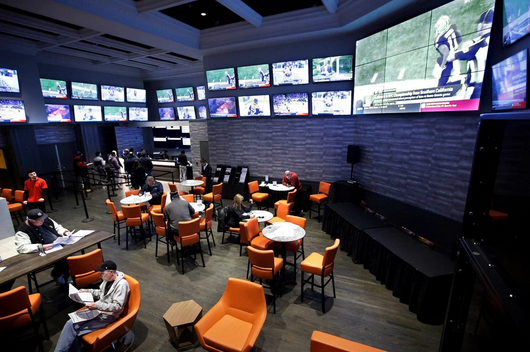 The struggles of states attempting to legalize sports gambling is well-documented. The legal hoops to jump through are many and yes, that was to be expected. However, some states have had a much easier time than others, and you can count the great state of Rhode Island as one of them. In fact, Rhode Island has now done it twice for two consecutive years. Their House of Representatives put in more work just last week and passed a bill that will authorize statewide online and mobile wagering. Rhode Island sports betting first became legal last year, however, implementation was restricted to in-person betting only and is available at their two Twin River casinos. This Senate bill now awaits a signature from Governor Gina Raimondo. It was her 2019 budget that deserves the credit for the state's original law, so we can chalk this up as a sure-thing.
Mobile Time
Once it is passed, this bill will allow Twin River to launch a sports betting website with a mobile app for eligible bettors anywhere within the entire state of Rhode Island. As mentioned, this is all as good as done as there have been no problems with moving the legislation forward at any point in the process. The Senate first considered the bill back in early February, then turned around and passed an amended version of it only one week later. The measure made it through the lower chamber in a similar fashion, culminating in a one-sided 64-8 vote.
Despite the strong support, there are some lawmakers in the state who still have some reservations about the legality of online sports betting under their pre-existing statutes, and Rep. Blake Filippi is among these skeptics. He has put forth a motion which would add an intermediate step to the whole process. His amendment would have asked the Rhode Island Supreme Court to rule on the constitutionality of the legislation, specifically on whether online betting constitutes an unlawful "extension of gambling activities." Of course, it is online sports betting which sparked the entire legalization movement because of its immense popularity. Plus, this is a popular bill. Members of the House defeated the Rep. Filippi-proposed amendment by a vote of 62-10.
If There Has Been a Roadblock, It's Been Mobile
When Rhode Island first considered sports betting after the U.S. Supreme Court overturned the dreaded PASPA in May of 2018, the "mobile betting" question was the first issue to almost derail the early inertia. Of course, the very next day after the Supreme Court's decision, the state's lawmakers set the tone for Rhode Island sports betting with a pair of well-attended committee hearings. Although it wasn't part of the final bill, mobile betting was part of that hearing, as was DraftKings.
Perhaps unwittingly laying the mobile betting groundwork, Sarah Koch, the DraftKing's assistant director of government affairs, even visited Providence to testify on behalf of what was, at the time, solely a Daily Fantasy Sports company. Here's what Koch had to say about mobile betting:
"In most case law the precedent shows that what matters is where the bet is accepted — not necessarily where the bet is placed. So as long as the casino is accepting the bet from their location, they could accept them from anywhere within the state of Rhode Island."
The lawmakers were unconvinced at the time, leading to all mobile betting options being left behind in early legalization talks. However, the legal opinion DraftKings presented may have changed the minds of some members of the statehouse. The new bill essentially follows the exact same logic Koch laid out. An excerpt:
…Wagers are accepted by a server-based gaming system located at the premises of a hosting facility authorized to accept sports wagers and administer payoffs of winning sports wagers; all such wagers shall be deemed to be placed and accepted at the premises of a hosting facility.
Despite DraftKings' initial interest in opening a sportsbook there, the door to the Rhode Island market has officially been closed. The Rhode Island Lottery administers sports betting, and licensure is now exclusive to the Twin River properties only and they have partnered with the combination of IGT and William Hill to power their retail sports betting products. Because of this deal, there's no reason to expect that relationship to change under any new expanded law.
Although the bill allows wagering anywhere within the state, it does require in-person registration at a casino, and this has been the trend in many states with mobile betting. It will not facilitate entry for any external brands, including the likes of DraftKings Sportsbook and FanDuel Sportsbook. There is no announced timeline for mobile expansion just yet. However, if there is one state that can get it done quickly, you can bet it's Rhode Island.