Legal
Illinois Sports Bill Already Influencing Other States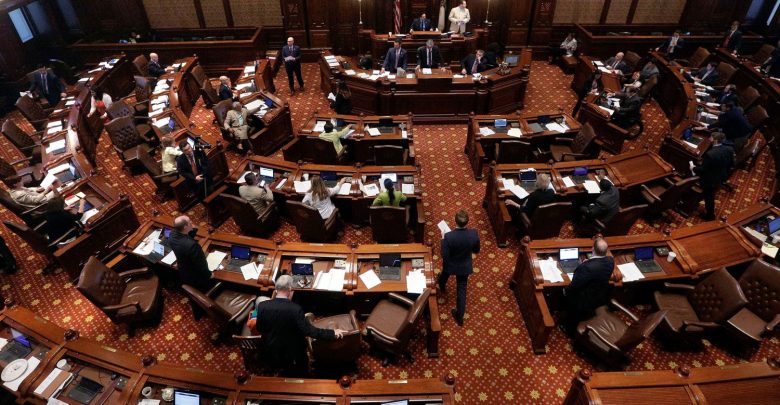 Sports betting will soon be legal in the state of Illinois as their legislation has been written and passed on to the governor who is expected to sign it soon. It was an interesting bill, to say the least, and many observers, including other statehouses, are noting its contents. One of the unique features of the Illinois sports betting legislation involves licensing sportsbooks to operate inside sports stadiums. A very interesting proposal and it certainly caught the eye of the folks in New York. In fact, sports gamblers in the Empire State may soon be able to place wagers on the New York Knicks and Rangers from Madison Square Garden or even the Yankees at Yankee Stadium.
Borrowing directly from the Illinois sports betting legislation, Sen. Joseph Addabbo Jr. has just introduced an amendment to his sports betting bill which would expand legal sports betting to racetracks and off-track betting parlors as well as sports stadiums and arenas. According to his amendment, these facilities could take part in New York state sports betting as affiliates. Of course, this won't be easy as they would have to be partnered with casinos to use their mobile wagering platforms and host their self-service mobile sports betting kiosks. The difficulty lies in the fact that the mobile issue of sports betting in New York is far from resolved.
However, if they are able to connect those in-stadium kiosks on the affiliate's premises to a physical casino, lawmakers believe it would satisfy the state's constitutional concerns. It is important to remember that in 2013, New York voters approved New York sports betting, but only at their four commercially-owned casinos. Therefore, the kiosks would have to be affiliated with one of those four casinos.
Sen. Addabbo Doing the Work
When the New York bill was voted through the Senate's Racing, Gaming, and Wagering Committee last month, many members were upset with the horse racing industry, i.e., racetracks, racinos, and off-track betting establishments, being completely removed from the legislation. Sen. Addabbo was one of these members and stated he would be looking for an opportunity to re-add the racing industry back into the bill before its final passage. When Illinois came through with stadium betting, Sen. Addabbo was quick to notice. He even proposed that casinos would be allowed to offer betting on horse races as well. It may be a tough sell, but Sen. Addabbo is doing the work.
Another compromise is with the timeline. While sports betting at all New York Racing Association facilities and off-track betting establishments could start at the same time as upstate casinos, this amendment will have a regulatory delay period of 12 months after the effective date of the law before sports betting would be allowed at racinos or video lottery terminal locations. Similarly, there would also be a 20-month regulatory delay period before sports facilities would be permitted to have sports betting. Also, there will be a few zoning issues as the amendment allows that a professional sports stadium or arena may serve as the affiliate only in a county that does not have another affiliate.
Much Actually Remains the Same
Outside of the addition of the stadiums and racetracks as sportsbooks, the amendment doesn't take any more cues from the state of Illinois. Except for the addition of the affiliate language, most of the key ingredients of S 17B are exactly the same as the previous amendment made by Sen. Addabbo along with Assemblyman Gary Pretlow last month. For instance, there will be no requirement for in-person registration such as in Illinois and only one skin allowed per casino license. The very unpopular "integrity fee" of .020% remains as well with an initial license fee of $12 million. The tax rate of 8.5% for brick-and-mortar wagering also remains as well as the 12% for mobile wagering. And, in another giveaway to the leagues, casinos are required to use official league data for in-play wagers if the data is made available on commercially reasonable terms as determined by the New York Gaming Commission.
But What's Next
This amended Senate bill was recommitted to the Senate Finance Committee. However, all of the aforementioned efforts and ideas could be for nothing if Governor Andrew Cuomo doesn't change his tune on the legality of mobile wagering and mobile servers located on casino properties. This has been a hangup for months in New York as Governor Cuomo has considered mobile wagering throughout the state as a non-starter. Of course, everyone has noticed that mobile wagering has resulted in over 80% of revenue legal sports betting has produced in New Jersey, and this fact must have reached the Governor's Office by now. Timing is a big obstacle as well because there are less than two weeks left in the legislative session, which ends June 19, so there isn't much time to change the governor's mind. Illinois and Addabbo have done all the work, let's see what Governor Cuomo does.