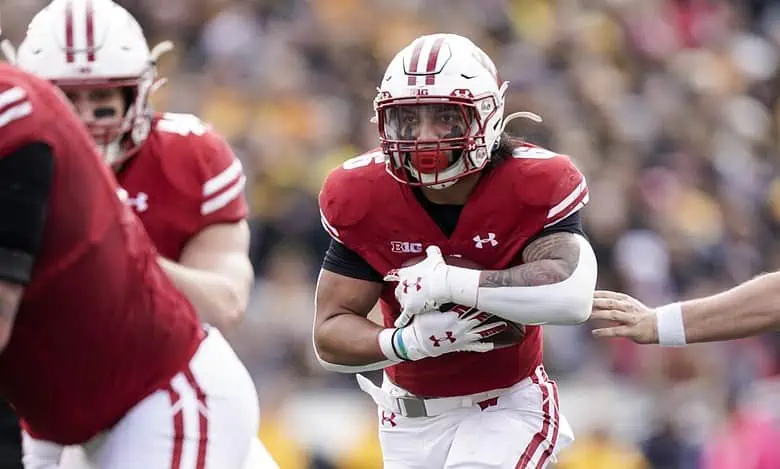 Week 4 of the college football season is already underway, and there is a pretty big battle in the Big Ten set to take place on Friday night. The Purdue Boilermakers are set to host the Wisconsin Badgers, and this is an important game in the Big Ten West Division.
Wisconsin comes into this game with a record of 2-1, and the lone loss came on the road at Washington State. The Badgers are one of the two co-favorites to win the West Division this season, but winning on the road isn't easy.
Purdue has gone just 1-2 so far this season, but their lone win was an impressive one over Virginia Tech. This team hasn't beaten Wisconsin in nearly two decades, and they are underdogs in that mission this season.
Wisconsin is a 5.5-point betting favorite on the road at Purdue in this Big Ten Conference showdown on Friday night.
Badgers Running Over Opponents
The Wisconsin Badgers come into this game averaging 440 yards per game on offense, and most of that damage has been done on the ground. Wisconsin is averaging over 200 rushing yards per game, and they will be looking to run over Purdue in this one.
Running back Chez Mellusi has carried the ball 40 times for 268 yards this season, and he has also found the end zone four times. Wisconsin is not going to be giving up on the rushing attack anytime soon in this one, as they are facing a defense that has struggled.
The Badgers have allowed 368 yards per game this season, and that defense is going to need to step up in a big way in this game. Wisconsin isn't facing an explosive offense, but they can't allow any big plays.
Purdue Can't Get Stops
The Purdue defense has been a disaster at times this season, and that is something that has to change as Big Ten Conference play begins. Purdue has allowed over 409 yards per game, and they are going to be tested at every level in this game.
Running back Devin Mockobee is a weapon for this Purdue team, and he is going to have to be a big key in this game. The Boilermakers are going to be willing to throw the football more than Wisconsin, but they can't afford to make any mistakes.
Playing at home is going to give Purdue a slight boost in this one, but at some point, this team is going to have to prove that they can make some stops.
Wisconsin Marches to Victory
This is the first Big Ten matchup of the season for each team, and those conference games are typically played a bit differently than other games. It's all about toughness and running the football in the Big Ten Conference, and that's what Wisconsin does best.
Purdue will get a nice boost from the home crowd in this game, but that's not enough to help them pick up an outright win in this matchup. The Boilermakers are going to struggle to stop the Badgers in this one, and the road team will get some separation late.
Bet the Wisconsin Badgers -5.5 as they have little trouble beating up on Purdue and covering the spread in this game.