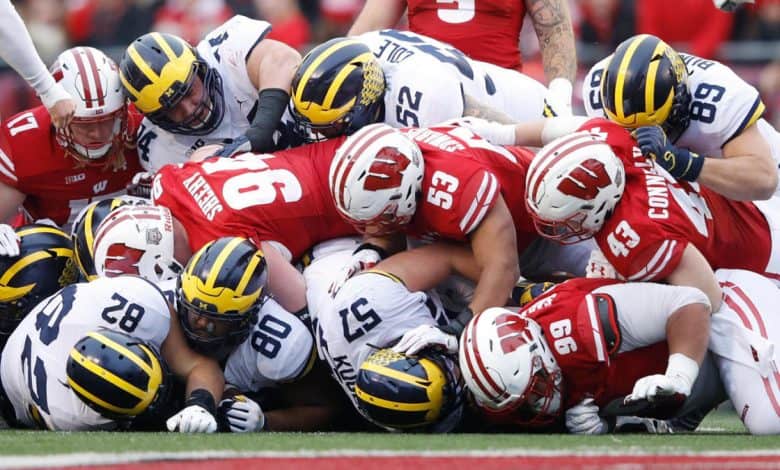 Prior to a national pandemic, this matchup was anticipated as being a top Big Ten Conference contest. However, COVID smacked the college football scene and upended the Big Ten schedule before the season began. Now, the Michigan Wolverines (1-2, 1-2 Big Ten) battle the Wisconsin Badgers (1-0, 1-0 Big Ten) in Week 4 of conference play, with Wisconsin playing just their second game of the season after two weeks of canceled contests due to the coronavirus. Kickoff is at 7:30 p.m. EST at Michigan Stadium in Ann Arbor, Mich. Wisconsin is a -4.5 point favorite on the road according to oddsmakers.
What to Know – Michigan Wolverines
An opening week drubbing of Minnesota built up expectations for the head coach Jim Harbaugh and the Wolverines, but those expectations were quickly dashed with consecutive losses to in-state rival Michigan State and Indiana.
Joe Milton has taken all but four snaps at quarterback for Michigan this season. The junior has completed 65-of-107 passes for 869 yards, four touchdowns, and two interceptions. Milton's two interceptions came last Saturday in their loss to the Hoosiers.
Michigan got stuffed all Saturday trying to rush the ball, garnering just three total yards on the ground. Junior running back Hassan Haskins totaled 19 yards on six carries, bringing his season total to 157 yards and three touchdowns.
Junior wide receiver Ronnie Bell was a bright spot for the Michigan offense, catching six passes for 149 yards and one touchdown. Bell's reception and yards total were a season-high, and his touchdown was his first of the season.
What to Know – Wisconsin Badgers
An opening week blowout victory over the Illinois Fighting Illini is the only competition the Badgers have gotten to engage in this season. The 45-7 victory was a statement game for Wisconsin as they try and work their way into the College Football Playoff picture.
Freshman quarterback Graham Mertz was phenomenal in his first start as a Badger. Mertz completed 20-of-21 passes for 248 yards and five touchdowns. His completion percentage was a school record.
Garrett Groshek (13 carries, 70 yards) and Nakia Watson (19 carries, 62 yards) split the majority of the carries for the Badger in the blowout. Fullback John Chenal plunged in from two yards out for the lone rushing touchdown for the Badgers.
Wisconsin's wide receivers had a field day against the Illini defense led by Jake Ferguson, who caught seven passes for 72 yards and three touchdowns. Danny Davis II added two receptions for 72 yards and one touchdown.
The Pick is In
After a two-week hiatus, you can expect some rust from the Badgers squad. In an odd year with already two losses, it will be interesting to watch how much effort the Wolverines show with their season already dashed and their head coach's job in question. Vegas has been all over with their Big Ten lines this season, and this one is another we can't wrap our head around. Wisconsin covers, and covers easily.
The Pick: Wisconsin -4