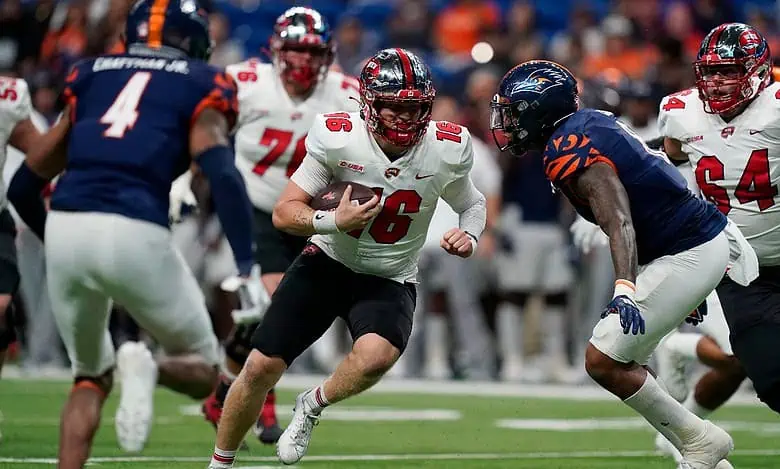 College football is no longer reserved for being played on Saturday as there are now games that take place throughout the week. The Western Kentucky Hilltoppers face off against the Jacksonville State Gamecocks on Tuesday night to get the college football season started.
Western Kentucky is coming into this game with an overall record of 4-2, and they have rattled off two straight wins. The Hilltoppers have also had some tough losses throughout the year, but they are clearly playing with momentum.
Jacksonville State has gone 5-2 so far this season, but they just suffered a 31-13 loss in their most recent game. The Gamecocks are going to need to bounce back and regroup in a hurry if they want to pick up another win.
Western Kentucky is a seven-point betting favorite on the road in this matchup with Jacksonville State.
Hilltoppers Have to Defend
The Western Kentucky Hilltoppers have won two straight games, but at some point, this team has to find a way to get stops. Western Kentucky is allowing 460 yards per game this season, and that defense simply has to be better.
The reason that Western Kentucky has been winning games is the fact that they have an offense that can light up the scoreboard. Western Kentucky is throwing for nearly 290 yards per game, and they are always taking shots down the field.
Quarterback Austin Reed has thrown for 1,665 yards and 14 touchdowns this season, and he is going to be a big key in this game. Look for the Hilltoppers to continue to be aggressive in this matchup.
Gamecocks Love to Run
The Jacksonville State Gamecocks are rushing for 204 yards per game this season, and they want to keep the ball on the ground. This team needs to give their defense a chance in this one, and running the ball is one way to make that happen.
Quarterback Logan Smothers is going to need to play well in this game, but he has thrown for just 638 yards and five touchdowns this season. Even though Jacksonville State wants to slow the game down, at some point, they will have to hit on big plays.
Jacksonville State is giving up just 362 yards per game this season, and that defense has played exceptionally well in wins. Playing at home should give the defense an added boost or some energy in this matchup.
Jacksonville State Battles in Defeat
These two teams are extremely different in how they play, but they have both been getting similar results throughout the season. Home field advantage is going to end up mattering in this matchup, and that's why you can't ignore the Gamecocks in this one.
Ultimately, it will be the passing attack of Western Kentucky that takes control of this matchup as they are able to get points in a hurry. It's going to be a late scoring drive that sets the Hilltoppers up for success, and they will win their third straight game.
Take the seven points in this matchup and bet on the Jacksonville State Gamecocks, but Western Kentucky picks up the win.