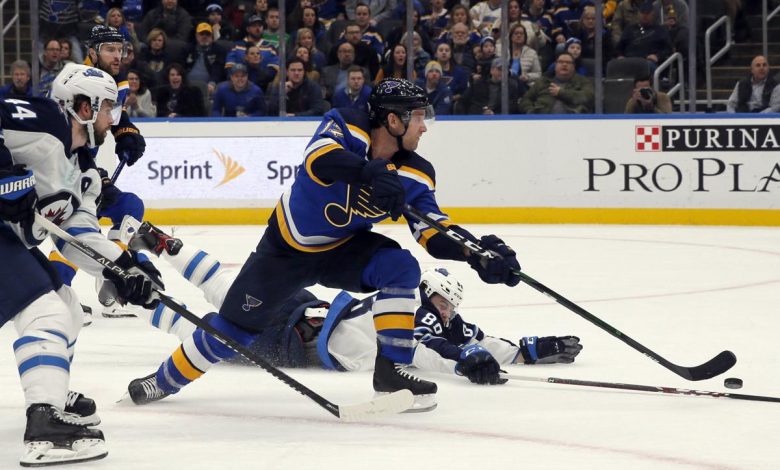 Two teams on the polar opposite ends of the spectrum will meet Tuesday night as the St. Louis Blues (32-15-9) face off against the host Anaheim Ducks (23-26-7). These teams met almost exactly one month ago when the Blues cruised to a 4-1 win in St. Louis.
Here is a preview for Tuesday night's matchup, along with odds and a free pick.
By The Numbers
We'll start with the first-place Blues, who are in the midst of a two-game losing streak and have seven losses in their last 10 contests. St. Louis is a solid 12th in goals per game with 3.16 on 30.6 shots. The Blues' shooting percentage of 10.3 ranks within the top 10 in the league and their excellent power play is fourth at 25.3 percent.
St. Louis is a stalwart defensively once again, ranking ninth with 2.8 goals allowed on just 30.1 shots. The Blues' penalty kill is a modest 14th at 80.7 percent, but they find themselves in the box just seven minutes a night, fewer than all but three other teams in the league.
Meanwhile, the Ducks are a surprising 6-2-2 in their last 10 games, moving up to sixth in the Pacific. Anaheim averages the third-fewest goals per game with 2.52 on 29.8 shots.
Not only is the Ducks' shooting percentage of 8.4 near the bottom of the league, but their power play is also the worst in hockey, coming into Tuesday night at just 14.4 percent.
Defense is a slight improvement for the Ducks, as they rank 18th with 3.07 goals allowed and 31.6 shots allowed. Their penalty-kill percentage of 77.3 ranks 25th, not a great sign considering their 10.7 penalty minutes per night are the third-most in the NHL.
Who To Watch
Out of all of St. Louis' excellent scoring options, it has been defenseman Colton Parayko who is leading the charge of late. Parayko has found the net in three straight games, the third of which was a two-goal performance against the Stars.
This goal-scoring surge has now brought him to six goals to go along with 12 assists on the year. While this run isn't sustainable, it's a good sign for the Blues that one of their key defensemen is starting to find some life on the other end.
The Blues have many other options that are coming in hot Tuesday night, one of them being Robert Thomas. The young forward has a team-high six-game point streak going at the moment, bringing him to nine goals and 24 assists in 51 games.
The 20-year old Thomas will be joined by goal-scorer Brayden Schenn, who scored his 20th goal of the season last week, added to his 26 assists this year. He will be someone to watch Tuesday night as well.
While the Ducks undergo a youth movement, captain Ryan Getzlaf is still the one to watch Tuesday night. The big center has a point in two straight games, giving him 12 goals and 25 assists to lead the team in points.
Getzlaf is not the goal-scorer he once was, but he can still dish out the puck and set up his teammates. He'll be the main person the Blues keep an eye on.
Along with Getzlaf, veterans Adam Henrique and Rickard Rakell have been finding the score sheet as well. Henrique has cooled off a little bit from a hot start to the season but still had a multi-point effort against Toronto last week to give him 18 goals and 12 assists on the year.
As for Rakell, the winger has six points in his last six games, netting him 13 goals and 21 assists on the year.
Goalies
In net for the Blues, you should expect to see second-year man Jordan Binnington, who is 24-10-6 with a 2.66 GAA and a .910 save percentage.
The Ducks will likely counter with their former All-Star John Gibson, who is 16-21-4 with a 2.96 GAA and a .904 save percentage.
Odds and Pick
The first-place Blues are sizable favorites on the road Tuesday night, listed at -160. They are 14-10-4 away from Enterprise Center, while the Ducks are 12-10-3 at home.
This game is interesting since the Blues have been in a funk while the Ducks are playing decent hockey. However, I think St. Louis will bounce back Tuesday night. Anaheim will have a lot of difficulty scoring against one of the league's best defensive teams, and I think the Blues will find ways to beat Gibson. Give me the Blues -160 in this one.