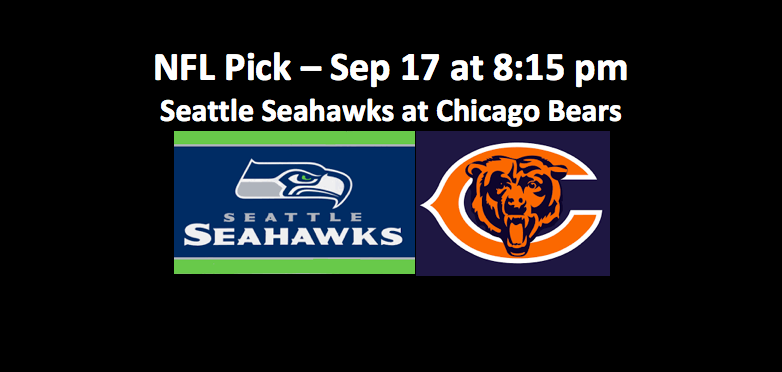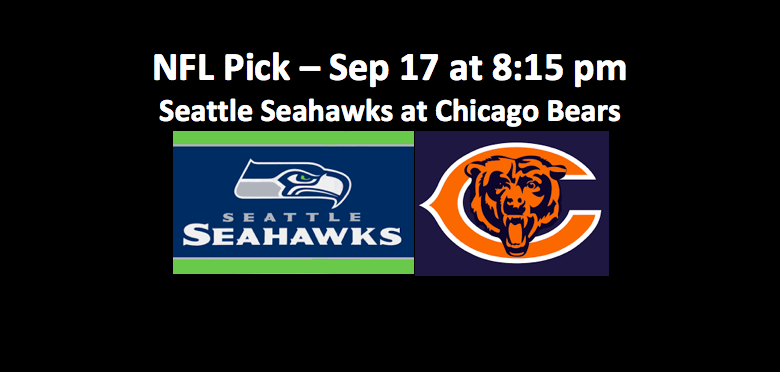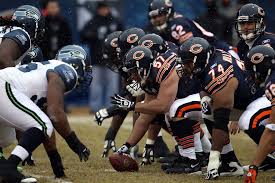 The Week Two Monday Night Football game has the winless Seattle Seahawks (0-1) at the winless Chicago Bears (0-1). Last week, the Seahawks lost a tight one to the Denver Broncos 27-24. The Bears opened at Green Bay and were defeated 24-23. Both teams came very close to clinching a win in the first week of the 2018 season. Now, perhaps, one of these teams will earn a victory tonight. We say "perhaps" because thus far the NFL has seen two tie games this season. Our Week Two Seattle plays Chicago Monday Night Football pick has the Bears at -4.0 to -5.0 and the over/under at 42.5 or 43.0.
Seattle Offense vs Bears Defense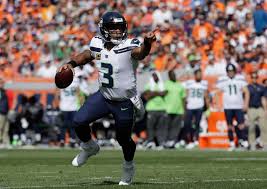 Opening day was a mixed bag for QB Russell Wilson. He tossed for 298 yards, threw three TD passes, and hit 57% of his passes. But Wilson was also sacked six times and offered up two picks. He spread his TD passes amongst three receivers. Rookie TE Will Dissly, who caught one of those scoring passes, had three catches for 105 yards. Tyler Lockett and Brandon Marshall also took in three passes with each scoring once. Seattle's ground game total just 64 yards. Chris Carson, in his second NFL season, had 64 yards on seven carries. Along with six sacks, Seattle gave up three TFL.
The Bear defense will need to be a bit more aggressive tonight. They did hold Green Bay to 69 rushing yards. But they also allowed 341 passing yards. For the pack, Aaron Rodgers had three passing TDs against the Bears. LB Khalil Mack defended one pass and made one interception. He also forced and recovered a fumble and scored a TD. Watch him tonight.
Chicago Offense vs Seahawks Defense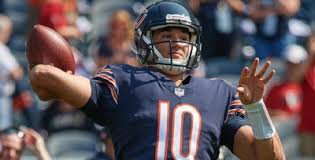 QB Mitchell Trubisky made few mistakes in his game against the Packers. He connected on 66% of his passes and did not give up a pick. Trubisky was sacked four times. Two stats stick out, however. Trubisky threw for just 174 yards, and he had zero touchdown passes. WR Allen Robinson played a sound game, as he grabbed four passes for 61 yards. Chicago needs more air offense if they are going to be able to seal the deal on a game. The good news is the ground attack accumulated 139 yards. RB Jordan Howard led all rushers with 82 yards on 15 carries with a 5.5 YPA average. Trubisky scored the one Chicago offensive TD on a run.
The Seattle secondary put in a solid game, as they made three picks and defended seven passes. Safety Bradley McDougald was stellar as he grabbed two picks, defended two passes, and posted four tackles. Safety Earl Thomas was good for one interception, two PD, and five tackles. The Seahawk D needs to bring additional pressure on the QB and hamper the run more. The Broncos tallied 145 ground yards against the Seattle frontline and LBs.
Week Two Seattle Plays Chicago Monday Night Football Pick
We're liking the Seahawks at +5.0 in this game. There are various reasons for this. We do believe their pass attack can be effective against the Bears. And although they have a tough time defending against the run, we have to wonder if this Bears' offense can exploit that weakness? In a match between Russell and Trubisky, we like Russell, and in a pass coverage matchup between these two teams, we like the Hawks. We're not expecting a lot of points, but we do think a 21-23 score is certainly possible. That means along with taking the Seahawks, our Week Two Seattle plays Chicago Monday Night Football pick likes the over at 42.5.
Summary Seahawks at Bears Picks: Seattle at +5.0 and over 42.5