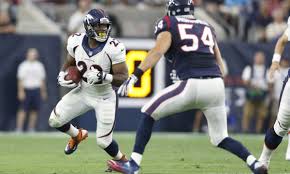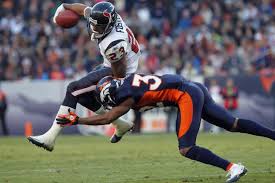 Our week seven 2016 Monday Night Football free pick has the 4-2 Houston Texans visiting the 4-2 Denver Broncos. The Texans are presently in first place in the AFC West, while the 2016 Super Bowl Championship Broncos are third in the AFC South. Houston is three and two over their past five games. Denver is also three and two over the same span of time. Denver is on a two-game losing streak, while Houston is one and one.
The Texans lost to Minnesota 31-13 on October 9 and won their last game, which was played on October 16, beating Indianapolis in OT 26-23. Denver's first two losses of this season occurred over the past two weeks, as Atlanta beat them on October 9 by a score of 23-16 and San Diego beat them 21-13 on October 13. This game marks Houston QB Brock Osweiler's homecoming to Denver where he was an important part of the Broncos' drive to the Super Bowl.
Houston Offense vs. Broncos D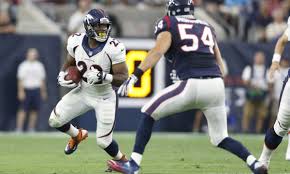 QB Brock Osweiler could have better numbers. He's completing 59 percent of his passes and has tossed eight TDs and eight interceptions. Osweiler has been sacked 12 times. The QB possesses a solid contingent of receivers, including WR DeAndre Hopkins (31 REC, 11.4 AVG, 3 TDs). Will Fuller V, the team's second most productive pass catcher, is listed as questionable for tonight's game. RB Lamar Miller (125 ATT, 525 YDs, 4.2 AVG, 1 TD) is the team's primary weapon on the ground. Miller also has 17 pass receptions and one receiving touchdown.
In preparing our week seven 2016 Monday Night Football free pick, we've observed that the Bronco defense is still very tough. They've sacked QBs 21 times thus far. Plus, they have forced five fumbles, made five picks, and caused 27 passes to be defended. Top performers include corner Aqib Talib (3 INTs, 8 PD, 1 TFL, 1 TD) and LB Von Miller (7.5 Sacks, 2 PD, 1 FF). DE Derek Wolfe (4.5 Sacks) and LB Shane Ray (4.0 Sacks) are both keys to the Bronco defense.
Denver Offense vs. Texan Defense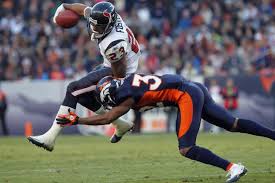 QB Trevor Siemian (64.9 COMP%, 7 TDs, 3 INTs, 10 Sacks) had a rough game last week. Siemian, who had missed the previous game due to a shoulder injury, hopes to bounce back tonight. He has two quality receivers in Demaryius Thomas (31 REC, 13.4 AVG, 3 TDs) and Emmanuel Sanders (36 REC, 11.5 AVG, 3 TDs). However, together they have three fumbles, including two by Thomas who has lost both. RB C.J. Anderson leads all Denver rushers with 94 carries, 330 total yards, and three touchdowns. He's averaging 3.5 YPA.
Houston offers a fairly formidable defense. They have completed 16 sacks, 21 TFL, and six FF. In defending against the pass, the club has managed to grab three interceptions while defending against 28 passes. LB Whitney Mercilus is tops in sacks with 4.5. He also has two TFL and one FF and recovery. LB Benardrick McKinney, who leads the team with 60 tackles total, has three sacks, one TFL, and one FF. CB A.J. Bouye leads the team in passes defended with six.
Week Seven 2016 Monday Night Football Free Pick
This week seven 2016 Monday Night Football free pick offers two teams that are both a conundrum. Exactly which Texan and Bronco team will show up tonight? Denver has been weakened by injuries on defense and continues to have quarterback problems. Houston has been hard pressed this season to find consistency. Denver is a 9.5-point favorite. We think that's too high. Take the Texans at +9.5.
Week Seven 2016 Monday Night Football Free Pick: Houston Texans at +9.5