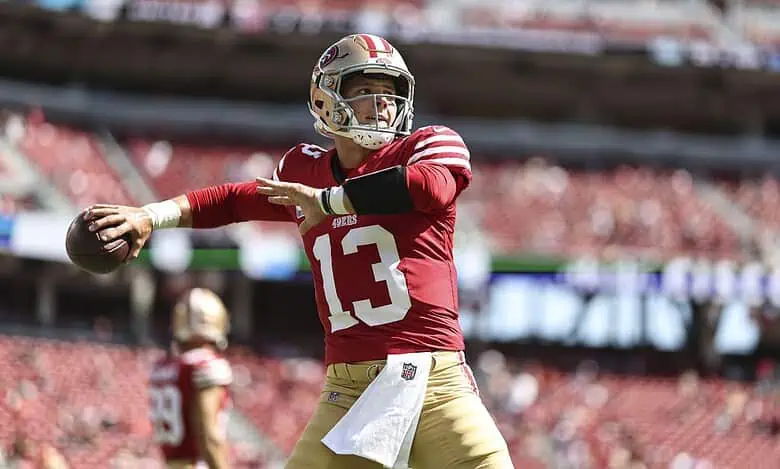 Week 7 of the NFL season is going to wrap up on Monday night as the San Francisco 49ers travel to Minnesota to face the Vikings. This is a crucial game for each of these NFC teams, even though they don't have similar records.
San Francisco comes into this game with a record of 5-1, but their lone loss of the season came in Week 6. The 49ers are still at the top of the NFC West Division, but they need to find a way to get back on track in a hurry.
Minnesota has gone just 2-4 through the first six weeks, and they are struggling to keep pace in the NFC North. The Vikings have won two of their last three games, and that will give them some momentum for this matchup.
The 49ers are 6.5-point betting favorites over the Vikings on Monday Night Football.
San Francisco Getting Stops
The San Francisco 49ers are allowing just 14.5 points per game this season, and that makes them one of the best defensive teams in the league. San Francisco has racked up 15 sacks through six weeks, and they will be coming after Kirk Cousins in this game.
There are a number of injury concerns facing San Francisco this weekend, but they are still a team with a ton of weapons. Quarterback Brock Purdy will have to play well in this game, and he is going to be facing some pressure.
Christian McCaffrey has rushed for 553 yards and seven touchdowns this season, but he is dealing with an injury. Brock Purdy will need to step up if he can't play, and he has thrown ten touchdowns this season.
Vikings Need to Run
The Minnesota Vikings are averaging just 75 rushing yards per game, and they need to find a way to have more success on the ground. Minnesota let running back Dalvin Cook leave in the offseason, and they just haven't been able to get production at that position.
Quarterback Kirk Cousins has thrown for 1,679 yards and 14 touchdowns this season, but he will be under fire this weekend. Playing without Justin Jefferson will make things more difficult, and Minnesota has to find some balance.
The Vikings have allowed 22.5 points per game this season, but they are a team that has racked up 18 sacks. Minnesota can make things easier on them this weekend if they find a way to get some stops.
Niners Get the Job Done
San Francisco is coming into this game with a ton of injury concerns, and that is going to impact them in a big way on offense. The 49ers are still a defensive team that can take control of this game, but stopping Minnesota isn't always easy to do.
Minnesota was lucky to survive in Chicago with a win, and there are still some serious flaws in this game. The Vikings are a proud enough team to compete for four quarters in this matchup, but they just won't come up with enough big plays to win this game.
Take the 6.5 points and bet on the Vikings on Monday night, but it will be the 49ers that come away with a win.