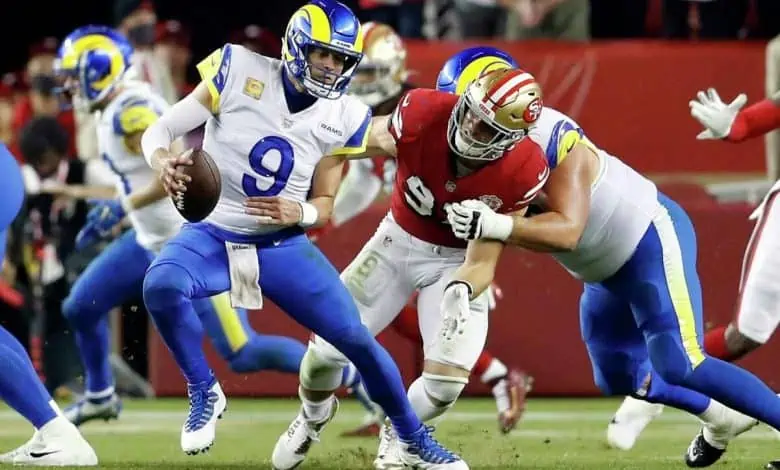 An NFC West divisional showdown puts a bow on the week 4 slate in the MNF Rams at 49ers betting matchup. Los Angeles (2-1) has bounced back for two straight wins after being humiliated 31-10 by Buffalo in the opener, while San Francisco (1-2) had an ugly go of things in an 11-10 loss to Denver last weekend.
San Francisco is a -1.5 favorite despite the fact that they looked so awkward last week against the Broncos. The 49ers have owned the regular season contests with the Rams with six straight wins – but L.A. got the big win in last year's 20-17 NFC Championship Game win. This line seems like almost a trap play on Los Angeles, and 64% of the betting public is on the Rams.
Los Angeles Starting to Put It Together?
The Rams were beaten up by Buffalo in week one and then struggled to a 31-27 home win over Atlanta as -10.5 point favorites. Last weekend's 20-12 win in Arizona may have been L.A's most complete game of the season, covering the -3.5 points for their first ATS win of 2022.
The Cardinals threw everything at the Rams' #18 total yard defense last week, with Kyler Murray completing 37 of 58 passes for 314 yards. Arizona still had to just settle for 4 FGs, while L.A.'s Aaron Donald got to Murray for his 100th career sack.
L.A's offense is still trying to put things together this season, and they've gotten not much help in the running game with just 72.3 ypg which is third fewest in the NFL. Even the Rams' passing game has been struggling to get going, with Matthew Stafford not throwing for more than 275 yards in a game this season with 4 TDs to go with 5 INTs.
49ers Defense Ready to Prove Legitimacy
Through three games San Francisco ranks tops in the NFL in total yards allowed (227.0), passing yards (148.3), points (12.3), and are second against the run (78.7). There first two games were against Chicago in a monsoon and the Seahawks who have a very hit or miss offense. Even Denver with Russell Wilson doesn't have the offense they were expecting, with the Broncos amassing 289 total yards in last week's 11-10 win.
The Rams offense hasn't gotten the wheels churning yet, so MNF Rams at 49ers betting should see the San Francisco defense put up another solid effort. To do that they'll have to find a way to stop Cooper Kupp though, as he had 11 catches for 142 yards and 2 TDs in the NFC Championship Game. Kupp has 28 catches for 280 yards and 3 TDs so far in 2022 but had just 4-44 last week vs. Arizona.
San Francisco lost OT Trent Williams indefinitely to an ankle injury in last week's loss to the Broncos, not a great situation going up against Donald and the Rams pass rush. Jimmy Garoppolo was just 18/29 for 211 with 1/1 last week against the Broncos.
Free MNF Rams at 49ers Betting Pick
The fact that San Francisco is a -1.5 favorite, when they probably shouldn't be, is very telling for this game. Bettors had a good Sunday but the books look poised to take it back on Monday night. Go the other way.
Free Pick: 49ers -1.5