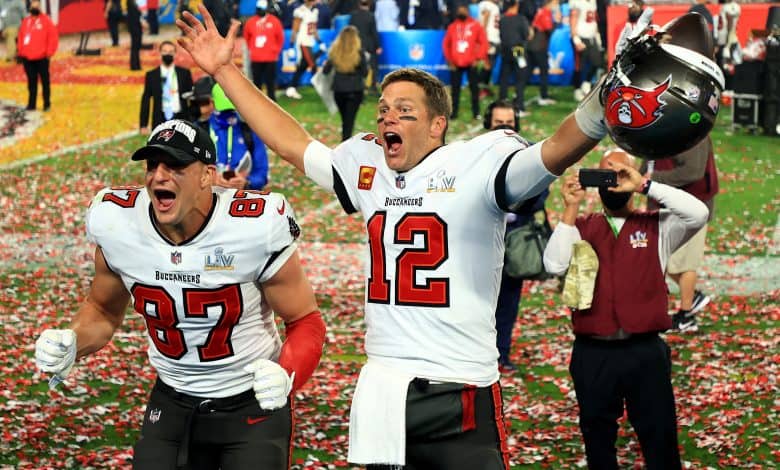 The week 4 Buccaneers at Patriots matchup on Sunday Night Football is arguably the most hyped regular season game in NFL history. It's not very often you have a QB coming back to a place where he's spent 20 seasons and won 6 Super Bowls but in a visitor's uniform. Brett Favre returning to Green Bay is close, but Brady left on much better terms than Favre which makes this game so interesting.
Tampa Bay is a -7 point favorite in what will likely be one of the most heavily wagered on games in the NFL this year. Having this matchup stand alone on Sunday night certainly increases the handle, and at times there was a report of something like 80+ percent of the public bettors backing Brady. Books don't let big games like this get away very often, but what is New England's approach to covering this number?
Brady Returns But Without Gronk
This was supposed to be a double homecoming with not only Tom Brady coming back to Foxborough, but bringing Rob Gronkowski back with him. The hall of fame tight end spent 9 seasons with New England, but will miss the week 4 Buccaneers at Patriots matchup with fractured ribs. It's not just a nostalgic loss either, as Brady and Gronkowski had hooked up for 4 TD already this season.
While Gronkowski is out, Brady still has an infinitely higher number of weapons on offense than his QB counterpart across the sideline. Mike Evans and Chris Godwin have combined for 4 TD catches this season, and Antonio Brown returns to Gillette Stadium on much worse terms than Brady after the team cut him after one game in 2019.
Obviously Bill Belichick would know how to game plan against Brady perhaps better than any coach in the league having spent 20 seasons with him. The Bucs' also have to travel to the Northeast region after playing on the West Coast last week, a 34-24 loss to the Rams as slight -1 point favorites.
Can Jones Survive the Moment?
Patriots rookie QB Mac Jones has understandably had his moments so far in the NFL but also his downfalls. Playing college at Alabama prepares you pretty well for the national spotlight, but Sunday night marks the first time Jones will have to prove he has a short memory coming off his worst professional game last week with 3 INT vs. the Saints.
The big question here is how well can the Patriots defense contain Brady, and thus how much offense will Jones have to produce? New England's lone win of the season came 25-6 over the Jets in week 2 when the Patriots had just 260 yards of offense. Even with that 'outburst' the Patriots are still averaging just 18.0 ppg which is 27th in the league.
Another question is just how good the Patriots defense really is after allowing 28 points to a Saints team that threw for just 110 yards last Sunday? Brady can exploit this secondary – and he wants to.
Week 4 Buccaneers at Patriots Pick
It's time to put on the tin foil hat for this game, because Tampa Bay is the much better team and everybody knows it. The public is hammering the Bucs, and usually sportsbooks don't give us games that look this easy. Not sure if the Patriots win, but it really looks like they cover.
Buccaneers 24 – Patriots 20
Free Pick: Patriots +7