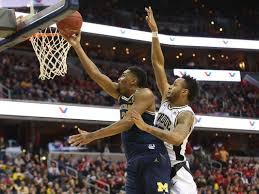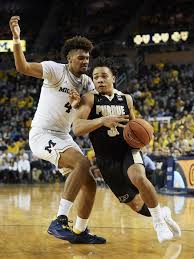 Tonight, Thursday, Jan. 25 at 7 p.m. E.T. in the Mackey Arena in West Lafayette, Indiana, the #3 Purdue Boilermakers (19-2 Overall, 8-0 Big Ten) will host the #25 Michigan Wolverines (17-5 Overall, 6-3 Big Ten). This is an important rematch, as the Wolverines lost to the Boilermakers 70-69 on Jan. 9. Purdue is one-half game behind first-place Ohio State, while Michigan sits three games out of first place. Our Michigan plays Purdue 2018 Big Ten basketball pick has the Boilermakers favored by 9.5 and the over/under at 136.0.
Recent History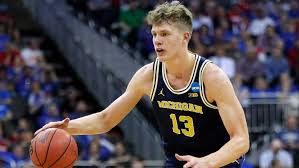 As noted, Purdue came out on top on Jan. 9 versus the Wolverines in a close game that was decided by one point. After losing to the Boilermakers, Michigan took on and beat #4 Michigan State 82-72 on Jan 13 and then two days later took down Maryland 68-67. On Jan. 18, the Wolverines were hammered by Nebraska 72-52. They last played on Sunday, beating Rutgers 62-47.
Big wins for Purdue this season include two back-to-back victories when they took down #2 Arizona 89-64 on Nov. 25 and then beat #17 Louisville 66-57 on Nov. 28. It's ironic that their two losses thus far occurred just before those two wins versus top 25 teams. On Nov. 22 they lost to Tennessee in OT 78-75 and then on Nov. 23 it was Western Kentucky that brought them down 77-73. Their last game and win was on Jan. 20 on the road when they easily handled Iowa 87-64.
Match Up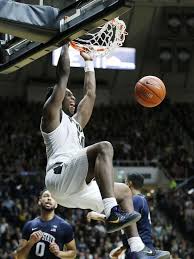 Both teams are holding opponents to around 62 PPG, but the Boilermakers are outscoring the Wolverines by 10 points, 84.8 PPG to 74.5 PPG. Michigan leads in field goal percentage 50.3 to 47.1, in free throws completed 74 0% to 66.6% and in threes 43.7% to 36.8%. Perdue is also +3.8 in RPG, +2.0 on APG, and +2.6 in BPG. The two teams are virtually tied in SPG with each averaging about 6.5.
Players to Watch
For Michigan, junior forward Moritz Wagner (14.3 PPG, 7.3 RPG, 54 FG%) who stands 6'11", is a major presence. He's tops on the team in rebounds and virtually tied in points per game. He's also good on 41% of his threes. The team's leading scorer by a fraction is guard Charles Matthews. He's good for 14.6 PPG. Matthews, a 52% shooter from the field, is pulling down 5.2 RPG while dishing off 2.9 APG. Guard Muhammad-Ali Abdur-Rahkman, who's a senior, is putting up 10.5 PPG.
Purdue has four guys who are double-digit scorers and three of them are hitting 40% of more of their shots from beyond the arc. Sophomore guard Carsen Edwards 17.2 PPG, while senior forward Vincent Edwards is grabbing 7.8 RPG while putting in 14.8 PPG. He's good on 46% of his threes. Senior guard Dakota Mathias leads the team with 4.6 APG. He also has 12.7 PPG. Along with a great group of starters, there's also solid depth on this team.
Michigan Plays Purdue 2018 Big Ten Basketball Pick
We can see this game going down to the wire, as the last one did. Then again, the Boilermakers really should dominate in this contest. We're going to go with the Boilermakers at -9.5 in our Michigan plays Purdue 2018 Big Ten basketball pick. As far as the over/under goes, we are taking the under in this one, which is at 136.0 .
Summary Wolverines at Boilermakers- at Purdue at -9.5 and under 136.0