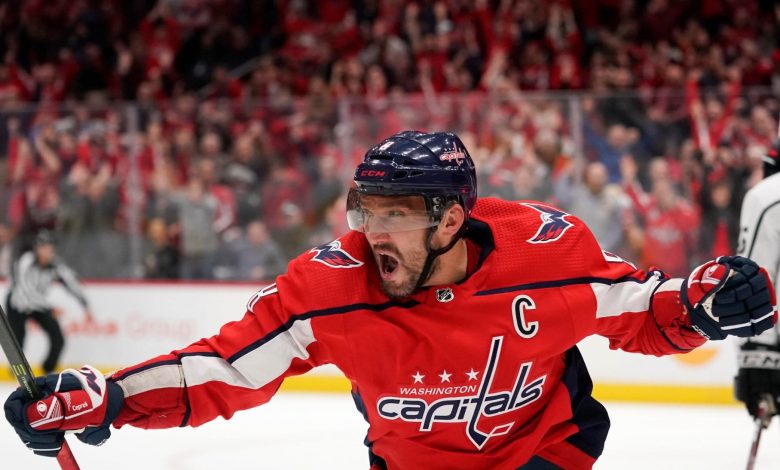 Thursday night features the second half of a home-and-home this week between the Washington Capitals (39-18-6) and the Winnipeg Jets (32-27-7). This game follows Tuesday's matchup between these teams in Washington when the Jets rallied from a three-goal deficit only to fall to the Capitals 4-3 in a shootout.
Here is a preview of tonight's game, along with odds and a free pick.
By the Numbers
After going through a tough 1-5-1 stretch, the Capitals have won two in a row, the latter of which coming Tuesday against Winnipeg. Surprisingly, it's the first time the Metropolitan Division leaders have won consecutive games since a four-game winning streak in January.
This season, Washington is third in goals scored with 3.46 per game, sitting just outside the top-10 with 32 shots. Additionally, their 10.8 shooting percentage is the second-highest in the league, while their power play is 15th at 20.3 percent.
Defensively, the Caps are just 15th in goals allowed with 3.03. However, they rank eighth in shots allowed with an average of 30 and boast the league's fourth-best penalty kill percentage of 83.7.
Tonight is a big game for the Jets, who are winless in their last three games. They have, however, won five of seven prior to that, and are currently still clinging on to a tie with Nashville and Arizona for the second Wild Card spot in the Western Conference.
Winnipeg has been the definition of average across the board in offense. They rank 17th in hockey with 2.97 goals, 31.3 shots, and a 9.5 shooting percentage. Their power play doesn't rank a whole lot either, sitting 16th at 20.2 percent.
On the flip side, the Jets are a respectable 12th in goals allowed with an average of 2.97. However, they are also allowing the sixth-most shots at 32.7 and have the league's 25th-ranked penalty kill at 77.3 percent.
Who to Watch
The heart and soul of the Capitals is Alex Ovechkin, and he will be your main player to watch for the road team tonight. Ovechkin scored against Winnipeg on Tuesday, giving him three goals in his last four games.
Even after going five games without a goal earlier this month, the captain is tied for second in the NHL in goals with 43 and is a threat to find the back of the net every time he takes the ice.
Along with Ovechkin, Tom Wilson is someone who can fill a scoresheet as well as a penalty box. Wilson scored in three straight games prior to getting shut out on Tuesday, giving him 20 goals and 21 assists on the year.
His 41 points have already passed the career-high 40 points he registered last year. Also, watch out for center Nicklas Backstrom, who has five assists in the last four games to give him 39 total.
There aren't many players in the league right now hotter than the Jets' Mark Scheifele. Scheifele is rolling into tonight on a five-game point streak, tallying up four goals and five assists in that span.
Three of those goals came in a hat trick against the Senators, while the fourth was against Washington a couple of days ago. The talented center is now up to 27 goals and 41 assists, keeping Winnipeg alive in the playoff hunt.
Joining Scheifele is a group of talented wingers, headlined by Patrik Laine and Nikolaj Ehlers. First Laine, the second overall pick in 2016, had his three-game point streak snapped on Sunday, but still has eight goals and five assists in February. He's now up to 26 goals and 33 assists total.
As for Ehlers, he made an impact the other day against the Caps, registering a goal on five shots as well as an assist. He now has seven points in his last five games and 52 points overall.
Goalies
Both teams are expected to roll with different goalies than we saw on Tuesday. That means for Washington, Ilya Samsonov will draw the start. Samsonov is 16-5-1 with a 2.41 GAA and .916 save percentage.
As for Winnipeg, they should be going back to their regular starter, Connor Hellebuyck. Hellebuyck is 26-20-5 with a 2.72 GAA and .918 save percentage.
Odds and Pick
In this conclusion of a home-and-home, tonight's road team is being favored by odds-makers to get the sweep. The Capitals are -150 to win tonight, aided by their 21-9-1 road record and Winnipeg's average 16-14-3 mark at Bell MTS Place.
However, tonight I'm going with an upset. The Jets are in desperation mode and are excited to be back on home-ice for the first time in 10 days. If they can avoid a slow start as we saw from them last game, I think they have more than enough firepower to make the Caps sweat. Give me the Jets +130 to steal the win and snap their funk.