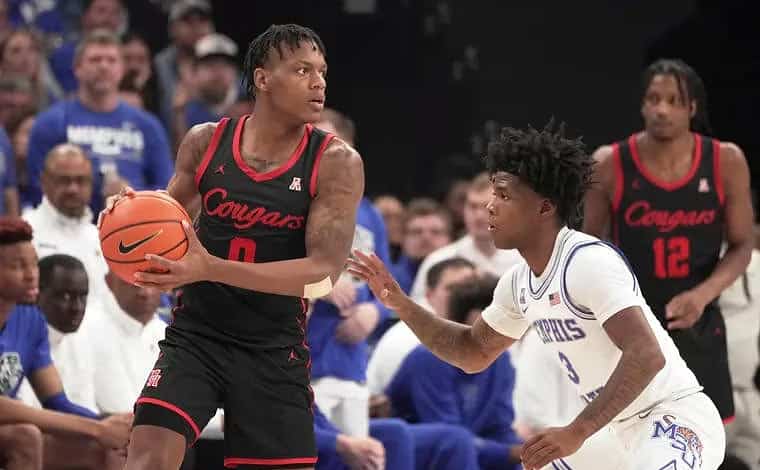 The AAC Championship Game betting matchup is a big one for both teams, but Houston (31-2) could be looking at the #1 overall seed in the NCAA Tournament with a win on Sunday against Memphis (25-8). The Cougars are a -5.5 favorite as they aim for their 14th straight win.
The Tigers are more than capable of pulling off the upset Sunday in Ft. Worth, as they battled Houston in a 67-65 loss in the regular season finale not to mention the Cougars are possibly without their leading scorer, who suffered a groin injury on Saturday. The Tigers are one of the more popular public bets of the day, garnering approximately 69% of the wagers getting +5.5 points.
Why Memphis Can Cover +5.5 Points
It's hard to see Marcus Sasser going for Houston in the AAC Championship Game betting matchup, because although winning the conference tournament is important this is a team that has legitimate national title hopes. Sasser averaged 17.1 ppg during the regular season, but he did not return after a groin injury in Saturday's win over Cincinnati, and the risk of aggravating that ailment does not seem worth the reward of playing.
Houston being shorthanded has to help the Tigers' chances of at least keeping Sunday's game close, especially as both teams are playing their third game in as many days. Sasser averaged 16.5 ppg in the Cougars' two wins over Memphis this season, so his loss will be felt (if he is indeed out).
Of course Sunday's game is not all about who Houston may or may not have – it's also about Memphis being more than capable of getting the win themselves. The Tigers have averaged 87.5 ppg in their two AAC tournament wins as DeAndre Williams and Kendric Davis have simply gone off. Williams had 35 in the win over UCF and followed that up with 27 in Saturday's victory over Tulane (while also averaging 12.0 rebounds/game) while Davis has posted 33 and 20 so far this tournament.
Why Houston Can Cover -5.5 Points
Nobody wants to lose their leading scorer, but Sasser possibly being out on Sunday does open the door for somebody like Jamal Shead. Shead averaged 9.9 ppg during the regular season, but had 16 in Saturday's win over Cincinnati and also hit the game winner in the meeting with Memphis on March 5th as Houston won 67-65.
Sasser had 20 in the February meeting with Memphis that Houston won 72-64, but was limited to 13 in the regular season finale as the Cougars flexed their depth with five different players scoring in double figures.
Houston's offense might not even end up being a concern on Sunday just because of how good their defense is, holding both opponents to under 50 points so far this weekend in Ft. Worth. The Cougars have the #4 adjusted defensive efficiency in the KenPom rankings, and were 2nd in the country this season allowing just 56.5 ppg.
Free AAC Tournament Betting Pick
Houston has a top notch defense but Memphis' offense has also been dialed in so far this tournament. Williams and Davis are on an absolute tear for the Tigers right now and it's hard to go against that dynamic duo getting +5.5 points.
Free Pick: Memphis +5.5