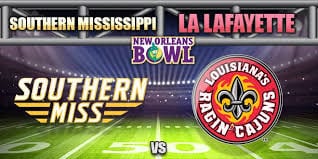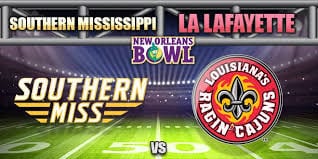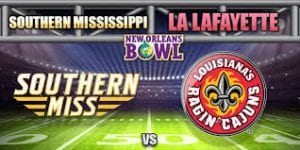 Our 2016 R+L Carriers New Orleans Bowl free pick offers the Southern Mississippi Golden Eagles vs. the Louisiana-Lafayette Ragin' Cajuns. The Golden Eagles have dealt with adversity and shown resilience this season. At the same time, the Ragin' Cajuns have been on a tightrope, trying to get to a bowl this year, and somehow they've done it. These are two teams that have struggled and, at times in 2016, found redemption.
The Southern Mississippi Golden Eagles (6-6 Overall, 4-4 Conference USA) finished third in the West Division of C-USA. In that division, Louisiana Tech finished first and Texas San Antonio second. Their opponents, the Louisiana-Lafayette Ragin' Cajuns (6-6 Overall, 5-3 Sun Belt Conference) ended the season fifth in their conference. They were two full games behind both 7-1 Appalachian State and Arkansas State.
Southern Mississippi Golden Eagles
Halfway through the season, Southern Mississippi was doing fine at 4-2 and then they ran into non-conference opponent LSU. The Tigers beat them soundly 45-10. Over the next four games, the Golden Eagles went 1-3. Two of those losses were without their senior QB Nick Mullins. Finally, when Mullins returned, they won their last game of the season, beating the team that would win the division, Louisiana Tech, 39-24. That was a big victory for Southern Mississippi.
The Golden Eagles were productive on offense, scoring an average of 33.3 PPG. But they also allowed opponents 30.3 PPG. The team managed to score 24 touchdowns running and another two dozen through the air. Their turnover margin stands at a massive deficit, minus 16. They've had 84 penalties for over 700 yards. This is a team that can hurt itself.
Senior QB Nick Mullins (63.4 COMPY%, 22 TDs, 10 INTs) is a solid passer. He's tossed a half-dozen TD passes each to WRs Allenzae Staggers (52 REC, 925 YDs, 18.0 AVG, 6 TDS) and D.J. Thompson (43 REC, 470 YDs, 10.9 AVG, 6 TDs). Staggers' longest TD-catch was for 93 yards. RB Ito Smith (239 ATT, 1321 YDs, 5.5 AVG, 15 TDs) is a dual threat, as he has 42 catches for 453 yards and an average gain of 10.8 yards per attempt. His longest TD run is 86 yards.
The defense has 26 sacks, 86 TFL, and nine interceptions. They also forced 10 fumbles, defended 37 passes, and garnered 17 QB hurries. Teams tend to do better against this club when running the ball. All things being equal for the Golden Eagles, they're a much better offensive than defensive team.
Louisiana-Lafayette Ragin' Cajuns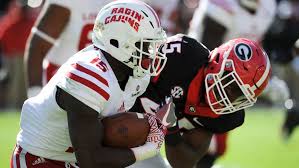 Louisiana-Lafayette started the season 2-1. Then, suddenly, they lost three straight. With two games left in the season, the team was at 5-6. Then they reeled off a come from behind 24-19 win over Arkansas State, handing that team their only conference loss. The Cajuns finished the season by beating the University of Louisiana Monroe 30-3. Those final two victories helped them nail a winning season and a bowl berth.
The Ragin' Cajuns will look to QB Anthony Jennings (60.9 COMP%, 11 TDs, 12 INTs) to guide the team. Make no mistake about Louisiana-Lafayette they are a rushing team, and they pass very little. When they are passing, wideout Al Rines (55 REC, 665 YDs, 12.1 AVG, 2 TDs) is his main target. WR Keenan Barnes (30 REC, 405 YDs, 13.5 AVG, 6 TDs) leads the team in TD catches.
The club has 12 passing scores and 18 rushing TDs, with Southern Mississippi Golden Eagles 215 1028 4.8 AVG, 7 TDs) and QB Jennings (124 ATT, 322 YDs, 2.6 AVG, 7 TDs) each making seven scores. McGuire also has 28 catches for 281 yards and two touchdowns while averaging 8.9 YPA. Teams have made 93 TFL and 30 sacks against the Ragin' Cajuns.
The offense is averaging 23.8 PPG. At the same time, they are allowing opponents 25.1 PPG. Louisiana-Lafayette has notched 23 sacks, 72 TFL, and nine interceptions. The club has 13 FF, 15 QB hurries, and 36 passes broken up. The team can ably control opponent running games, but they have a tough time against the pass.
2016 R+L Carriers New Orleans Bowl Free Pick
Cajun Placekicker Stevie Artigue is 19 or 24 on field goals, while Golden Eagle placekickers Parker Shaunfield and Stephen Brauchle are 17 of 15 collectively. Can that stat be the difference-maker?
Southern Mississippi is favored by anywhere from six to seven points. In our 2016 R+L Carriers New Orleans Bowl free pick. We're going with the underdog Louisiana-Lafayette at +7.0.
The game will be played at the Mercedes-Benz Superdome in New Orleans on Dec. 17 at 9 p.m..
2016 R+L Carriers New Orleans Bowl Free Pick: Louisiana-Lafayette at +7.0