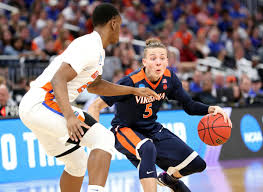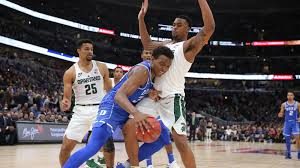 It's an understatement to say that today's 2 p.m. E.T. contest between the #2 Virginia Cavaliers (19-1 Overall, 8-0 ACC) and #4 Duke Blue Devils (18-2 Overall, 6-2 ACC) is a big game. It is, of course huge. The Cavaliers sit atop the ACC, while the Blue Devils are in second place two games behind them. Our Virginia plays Duke 2018 ACC basketball pick offers the Blue Devils at either -3.5 and the over/under at between 133 and 134.
Recent History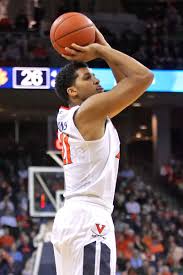 The Cavaliers come to this contest with a 14-game winning streak where they have beaten #12 North Carolina and #18 Clemson. Their one loss all season was to #18 West Virginia 68-61 on Dec. The Duke Blue Devils are enjoying a five-game winning streak that includes an 83-75 Jan. 15 win against #25 Miami. Their two losses thus far were on Dec. 9 to Boston College 89- 84 and on Jan. 6 to NC State 96-85.
Matchup
Virginia is allowing opponents just 51.6 PPG, while Duke is scoring on average 91.7 PPG. On the other hand, the Cavaliers are putting up just 69.2 PPG and the Blue Devils are allowing 72.7 PPG. The Blue Devils dominate in shooting percentage (51% to 46.9%), rebounds (43.0 to 33.0), and assists (19.3 to 13.8). The Cavaliers are 77% from the charity stripe. Duke is hitting just 69% of their frees. Still, this season the Blue Devils have gone to the foul line about 200 times more than the Cavaliers putting in 333 foul shots to Virginia's 215.
Players to Watch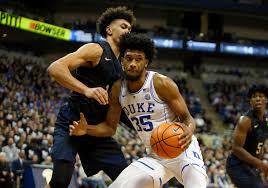 The Cavaliers will look to their guards to generate points. Sophomore Kyle Guy (15.2 PPG, 43 FG%, 43 3PT%) and senior Devon Hall (12.7 PPG, 48 FG%, 47 3PT%) will work to control the backcourt. In the frontcourt, six-foot-seven, senior forward Isaiah Wilkins (6.6 PPG, 6.9 RPG, 50 FG%) will have his hands full battling Duke's big men.
Freshman forward Marvin Bagley III (21.6 PPG, 11.5 RPG, 61 FG%) leads the team in points and rebounds. He is the primary generator of offense and a firm defensive force. Another freshman, Wendell Carter Jr. (14.4 PPG, 9.2 RPG, 2.0 BPG) is solid in the paint. He tops the team in shooting percentage with a 62% mark. Freshman guard Trevon Duval is a fine playmaker. He's averaging 6.0 APG.
Virginia Plays Duke 2018 ACC Basketball Pick
We like Duke in this game, especially due to Virginia's tight defense, which may get them in foul trouble. But we do think that it will be close. With a spread of just 3.5, our Virginia plays Duke 2018 ACC basketball pick is a close one, but we're going with the favorite, the Blue Devils at minus 3.5. We're also taking the over at 133.0.
Summary Cavaliers at Blue Devils Picks- Duke at -3.5 and over 133.0