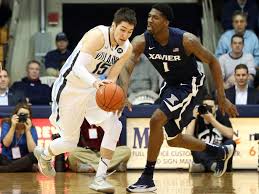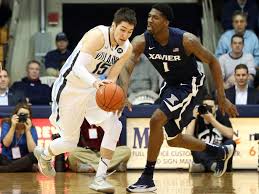 Our Villanova plays Xavier free college basketball pick has the Wildcats favored by just five points. That's not much considering the 25-point blowout victory Nova had over the Musketeers in January. That was on Villanova's home court. Now the two teams will meet at Xavier's Cintas Center. Last season Xavier manufactured a surprise victory over the Wildcats.
Villanova, which is 4-1 for its last five games, last lost on Jan. 24. That was when Marquette, playing at home, beat the Wildcats 74-72. After that Nova beat Virginia 61-59 on Jan, 29, Providence 66-57 on Feb. 1, and St. John's 92-79 on Feb. 4. They last played Georgetown beating them 75-64 on Feb. 7.
The Musketeers are also 4-1 over their past five. On Jan. 26, they recorded their last loss, as Cincinnati defeated them 86-78. They ten beat Saint John's 82-77 on Jan. 29, Seton Hall 72-70 on Feb. 1, and Creighton 82-80 on Feb. 4. Xavier's last game, which was on Feb. 8, resulted in a 72-61 victory over DePaul.
Villanova Wildcats
The Wildcats are scoring on average 77.5 PPG, while holding opponents to 63.0. Nova is good on 49.3% of their shots, which is almost four percentage points better than the Musketeers. This team is rich in guards.
Guard Josh Hart (19.2 PPG, 51 FG%, 41 3PT%) is an extraordinary scorer and a solid inside player with 6.6 RPG. Guards Jalen Brunson (14.1 PPG, 54 FG%, 39 3PT%) and Mikal Bridges (10.5 PPG, 57 FG%, 42 3PT%) are also fine shooters. Brunson leads on assists with 4.2 PG while Bridges is bringing down 4.8 RPG. The frontcourt includes Darryl Reynolds, who's averaging 5.5 RPG, and Kris Jenkins, who's averaging 13.0 PPG and 4.1 RPG.
Xavier Musketeers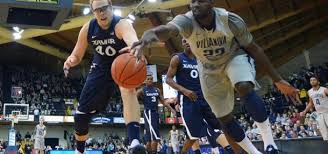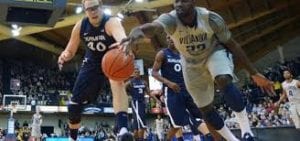 The Xavier Musketeers have a solid scoring offense, averaging 76.7 PPG, but their defense is not a sout as they would like. They're allowing 70.0 PPG. Xavier is taking down on average approximately four more rebounds per game than the Wildcats.
A big loss for this team is guard Edmond Sumner (15.0 PPG, 5.0 APG, 48 FG%). Sumner, who is second in PPG and first in assists, is out with an ACL injury. Quentin Goodin has stepped up since Sumner was lost and in those games is averaging an impressive 9.3 PPG. Guard Trevon Bluiett (18.7 PPG, 6.0 RPG, 45 FG%) leads the team in points, while forward RaShid Gaston (7.1 PPG, 6.3 RPG, 55.0 FG%) is tops in rebounds and a stellar inside shooter. Guard J.P. Macura (14.2 PPG, 4.4 RPG, 44 FG%) offer an 81% free throw completion mark.
Villanova Plays Xavier Free College Basketball Pick
If Villanova can dominate on defense, as they should, and hit their normal scoring percentages, they should win this game by more than five points. When it comes down the stretch, Nova outperforms Xavier at the foul line by 11 percentage points. Concerning three-point shots, the cats have completed 225 while the Musketeers have knocked down just 173. Our Villanova plays Xavier free college basketball pick is the Wildcats at -5.0.
Villanova Plays Xavier Free College Basketball Pick: Wildcats at -5.0