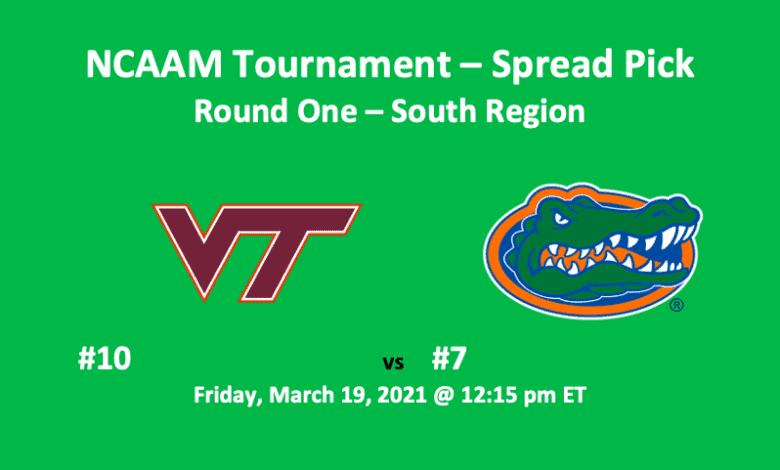 Our Virginia Tech vs Florida pick offers two teams in the South Region that are even. This is the first game of the Round of 64 in the NCAA Men's Tournament. Virginia Tech topped the ACC but lost to the UNC Tar Heels 81-73 in the quarterfinals of the conference tourney. Over their last five games, they've gone 3-2. The Florida Gators, who've also won two and lost three over their last five matchups, were fifth in the SEC. The Gators lost to the Tennessee Volunteers in the SEC Quarterfinals 66-78. The Hokies and Gators will meet on Friday, March 19 at 12:15 pm ET. The game will be held at Hinkle Fieldhouse in Indianapolis, IN.
Virginia Tech vs Florida Pick – Stats
VT is averaging 72.1 PPG, while Florida is hitting for 74.0 PPG. The Gators are completing 46.4% of their field goals, 35.7% of their three-pointers, and 75.7% of their frees. The Hokies come in at 45.1%/35.7%/69.7%. Rebounds are even at 35 per game, while VT is dishing off more assists (14.4-11.8) and better on turnovers (11.7-14.7). Defensively, Florida tops Virginia Tech on steals (7.3-4.8) and blocks (5.4-4.0).
Key Players
For the Hokies, Keve Aluma and Justyn Mutts are solid in the paint. Aluma, who's averaging 14.6 PPG, is shooting 48.9%, while Mutts is hitting for 9.6 PPG and completing 51.5% of his shots. Both forwards are 35% three-point shooters, while around the rim Aluma is grabbing 8.0 RPG and Mutts 6.5. Additionally, Aluma is averaging close to two blocks per game. In the guard spots, Tyrece Radford and Nahiem Alleyne are sound. Radford is averaging 11.9 PPG and Alleyne 10.4. Radford, a 56.0% shooter, can also pick off rebounds (6.1 RPG). Alleyne is hitting 40.9% of his threes.
For the Gators, guards Tre Mann and Tyree Appleby run the show. Both are averaging about 3.5 APG, while Mann is averaging 16.0 PPG and Appleby 11.4. Mann, who's completing 45.4% of his field goals, is a 40% three-point shooter. He's bringing down 5.7 RPG. Also, in the backcourt, Noah Locke is averaging 10.4 PPG while hitting 41% from virtually anywhere on the court. In front, Colin Castleton, a 58.1% shooter, is averaging 12.0 PPG while grabbing 5.9 RPG.
Virginia Tech vs Florida Pick – Final Thoughts
When it comes to shooting, the Gators are a bit more accurate than the Hokies. They're also more effective on D. However, Virginia Tech has better ball control. The VT big men are a powerful presence, while the Gator guards are major contributors. Our Virginia Tech vs Florida pick finds that this game is exceptionally close. In the end, we are taking the Hokies even (-110). See all of our Round One South picks by clipping on the appropriate tag. Here's a direct link to our free pick for Colgate vs Arkansas.
#10 Virginia Tech Hokies vs #7 Florida Gators
Virginia Tech Hokies EVEN (-110)