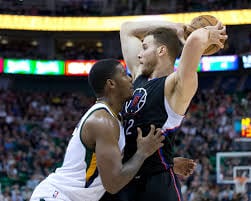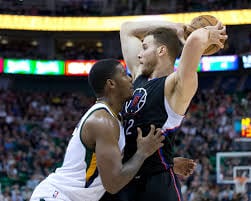 The fifth-seed Utah Jazz (51-31) play the fourth-seed Los Angeles Clippers (51-31) at 10:30 p.m. on Saturday. This is the fourth and final round one game tipping off on Saturday. Although the Jazz took down the Clippers the first two times that they met in the playoffs, as of late in the regular season, the Clippers have dominated this opponent. This season, they took three of four and over the past few years, LA is 18-2 versus Utah. The Jazz are 7-3 over their last 10 and have won two in a row. The Clippers come into the game with seven straight wins and an 8-2 record over 10 contests. Our Utah plays LA 2017 first round NBA free pick heavily favors the Clippers.
Utah Jazz Key Factors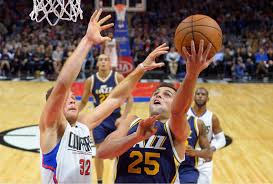 The Jazz puts a stingy defense on the floor. They're allowing just 96.8 PPG. However, the club is not an offensive dynamo. They are scoring on average a mere 100.7 PPG, which gives them a +3.9 mark in PF/PA. The club's field goal percentage is 46.6%, which is ninth in the NBA. Utah is 24th in free throws, completing 74.7%.
Utah will look to center Rudy Gobert (14.0 PPG, 12.8 RPG, 66 FG%) to out points on the board and haul in rebounds. SF Gordon Hayward leads the club in average points per game with 21.9, while PG George Hill is tops in assists with 4.2. He's also second in points per game, averaging 16.9. Hayward and Hills have refined and skilled hands when it comes to making the steal and Gobert is tops in blocks with 2.64 per game.
Los Angeles Clippers Key Factors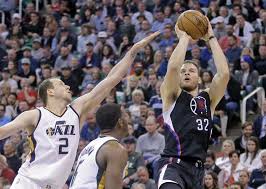 The Clippers have a +4.3 PF/PA mark. They have averaged a healthy 108.7 PPG. They are giving up 104.4 PPG. The Clippers have the second best field goal percentage, which is at 47.5%. At 37.5%, LA is seventh in threes. They've got as problem with frees, as they are 27th and completing 74.5%.
The Clippers have a formidable team. Six are averaging double-digits when it comes to scoring. Plus they have a double-digit rebounder and another player who's close to double-digits in assists. Let's start with leading scorer PF Blake Griffin, who's averaging 21.6 PPG while grabbing 8.1 RPG and making 4.9 APG. He's a major force on this team. PG Chris Paul, the team's second leading scorer, is averaging 18.1 PPG and dishing off 9.2 APG while bringing down 5.0 RPG. Center DeAndre Jordan is grabbing 10.1 RPH and scoring 12.7 PPG. He's averaging 1.65 BPG while Paul is recording 1.95 SPG.
Top Series Factors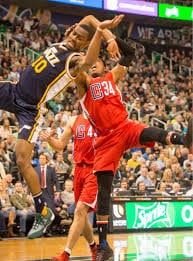 Here are our observations concerning important factors and this series:
The LA Clippers have dominated the Jazz over the past 20 regular season games
Clippers took this year's season series 3-1.
Home court advantage is questionable as both teams have the exact same home and away records
Free throw, three-point and field goal differentials are negligible
Rebounding, steals, blocks and turnover are also close
The Clippers have a major advantage in terms of the bench
Overall individual contribution from players favors LA
Utah Plays LA 2017 First Round NBA Free Pick
We expect the Clippers to run a lot and leave the Jazz in the dust. Look for Utah to try to slow down the game. We think that LA will win that battle. Our Utah plays LA 2017 first round NBA free pick is the Clippers in five.
Utah Plays LA 2017 First Round NBA Free Pick: Clippers in five