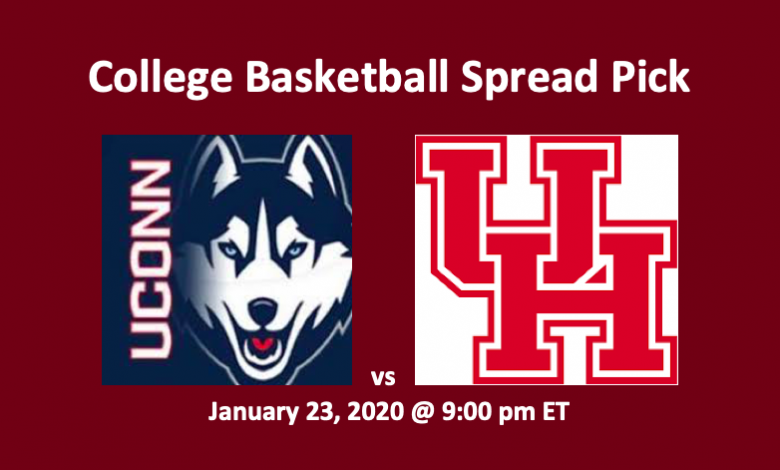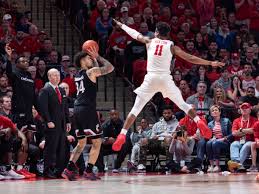 Our UConn vs Houston pick has the #25 Cougars at -9.0. This UConn vs Houston prediction notes that the UConn Huskies (10-7 Overall, 1-3 AAC) are ninth in the AAC. The Houston Cougars (14-4 Overall, 7-2 AAC) are second in the conference. The Tulsa Golden Hurricane, who are 5-1 in AAC play, are one-half game ahead of the Cougars and in first place. This game will be played Thursday, January 23, 2020 at 9:00 pm ET. It will tip off at the Feritta Center in Houston, Texas.
UConn vs Houston Pick – Recent Performance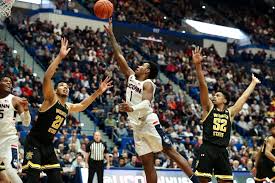 Over their last five games, the Huskies are 1-4. Their one victory was against the Tulane Green Wave on January 8. UConn beat Tulane 67-61. That one win occurred on either side of two straight losses. The last two losses were to #23 Wichita State and #14 Villanova. On January 12, the Shockers beat the Huskies in OT 89-86. Then on January 18, the Wildcats took down UConn 61-55. That means that tonight the Huskies will play their third nationally-ranked team in a row.
Houston comes to tonight's game having won four of their last five contests. Their one loss in that time was to Tulsa. On January 11, the Golden Hurricane edged the Cougars 63-61. Houston has won its last two games. On January 15, they beat SMU 71-62. In their last game, which was on January 18, they comfortably beat Wichita State 65-54.
Huskies at Cougars – Stats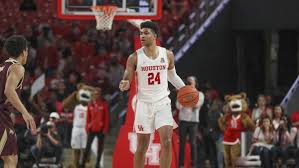 Both teams are holding opponents to just over 64 PPG. However, our UConn vs Houston pick notes that the Cougars are outscoring the Huskies 75.3 to 71.2. The Cougars have a slight edge in field goal percentage, 43.8% to 42.2%, and are out-rebounding them 42.9 per game to 38.9 per game. Also, Houston has a very slight advantage in free throw and three point percentages as well as assists. The Huskies are blocking 7.1 shots per game while the Cougars are turning away 5.7. UConn is also making 1.6 more steals per game than Houston.
Player and Roster Assessment
Two UConn players, guard Christian Vital and center Josh Carlton, are averaging double digits in scoring and 6.8 RPG each. Vital, a 39.2% shooter, tops the team with 14.2 PPG. Carlton, who's averaging 10.0 PPG, is hitting 50% of his field goals. Three other players are hitting for 9.5 PPG or better. Guard Alterique Gilbert is averaging 4.8 APG and 9.5 PPG. Forward Tyler Polley, who's averaging 9.5 PPG, is good on 40.5% of his threes.
On the other hand, Houston brings four double-digit scorers to the court. Three are backcourt players and include Quentin Grimes and Caleb Mills. Grimes is recording 12.8 PPG and Mills 12.6 PPG. Also at guard, Nate Hinton is a fine inside-out player. Hinton, who's averaging 11.6 PPG, leads the team in rebounds, taking down 9.7 per contest. The 41.1% shooter is hitting 40.5% of his attempts from downtown. Finally, forward Fabian White Jr., who's grabbing 5.7 RPG, is scoring 10.9 PPG. He's a 48.2% shooter.
Our UConn vs Houston Pick
Our UConn vs Houston pick notes that the Cougars seem to have, as of late, put their game together. The Huskies are struggling to do so especially against better teams. We do like Houston at home at -9.0. We're taking the Cougars.
UConn Huskies vs Houston Cougars Prediction – Summary
Houston Cougars at -9.0