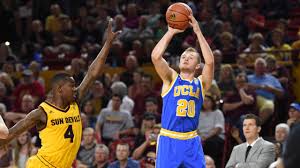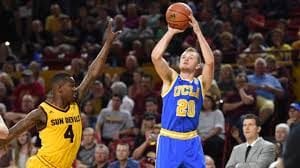 The unranked Arizona State Sun Devils (9-9 Overall, 3-2 Pac-12) visit the #3 UCLA Bruins (18-1 Overall, 5-1 Pac-12) for a 11 p.m. ET tipoff. The Sun Devils are seventh in the league, while the Bruins are in third place. Our Arizona State plays UCLA college basketball free pick has the spread on this game has UCLA at -18.0.
The Sun Devils have played three ranked teams and lost to them all. Within the Pac-12, Arizona State's losses have been to California 81-65 on Jan 1, Utah 88-82 on Jan. 7, and #16 Arizona 91-75 on Jan. 12. Their two wins were against Stanford 98-93 on Dec. 30 and Colorado 78-77 on Jan 1.
UCLA lost it's first Pac-12 game. That was to #21 Oregon 89-87. They then followed that loss with five straight wins. Their initial conference win came against Oregon State 76-63 on Dec. 30. With the New Year, they beat California 81-71 on Jan. 5, Stanford 89-75 on Jan. 8, and Colorado 104-89 on Jan. 12. Their last game was on Jan. 14 when they beat Utah 83-82.
Arizona State Sun Devils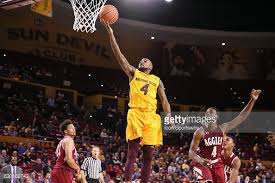 The Sun Devils have four players who are scoring in double-digits. Three of those guys are in the backcourt. Guard Torian Graham (18.1 PPG, 4.1 RPG, 48 FG%) leads the team in scoring and has a three-point mark of 39%. Also in the backcourt is Shannon Evans II (15.3 PPG, 3.3 RPG, 4/6 APG), the setup man, and Tra Holder (16.9 PPG, 3.7 RPG, 3.2 APG), who's hitting 44% of his shots. Forward Obinna Oleka (13.6 PPG, 10.6 RPG, 46 FG%) leads the team in rebounds.
Arizona State is scoring 81.6 PPG while allowing 82.9. They're turnovers per game come in at a solid 11, while UCLA is averaging a dozen. But the Bruins outmatch them in just about all other categories.
UCLA Bruins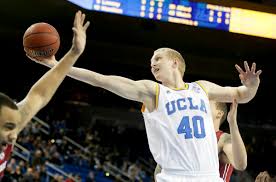 Six Bruins come to this game hitting in double figures. Both the frontcourt and backcourt are formidable. At 7-0, center Tom Welsh (10.5 8.5 RPG, 55 FG%) offers a towering presence while averaging 1.9 BPG. Forward TG Leaf (16.8 PPG, 8.9 RPG, 64 FG%) is an inside/out player hitting 51% of his threes. Lonzo Ball (14.6 PPG, 5.5 RPG, 8.0 APG) is a stellar playmaker. Also, Isaac Hamilton and Aaron Holiday are both important contributors.
This is a disciplined team that commits just 12 turnovers per game. Also, they're committing 16.6 fouls per game. The Bruins are holding teams to 75.3 PPG while scoring 92.9. They're blocking an impressive 5.9 SPG.
Arizona State Plays UCLA College Basketball Free Pick
UCLA is hitting 52.3% of its shots, while Arizona State is good on 44.6. Rebounds are the Bruins 39.1 and Sun Devils 34.1. Assist come in at 22.1 to 14. We expect the Sun Devils to be outmatched in this game. The Bruins are at home and rested. A blowout is a good possibility. With our Arizona State plays UCLA college basketball free pick, we'll go with UCLA at -18.0.
Arizona State Plays UCLA College Basketball Free Pick: Bruins at -18.0