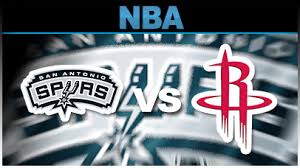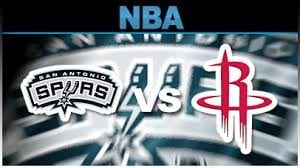 The San Antonio Spurs (61-21) made it to round two, the Western Conference Semifinals, by beating the Memphis Grizzlies four games to two. The Spurs took and early lead in the series by winning the first two games at home. Then Memphis tied it up with two home wins of their own. It was another Spurs home win that got them within one game of taking the series. In game six, played in Memphis, San Antonio beat the Grizzlies 103-96 to get to the second round. In their first round series, the Houston Rockets (55-27) took on the Oklahoma City Thunder and Russell Westbrook. It was a tough battle that Houston won four games to one. As the two teams prepare to meet, we offer out Spurs play Rockets NBA West Semifinals free pick.
Players to Watch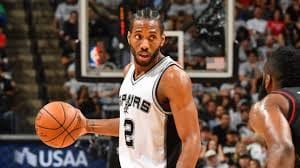 SF Kawhi Leonard and PG Tony Parker serve as the Spurs' one-two punch in the frontcourt and backcourt. Leonard is averaging just over 30 PPG, is grabbing 6.8 RPG, and hitting 56% of his shots. Parker is hitting for 15.9 PPG and is good on 58% of his threes. Leonard is dishing off 4.6 APG and Parker 3.1 APG. Two other important guys in the paint for San Antonio are PF LaMarcus Aldridge (13.5 PPG, 7.3 RPG) and center Pau Gasol (6.4 PPG, 6.6 RPG).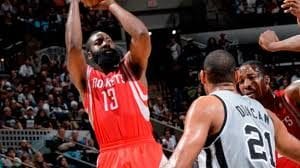 It's no secret that SG James Harden is the man for the Rockets. He leads the team in the playoffs in scoring (28.4 PPG), assists (8.4 APG) and steals (2.0 SPG). In the paint, centers Clint Capela and Nene Hilario offer scoring and rebounding chops. Together they are averaging 23 PPG and 14 RPG. Capela leads the team in blocks with 2.43 per contest.
Keys to the Series
Together Leonard and Parker can be major factors for the Spurs
Houston's ability to control the boards
Spurs three-point shooters are superior
Rockets inside play and steals can be huge
Houston's bench is deeper
Series Schedule
Game 1 Mon., 5/1 HOU @ SAS (9:30 p.m., TNT)
Game 2 Wed., 5/3 HOU @ SAS (9:30 p.m., TNT)
Game 3 Fri., 5/5 SAS @ HOU (9:30 p.m., ESPN)
Game 4 Sun., 5/7 SAS @ HOU (9 p.m., TNT)
Game 5 Tue., 5/9 HOU @ SAS (TBD, TNT)*
Game 6 Thu., 5/11 SAS @ HOU (TBD, ESPN)*
Game 7 Sun., 5/14 HOU @ SAS (TBD)*
*If necessary
Spurs Play Rockets NBA West Semifinals Free Pick
The Rockets are averaging a few more points and rebounds per game. With their accurate shooting from downtown, San Antonio can make up deficits quickly. Our Spurs play Rockets NBA West Semifinals free pick is Houston in six games.
Spurs Play Rockets NBA West Semifinals Free Pick: Rockets in six