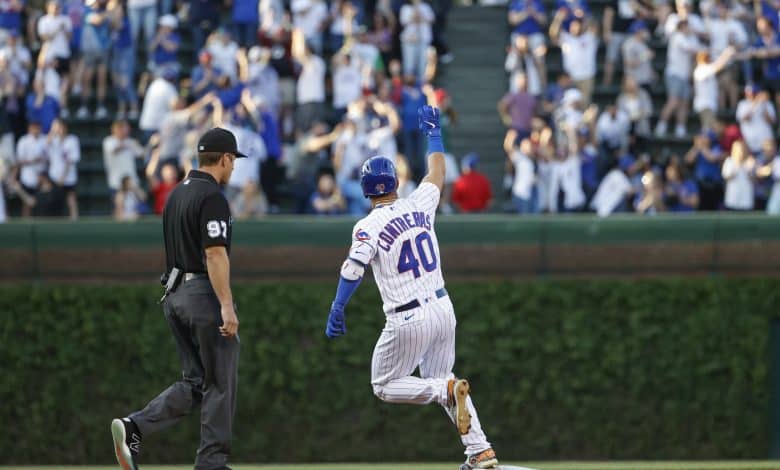 Pittsburgh is hoping for a little better start in the May 17th Pirates at Cubs betting matchup. Willson Contreras' 100th career home run was a 1st inning grand slam on Monday which helped Chicago build an 8-0 lead after the first frame as they pushed on to a 9-0 victory as -157 favorites.
The Cubs look for a season high fourth straight win on Tuesday night as -145 favorites. Granted the three wins have come against Arizona and these Pirates but that's still momentum. Pittsburgh took 3 of 4 in Chicago at the end of April and split a 2-game series with the Cubs at PNC Park earlier in the year so the Bucs have some value at +125.
Pirates Offense Looks Woeful
Pittsburgh was famously no-hit on Sunday afternoon – and still beat the Reds 1-0. The Pirates offense was very nonexistent in Monday's loss to the Cubs as well, managing just 1-hit over 7.0 IP against Chicago starter Wade Miley and finishing with just 3 hits in the 9-0 loss.
The Pirates have scored a total of six runs in their last five games, getting shut out twice. Their offensive numbers over the last week are just brutal with just two players hitting above .250 over that span. Perhaps Pittsburgh gets things going in the May 17th Pirates at Cubs matchup considering Chicago pitcher Keegan Thompson is making just his 2nd start of the year.
While Chicago has some questions on the mound Tuesday night so do the Pirates, who send JT Brubaker (0-3, 5.34 ERA) to the bump. Brubaker hasn't been able to pick up a win through 7 starts this season, but that's more of an indictment on his offense as the right-hander has allowed 2 ER or less in 4 of his last 5 outings.
Cubs Heating Up
Chicago picked up a win at Wrigley Field on Monday night, a very important feat considering they were 0-5 on their most recent home stand. The Cubs took a trip out West and took 2 of 3 from the Padres and then 2 of 3 from the Diamondbacks so they are on a nice little 5-2 run over their last 7 games.
Contreras served a big blow on Monday night with the grand slam on his second time through the order in the first inning, finishing 2-5 with 4 RBI in the leadoff spot while playing DH. Ian Happ was 3-3 in the series opener and both of those players should be in line for big nights again on Tuesday. Contreras is 3-10 (with 5 K's though) vs. Brubaker but Happ is 4-13 in his career vs. the Pirates starter.
Rafael Ortega and Frank Schwindel have also combined to go 5-8 in their careers vs. Brubaker and Thompson (2-0, 1.67 ERA) will take anything he can get in his second start of the season. Thompson went 4.0 IP allowing 2 ER to the Padres last Wednesday and he'll have a pitch count on Tuesday. The fact that Chicago needed only one reliever on Monday leaves the bullpen very fresh.
Free May 17th Pirates at Cubs Betting Pick
Over 1/4 of Pittsburgh's wins this year have come against Chicago so it's not going to be a huge shock if the Bucs get one at +125 on Tuesday night. How do you back this Pirates offense right now though, managing just 4 hits total in their last two games? With Chicago's offense simultaneously heating up the Cubs have to be the play.
Free Pick: Cubs -145