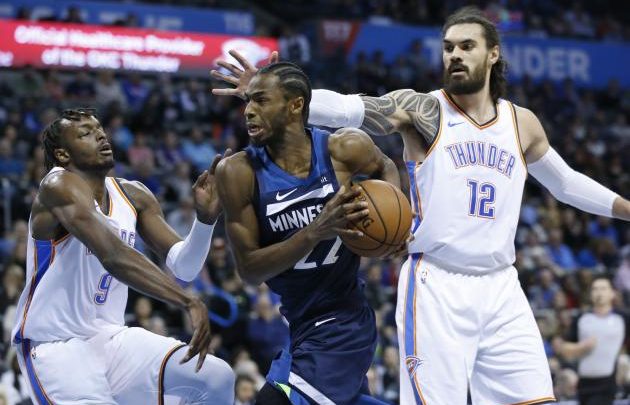 The Thunder are still a talented team even without Paul George (who will miss his 4th straight game Tuesday) but oddsmakers are taking note making the Timberwolves -1 favorites in the March 5th NBA free pick. This is a Minnesota team that has lost three in a row and is essentially eliminated from the postseason, trailing the 8 seed by six with 19 to go. Oklahoma City is currently the 3 seed in the West, but should they be avoided without their MVP candidate?
Can Oklahoma City Get it Together vs. a Struggling Minnesota Squad?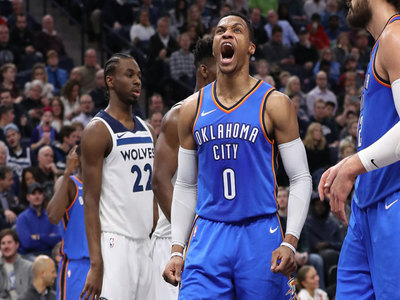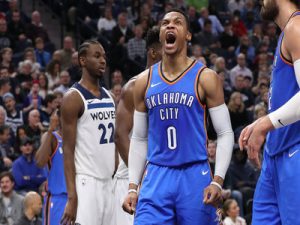 The Thunder haven't looked great lately, losing 4 of their last 5. They're still sitting in a great situation regarding home court for the first round of the playoffs but you can't think coach Billy Donovan wants to limp through the remainder of the regular season like this. To be fair, the Thunder are without Paul George, and their losses came against solid teams in Sacramento, at Denver, Philadelphia, and at San Antonio. OKC did bounce back Sunday with a 99-95 win over Memphis. Even so the Thunder were -10 home favorites and that was their 3rd straight game scoring 105 points or less.
The big question ahead of the March 5th NBA free pick is who will step up for OKC in George's absence? Russell Westbrook would be the obvious choice but he's not exactly lighting things up going 7-20, 7-17, and 8-24 from the field the last three games without PG13. Westbrook has a points high of just 23 over that span. Jerami Grant scored 23 points Thursday vs. the Sixers, but no other Thunder player has broken 20 in the last three games. Minnesota has allowed 130+ in 2 of the last 3, so maybe OKC finds their offense on Tuesday.
Do the Wolves Simply Have OKC's Number?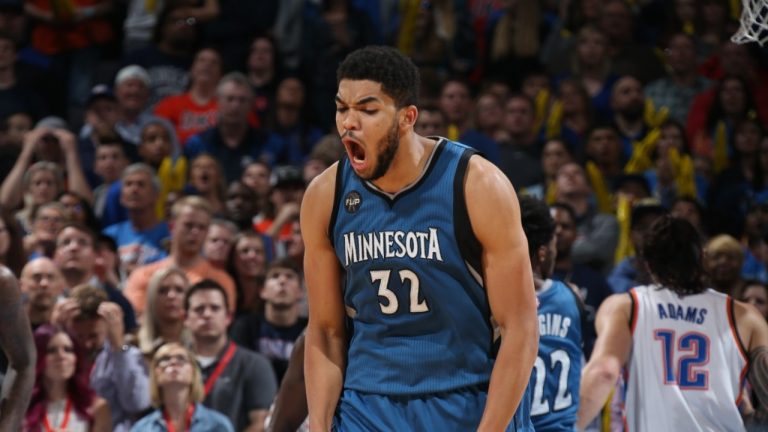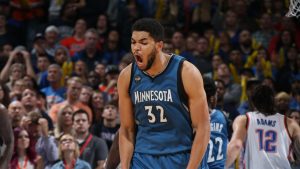 As up and down as their season has been, the T'Wolves have won both games vs. the Thunder so far this season. Granted both games have been close, a 114-112 Minnesota win on December 23rd and another 119-117 victory on January 8th. Both of those contests were in Oklahoma City however. Can Minnesota keep the six game ATS win streak going back at the Target Center?
Perhaps the bigger question is how motivated are the Wolves ahead of the March 5th NBA free pick? Karl-Anthony Towns hasn't given up on the season as his last three lines to close out February were 34/21, 37/18, and 42/17. Towns has largely been held in check vs. Steven Adams and the Thunder this season, scoring 20 and 18 points. Andrew Wiggins has more than stepped up however with a 40 and 30 point outburst in two games vs. OKC.
March 5th NBA Free Pick Betting
There's obviously value on the #3 seed OKC being an underdog vs. a Minnesota team that has lost three in a row. It should be noted, the T'Wolves were on the road all three of those defeats. OKC could be getting a bit fatigued with their 3rd game in four nights and they just haven't found a lot of options outside of Westbrook as George sits. Wiggins tears up the Thunder and Minnesota just plays this team well.
NBA Free Pick: Minnesota Timberwolves -1