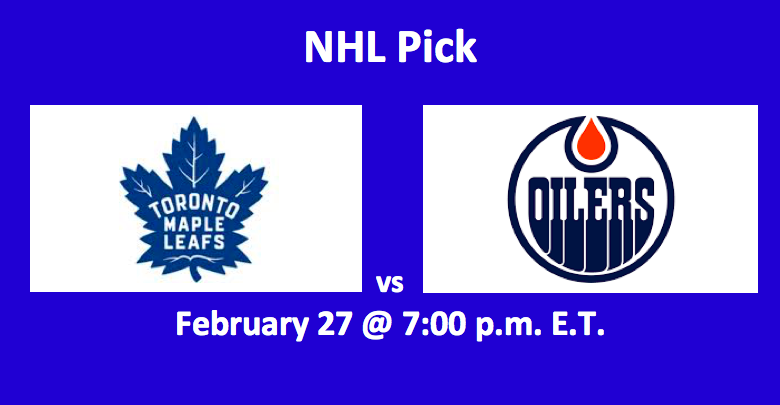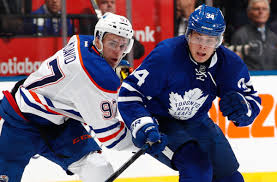 The Toronto Maple Leafs are set to host an inter-division matchup against the Edmonton Oilers on February 27th at 7 PM ET. The Leafs have won two straight and are 6-3-1 in their last 10 games. Edmonton has gone 3-5-2 in their last 10 and are currently seven points out of a playoff spot. The Oilers will see the return of superstar Connor McDavid to their lineup after a two-game absence. Our Toronto vs Edmonton pick examines the impact his return will have on the outcome of this game.
Goaltending Matchup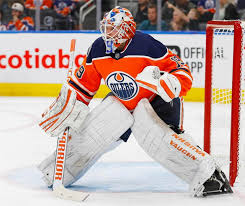 Mikko Koskinen will get the start for the Oilers. It will be his eighth start in a row. He has a 2-3-2 record in his last seven starts. In his most recent two games, he has made a combined 69 saves on 72 shots. Despite this, Koskinen has been shaky in road games this year. He is 6-8-3 with a .893 save percentage and a 3.15 GAA in those contests. Toronto averages 3.50 goals a game at Scotiabank Arena and will be a tough matchup for the Finnish keeper.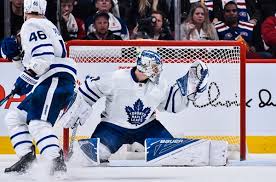 Koskinen will face off against Frederik Andersen. Andersen currently holds a .922 save percentage and a 2.60 GAA on the year. He is also tied for the league lead in wins with 29. Andersen has been solid all year, including recently. He comes into the contest with a 9-3-2 record over his last 14 starts. He has a 2.72 GAA and a .922 save percentage in that span. In his last five home games he is 4-1-0 with the lone loss coming against a strong Washington club. Our Toronto vs Edmonton pick finds if Toronto can keep McDavid contained, Andersen should have an easy night against a team that is lacking in depth.
Oilers Get a boost with McDavid's Return
Edmonton will get a fresh Connor McDavid back as he returns from his two-game suspension. Prior to his short ban, he had 13 points in his last ten games. He is currently third in the NHL in total scoring with 85 points in 58 games played. McDavid should get his chances after his mandatory two-game rest. Leon Draisaitl has continued his solid play as well. He has seven points in his last four games, and is currently eighth in league scoring. Beyond these two, the Oilers lack scoring. McDavid will be especially tricky to contain, but if this is done successfully, Toronto should have no trouble winning this matchup.
Toronto's offense been hot all year. The league's fourth highest scoring offense is coming off two straight wins where they scored a combined 11 goals. Auston Matthews (30-28-58), John Tavares (35-31-66), and Mitch Marner (21-50-71) have been putting up big numbers all year, and they have a good matchup against an Oilers team which has allowed the eighth-most goals in the NHL. William Nylander is starting to settle in after a really slow start. He has two points in his last two games and has added some scoring depth behind the Leafs' biggest stars. Our Toronto vs Edmonton pick sees the Maple Leafs as having better scoring depth than tonight's opponents.
Toronto vs Edmonton Pick
The Oilers have not been great on the road this season. They should get a boost with McDavid returning to the lineup, but they are a risky pick against a talented Leafs squad. Our Toronto vs Edmonton pick sees the Maple Leafs coming out on top. Also see our Devils and Calgary free pick.
Toronto vs Edmonton pick
Toronto Maple Leafs (-225)