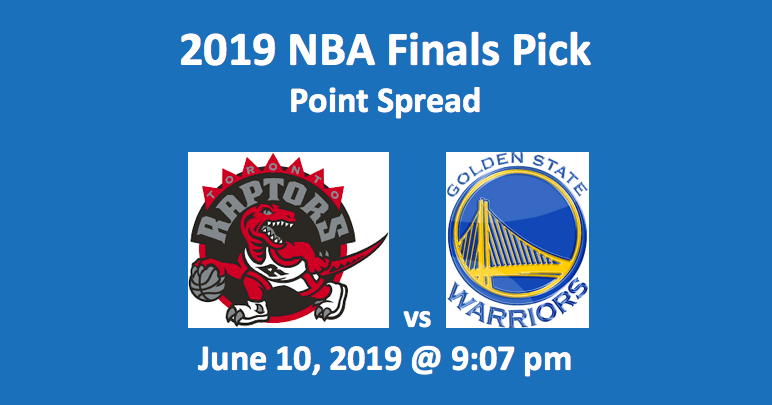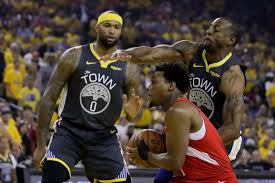 This Toronto Raptors vs Golden State Warriors spread pick has the NBA odds for the Raptors at -1.5. In the moneyline, this Game 5 NBA Finals pick offers the Raptors at -117 and the Warriors at +108. Suddenly, Toronto finds itself the favorite in a series where the Golden State Warriors, who have won two-straight NBA crowns, were seen by many as being a shoe-in.
The Raptors have a commanding lead in the best of seven series three games to one. They can wrap it all up tonight with a win. The Golden State Warriors find themselves in this situation after going back home with the series tied at one game apiece and then dropping two straight in Oakland. Game 5 of this 2019 NBA Finals series will be played at the Scotiabank Arena in Toronto on Monday, June 10 with tipoff scheduled for 9:07 pm ET.
Toronto Raptors vs Golden State Warriors Spread Pick – Stats and Trends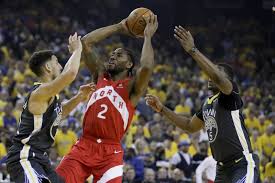 Our Toronto Raptors vs Golden State Warriors NBA pick notes that the Warriors are scoring on average just 104.8 PPG in this series. This is a team that has averaged in this year's postseason 114.8 PPG and in the regular season over 117 PPG. On the other hand, the Raptors over the course of the playoffs have averaged 106.3, but in the four games against Golden State, the team has been putting up 112.5 PPG.
When comparing other basic stats, such as rebounds, assists, and steals, these teams are fairly close. However, Toronto does lead in every category except assists, where the Warriors top them 28.5 to 23.5. The Raptors are committing almost four fewer turnovers, while making two more steals and 1.5 more blocks per game than their opponent. That means more scoring opportunities for the Raptors.
Finally, the Raptors are going to the foul line a few more times per game and hitting 90.3% of their attempted frees. The Warriors are completing just 83.6% of their shots from the charity stripe. Toronto is getting about five more shots off per game than the Warriors.
Raptors vs Warriors – Players to Watch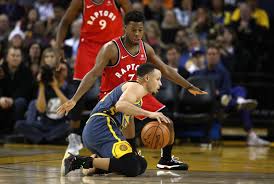 Two Golden State players you cannot watch tonight, because they are out injured, are SF Kevin Durant and center Kevon Looney. Durant has been out the entire series and Looney was knocked out in game three. Durant, who is a major playmaker, scoring threat, and assist-man, has been a huge loss for the reigning champs. The outside shooting for the Warriors, led by PG Stephen Curry and SG Klay Thompson, has been on target. Curry is averaging 32.8 PPG and 5.5 APG, while Thompson has been good for 24.7 PPG. But the inside game has suffered. The only Golden State player in the paint averaging double digits is PF Draymond Green with 13.5 PPG. He also leads the team with 9.0 RPG and 8.8 APG.
Toronto PG Fred VanVleet is listed as day-to-day. VanVleet, who's been averaging 12.8 PPG in this series, is expected to play in Game 5. Against Golden State, SF Kawhi Leonard has averaged a hefty 30.8 PPG and 10.8 RPG. PF Pascal Siakam has been good for 20.3 PPG and 7.8 RPG. At the point, Kyle Lowry is dishing off 6.8 APG while scoring 13.3 PPG. Two other players, center Marc Gasol and SG Danny Green, have averaged double digits in scoring, while center Serge Ibaka has been putting in 9.5 PPG.
Our Toronto Raptors vs Golden State Warriors Spread Pick
Our Toronto Raptors vs Golden State Warriors spread pick notes that this is Toronto's game to lose. They are at home, in command, and healthy. The Raptors have taken command of the series and proven that they can win anywhere. The Warriors are in a do or die situation and will go all out. But Toronto's Leonard will be tough to stop. At this point, he and his teammates can smell victory. We are going with Toronto tonight to win.
Summary NBA Finals Game 5 Pick – Toronto Raptors vs Golden State Warriors
Toronto Raptors at -1.5 (-110)