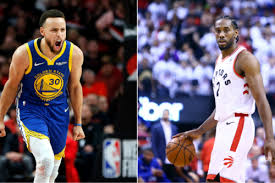 Our Toronto Raptors vs Golden State Warriors pick has Toronto at -2.0. Our Toronto Raptors vs Golden State Warriors pick notes that the slim spread odds come after Golden State lost by nine points in game one of this NBA Championship series. The second game will be played on Sunday, June 2, 2019, at Rogers Arena in Toronto with the tip off scheduled for 8:00 pm ET. In this series, the Golden State Warriors are looking to secure their third-straight NBA title. The Toronto Raptors are not only trying to win their first-ever NBA crown, but this is the first time the team has made it to the league finals.
Toronto Raptors vs Golden State Warriors Pick– Stats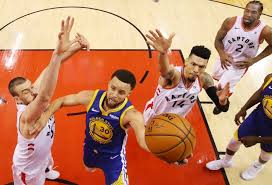 In the first game, the stats tell a tale that had been expected. Despite the fact that Golden State was lights out from the free throw line (93.5% – 84.4%), the Raptors buried their opponents when it came field goals (50.6% – 43.6%) and were better on threes (39.4% – 38.7%).
The Warriors won the battle under the boards (38 – 36) and also led in assists (29 – 25). However, the difference between the two clubs was not substantial. What was substantial in terms of difference were the number of turnovers for each team. Golden State had 16 turnovers, while Toronto turned the ball over just 10 times. Statistically, the Raptors did what they needed to do, and they hampered the Warriors from performing in the manner needed to win.
Raptors vs Golden State – Players to Watch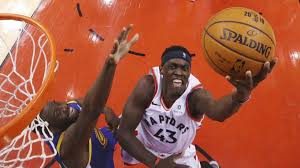 For the Warriors, one player to watch will not, once again, be on the floor tonight. That is SF Kevin Durant. SF Andre Iguodala, who it was thought would not play in game one did play. He had just six points. Durant is an especially huge loss for this team as he had been scoring 30-plus points per game in the playoffs. The Warriors are thin and will need a super-huge effort from not only Stephen Curry, but also his counterpart in the back court, Klay Thompson, as well as from the guys in the paint. Curry had 34 points in game one and Thompson 21. Can Iguodala step up tonight? PF Draymond Green tossed in 10 in the losing effort and center Kevon Looney had nine points. Still, that's not enough.
The Warriors did temper Toronto small forward Kawhi Leonard a bit in game one. Leonard did not score 30-plus points, as he had been. He put in 23 while grabbing eight rebounds and making five assists. Also in front, PF Pascal Siakam led the team with 32 points. He also took down eightt rebounds, made five assists, and blocked two shots. Center Marc Gasol had a fine game, scoring 20 points while grabbing seven balls. Huge in the contest were the efforts of point guard Kevin Lowry. Lowry only put in seven points, but he totaled nine assists. PG Fred VanVfleet posted 15 points off the bench, while shooting guard Danny Green was good for 11.
NBA Finals – Keys to Game Two
Warrior front men need to score more
Toronto is tough to stop in the paint
Depth is huge, and Toronto has that
Curry has to set up smartly as well as score
Toronto's disciplined play needs to continue
Our Toronto Raptors vs Golden State Warriors Pick
The Raptors are home and they looked strong in game one. In that contest, they had more stamina and showed better depth than the Warriors, and those two elements allowed them to pull ahead in the second half. We don't think that the Warriors can completely stifle Leonard but only slow him down. In doing so, they open the door for other Toronto players to contribute. We do like the home team in this one at only -2.0. Our Toronto Raptors vs Golden State Warriors pick is Toronto.
Summary Spread Pick – Toronto Raptors vs Golden State Warriors
Toronto Raptors at -2.0