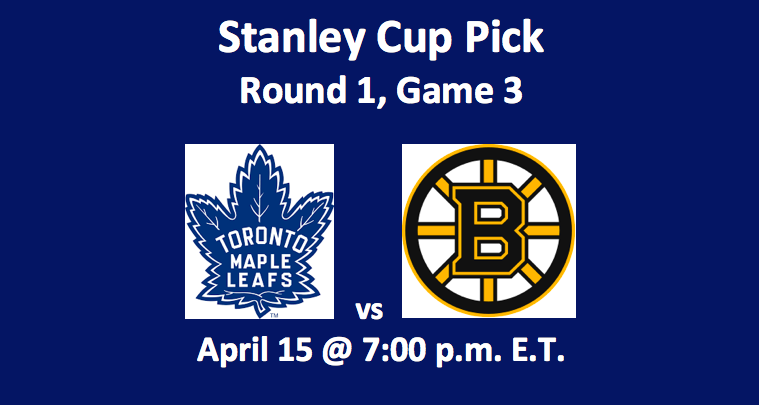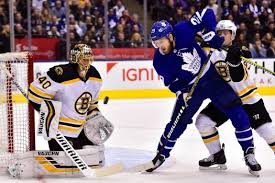 Our Toronto Maple Leafs vs Boston Bruins pick considers game three's potential result. At this point, the Maple Leafs vs Bruins series is tied at one apiece. After Toronto came out on top in game one, Boston battled back and took game two by a score of 4-1. The series now shifts to Toronto where the next game will be played Monday, April 15, 2019 at the Scotiabank Arena. The puck will be dropped at 7 pm ET. In this game three, we expect goaltending, the physical game, and injuries to factor into game three.
Toronto vs Bruins Preview: Goaltending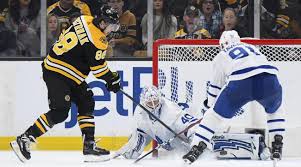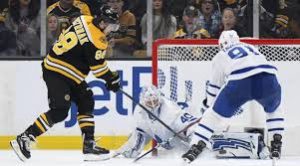 Toronto's Frederik Andersen may have surrendered four goals in the last game, but he played very well. Boston easily could have had six goals in the first two periods if he was off his game. Luckily for Toronto, Anderson was up to the task. He stopped 37 of 41 shots. Andersen has a 2.50 GAA and a .937 save percentage in the series.
Tuukka Rask had a solid game two as well. He wasn't tested very much through the first two periods, but he did enough to get his team the win. The lone goal he surrendered was a deflection on which he had no chance. Rask finished the game with 30 saves on 31 shots. He has a 2.02 GAA and a .937 save percentage though games one and two.
The Physical Game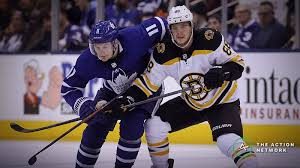 The Bruins came out of the gates firing in game two. Everyone on the roster was getting involved in the physical game. Boston finished the contest with 44 hits, as their skill players got involved as well. David Pastrnak had four hits to go along with his beautiful assist on Brad Marchand's goal. Toronto looked very uncomfortable with the physicality of the Bruins in game two. They seemed frustrated throughout the game. If Boston can make game three a physical battle, they have a good chance to control the contest.
Leafs and Bruins: Both Teams Dealing with Key Losses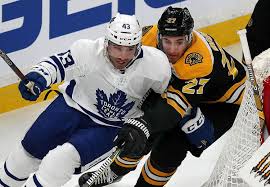 Boston potentially lost two defensemen and a forward for game three. Torey Krug and Jake DeBrusk are both being evaluated for concussions, while Conor Clifton left in the third period. With the injuries to Krug and Clifton, Boston now has four defensemen sidelined. If neither Krug nor Clifton are healthy enough to play game three, Boston's depth will really be tested. The Bruins showed that they could deal with these multiple injuries to defensemen during the regular season and will now likely need to show they can do it in the postseason as well. Jake Debrusk left the game after a cross-check to the head from Nazem Kadri. Debrusk spent game two frustrating the entire Leafs' roster, and was a vital physical presence in that contest.
For the Maple Leafs, they are likely to be without Kadri. He was offered an in-person hearing for his cross-check to the head of Jake Debrusk. Kadri was suspended for a similar play last postseason against the Bruins. His loss will be big. He had the Maple Leafs' lone goal in game two and was arguably their best player in the contest. Kadri also assisted on a goal in game one. It would be surprising to see no discipline levied against the center. His absence will make Toronto rely more on their stars such as John Tavares and Auston Matthews. Tavares had two points in game one but was a non-factor in game two. Matthews has yet to record a point, but showed some promise in game two firing a team leading five shots on net.
Toronto Maple Leafs vs Boston Bruins Pick: Summary
Our Toronto Maple Leafs vs Boston Bruins pick finds that this game could go either way but we like Boston's chances. While potential losses of Krug and Clifton will test the Bruins' depth, they have shown that they can hold their own with major roster subtractions during the regular season. Rask also showed that he was up to the task when Boston played a portion of game two with only four defensemen. While Andersen has been great, if the Bruins come out with the same intensity they did in game two, they will just get too many chances. We like Boston in this game, especially if Krug, Clifton, or DeBrusk are able to suit up.
Maple Leafs vs Bruins Pick
Boston Bruins over Toronto Maple Leafs (+105)