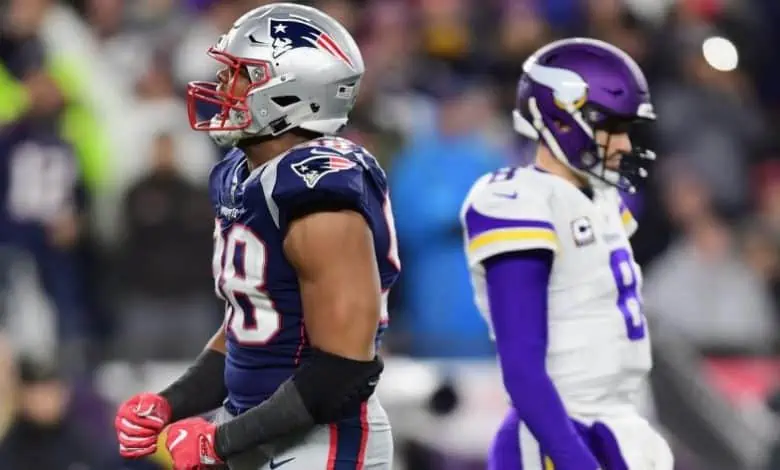 New England has looked good in holding their last three opponents to 17, 3, and 3 points the last three weeks, but that has also been against the Jets, Colts, and Jets again. Normally you'd think Minnesota's offense gets to Bill Belichick and company in the Patriots at Vikings matchup, but Dallas handed the home team a 40-3 beating last week at U.S. Bank Stadium.
Minnesota is a -2.5 favorite on Thanksgiving night, and one thing that has to be taken into consideration in this matchup is Vikings QB Kirk Cousins' struggles in primetime game. Monday Night Football (2-10) is Cousins' big kryptonite, but he's 10-18 overall including 3-4 on Thursday's. A slight 55% of the betting public are braving the "Cousins Curse" and taking Minnesota giving the -2.5 here.
Defense Not New England's Problem
Despite their poor performance of just 183 total yards last week against Dallas, the Vikings should be a little better on Thursday night – should be. Minnesota has a top 10 passing offense and WR Justin Jefferson has gone over 100 yards receiving in 5 of his last 7.
The Vikings did get shut down by the Cowboys last week, and statistically New England has a better total yard defense than Dallas (#4 vs #9), are better vs. the run (#12 vs #26), and are somewhat neck-and-neck against the pass (#4 vs #1).
Assuming New England can continue their defensive success, the big question then shifts to if the Patriots can provide enough offense to get the win? The Patriots didn't score a TD last week against the Jets until an 84-yard punt return by Marcus Jones with :05 left.
Minnesota With Some Concerns
It's only one game and the Vikings are still sitting pretty at 8-2 with a big cushion in the NFC North – but was Minnesota exposed last week? Even during their 7-game win streak which was snapped in the loss to Dallas, the Vikings had won each of those games by just one score.
Instead of being "exposed" perhaps Minnesota just came out flat vs. Dallas after their improbable 33-30 OT win in Buffalo the week before. The Vikings were stopped on 4th down at the Bills goal line, then recovered a 0-yard fumble, then allowed Buffalo to tie the game with less than a minute left before finally getting the GW field goal in OT. That was an exhausting game to watch, imagine what it felt like to play.
Minnesota's defense has allowed 70 points the last two games, but the good news is that New England's offense isn't anywhere near as good as Buffalo's or the Cowboys. The Patriots' defense is solid though and you know Belichick has something dialed up for Cousins considering the Vikings' QB's struggles in primetime.
Free Patriots at Vikings Betting Pick
You can't take Minnesota's loss last week as a sign of an imploding team, but at the same time they also had seven straight one-score wins so they're also not as dominant as the 8-2 record indicates. The X-factor here is Cousins' struggles under the lights, which leans to a play on New England.
Free Pick: Patriots +2.5
Free Pick: Under 42.5