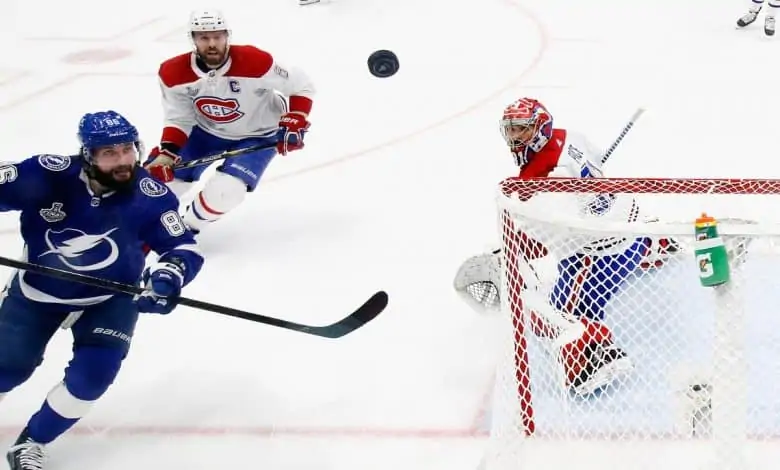 The Stanley Cup Final, as well as the NHL season, could come to an end Monday night. The Lightning are one win away from a sweep and a second straight Cup victory, while the Canadiens are desperate to extend the series by at least a game.
Here is a closer look at how the series has played out thus far, which key players to watch, and a free betting pick. Tampa Bay is favored at -156 to close the series out.
Series Recap
For Game 1 in Tampa, the Bolts used a big third period to help lift them to a 5-1 win and an early series lead. Right-wing Nikita Kucherov netted two goals in that third period and center Steven Stamkos had another, as the Lightning out-shot their foes 27 to 19 in the contest as well.
Game 2 was a huge improvement for Montreal, as the Habs rattled off 43 shots to Tampa Bay's 23. However, they could not beat Andrei Vasilevskiy, who made 42 saves in Tampa Bay's 3-1 victory. Among the Bolts' three goals was an incredible tally from right-wing Blake Coleman, who scored the eventual game-winner with less than two seconds remaining in the second period.
Then for Game 3, the series shifted more toward the Lightning despite physically moving to Montreal. Tampa scored twice in each period, beating the Canadiens 6-3 to put themselves one win away from a Cup victory. Center Tyler Johnson earned first star honors with a pair of goals, while Kucherov and defenseman Victor Hedman each had a goal and assist.
Players to Watch
It's pretty remarkable how the Lightning have netted 14 goals in three, and yet center Brayden Point hasn't scored any of them. Point has been the leading goal-scorer this postseason, netting a whopping 14 goals on his own, including a stretch of nine straight games with a goal. If he is able to find a way to score on Monday, things will go from bad to worse for Montreal.
Among the ten players who have scored in this series for the Bolts, the postseason's leader in points Kucherov has three. Coleman and Johnson also each have two. In net, Vasilevskiy has stopped 92 out of 97 shots, good for a .948 save percentage.
Contrary to the Lightning, the Canadiens have mustered up just five goals in three games. Out of the four players that have scored, the only one with multiple goals to his name is center Nick Suzuki. Suzuki now leads the team with both seven goals and 15 points this postseason, but he can't do it alone if the Habs have any hope in a comeback.
After an impressive showing against the Golden Knights, rookie right wing Cole Caufield has just five shots on goal for the series and one lone assist. Left-wing Tyler Toffoli also has been shut out this series despite having one fewer point than Suzuki this postseason. In net, Carey Price has fallen off precipitously, as the former Vezina winner has a dismal .835 save percentage after stopping 66 of 79 shots this series.
Key Stat
Only four teams in the history of the NHL have ever come back from a 3-0 series deficit to win the series, the last one being the Maple Leafs in 1942. However, there haven't been many sweeps in a Cup Final either, the last one coming when the Red Wings went back-to-back in 1998.
Betting Pick
Credit goes to the Canadiens for reaching this level, as well as for out-shooting the Lightning in this series. However, they just don't have the scoring depth needed to be able to realistically hang with the Bolts over a seven-game series.
Not only is Tampa Bay getting contributions from all of their lines, but Vasilevskiy has been as good as ever in the net. Playing on the road, I'm picking the Lightning to come back home with the Stanley Cup in their hands, completing the sweep and winning another championship.
Pick: Lightning -156