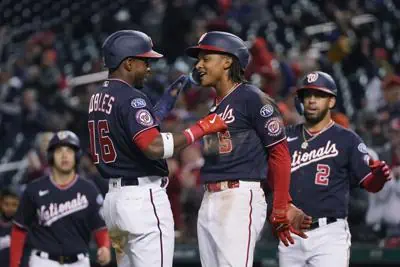 Chicago was playing decent baseball at home and are still a solid 7-7 in away games, but this recent road trip has been a nightmare. The North Siders were swept in Miami and have now dropped two of three in Washington heading into the May 4th Cubs at Nationals betting preview.
Washington aims for their first three game win streak of the season on Thursday, and the Cubs offense has obliged by scoring just one run in each of the last two. Oddsmakers still like Chicago for the 4-game series split as -210 favorites, but the Nationals at +180 is worth a look as well.
Why the Cubs Have Value Here
The first thing going for the Cubs is that the Nationals haven't yet won three games in a row all season. Washington has won two straight three times his year, but have always folded in the third game.
Of course Chicago is going to need some offense if they want to get the victory in the May 4th Cubs at Nationals betting matchup after managing just two total runs the last two nights. Facing Patrick Corbin should be good for Chicago getting out of their offense slump, as he has allowed at least three runs in all but one of his starts so far. Cubs 2B Nico Hoerner has 4 hits and a walk in his five career ABs vs. Corbin.
Thursday's starting pitcher for Chicago is Jameson Taillon (0-2, 4.50) who should be rested after not starting since April 15th as he went to the IL with a groin injury. The right-hander is still looking for his first win as a member of the Cubs, but he pitched well in his last start allowing just 2 hits and 0 ER in what ended up being a 2-1 Chicago loss.
Why the Nationals Have Value Here
It's getaway day for the Cubs as well as an early 1:05 PM ET start so the Nationals get the intangibles edge even if they are just 6-12 at home. Chicago is just 4-9 over their last 13 games, so they are a tough play here with that -210 price tag especially with Washington going a manageable 5-4 over their last 9.
The Nationals have scored just seven runs over the first three games of this series, but that's still been good enough for two wins. Washington should be able to get some runners on the base paths in the May 4th Cubs at Nationals betting matchup considering this is Taillon's first start in nearly three weeks so he'll likely be less than sharp.
The Cubs are looking at this as a get right opportunity against Corbin, but the Washington pitcher has to be thinking the same thing against an offense that has managed just two runs over the last two games. Corbin has completed 6.0 IP in two of his last three starts which is a positive.
Free May 4th Cubs at Nationals Betting Pick
The Nationals have to be the value play in this spot. The Cubs could very easily rally for the split, but it's getaway day and Chicago has dropped 9 of their last 13 – not to mention they are starting a pitcher fresh off the injured list which makes -210 just too pricy.
Free Pick: Nationals +180