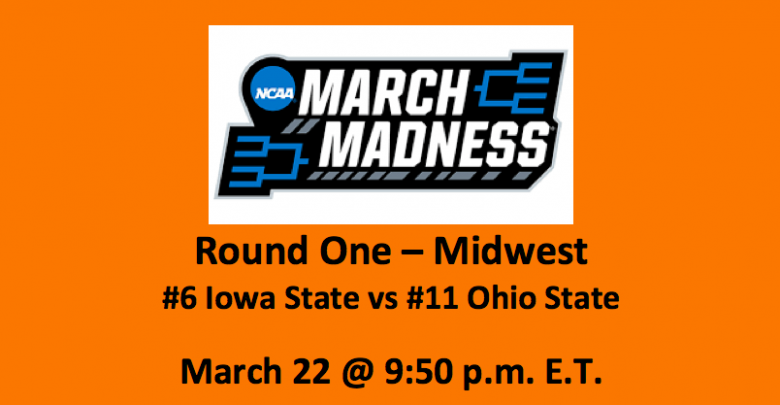 Our Iowa State vs Ohio State pick and preview for this Midwest Region game has the Cyclones at -5.0. This is the next to last game in the 2019 NCAA Tournament Round One matchups. It will be played on Friday, March 22 at 9:50 pm ET. The sixth-seed Iowa State Cyclones (23-11) finished fifth in the Big 12 Conference. Then they ran the table in the conference tournament and in the final game stunned Kansas 78-66. The 11th-seed Ohio State Buckeyes (19-14) were eighth in the Big Ten. The Buckeyes were beaten by Michigan State in the conference quarterfinals. The score was 77-70.
Iowa State
The Cyclones are a guard-heavy team featuring Marial Shayok (18.7 PPG, 4,9 RPG, 49.7 FG%), the team's top scorer. Guard Nick Babb tops the club in assists with 4.0 per game. This is a team that does a good job of setting up plays. The Cyclones are averaging 15.3 APG and causing over 11 turnovers per game. They're a solid ball-control team. Forward Michael Jacobson. A 57.7% field goal shooter, is averaging 11.4 PPG and 6.0 RPG. Iowa State's field goal rate is 47.7% and their three-point success rate is 36.5%. They are good on 73.1% of their free throws.
In our Iowa State vs Ohio State pich, we like the Cyclones a lot. They have a solid defense and an offense that's averaging 77.4 PPG. ISU is deep in guards, but is also adept at controlling the paint. They move the ball well and do a fine job of finding the good shot.
Ohio State
OSU is averaging 69.6 PPG and grabbing 34.8 RPG. The team is fairly average in assists, notching 14.2 per contest. Shooting percentage includes a 73.4% mark on foul shots and a 43.7% from the field. They're good on 35.4% of their threes. Forward Kaleb Wesson and guard C.J. Jackson power this team. Wesson leads in points with 14.4 per game and rebound with 6.8 per contest. Jackson is averaging 12.2 PPG and 3.5 APG. He's also good for 4.0 RPG.
Our Iowa State vs Ohio State pick notes that Ohio State has been inconsistent this season and players have underperformed. There's potential here, but they will have to cool what has become a very hot cyclone club.
NCAA Tournament Round One – Iowa State vs Ohio State Pick
We like Iowa State in this game. They've been playing hard, hitting their marks, and knocking in shots. The Cyclones are motivated. Our Iowa State vs Ohio State pick is ISU at -5.0.
Summary Midwest Region, Round One – Iowa State vs Ohio State Pick: Iowa State Cyclones at -5.0