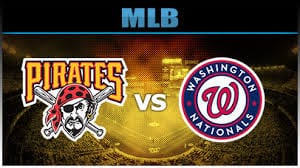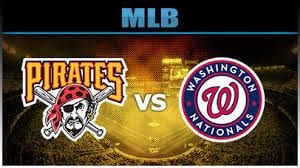 The Washington Nationals (24-13 Overall, 12-6 Away), who are leading the NL East, come to PNC Park to play the NL Central's last-place team, the Pittsburgh Pirates (16-22 Overall, 8-7 Home). The Pirates took two straight from the Arizona Diamondbacks over the weekend and then returned home for this series. They are four and six for their last 10. The Nationals, who have won six of their last 10 games, are coming off a four-game series against the Philadelphia Phillies where they went two-one-one, with that third number being a rainout. Our Nationals play Phillies MLB moneyline free pick offers the Nats at -158 and the Bucs at +156. The totals bet is 8.0 runs with the over being -118 and the under at +107.
Pitching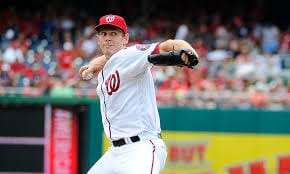 The Nationals will put right-hander Stephen Strasburg (3-1, 3.28 ERA) on the mound. In his last outing, which was on Wednesday, he gave up five runs in six innings, which was his season-high mark thus far. Washington won the game, beating Baltimore 7-6, in what was a rare bad start for the righty. Strasburg began the night with a 2.66 ERA, but his poor performance jacked his ERA up by 0.62. In six career starts versus the Pirates, he is 3-2 with a healthy 2.51 ERA and an impressive 60 strikeout mark..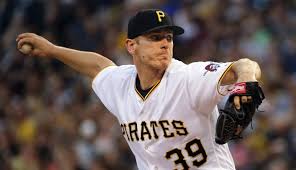 Righty Chad Kuhl (1-3, 5.81 ERA) gets the nod for the Pirates. He has had one start against the Nationals. That was on July 17, 2016, when he tossed six innings of scoreless, one-hit ball. Washington won that game in 18 innings. Like his counterpart on the mound tonight, Kuhl has had one sour inning in his previous start. The start was on Wednesday when he gave up three runs in the first inning with two out. That was against the Los Angeles Dodgers who gave Kuhl his third loss with the final being 5-2.
Hitting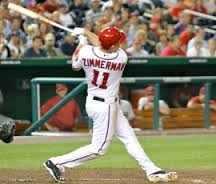 If pitching is even between these two teams, and it's not as the Nats have the edge in that area, the Pirates still have two things about which to be concerned. Those two things are Washington's hitting and their own lack of hitting. The Nationals feature the league's top batter Ryan Zimmerman. Zimmerman's stats include a .385 batting average, 13 homeruns, and 36 RBI. He has 50 hits, including 14 doubles. Bryce Harper is right behind him at .384 and with 12 round trippers and 34 RBI. He has 48 hits and 10 doubles. There's a lot of hit and run potential on this team as the Nationals have the highest batting average, .282, in MLB. They are second in the long-ball with 60 homers. The club RS/RA differential is at +53.
On the other hand, the Prates, at .224, are just .001 away from posting the worst team batting average in the league. They are also next-to-last in round trippers with 34. Their RS/RA differential sits at -38. However, there may be some hope as over the weekend a few Buc bats started to finally generate some heat. In their two wins, Adam Frazier (.317 BA, 1 HR, 5 RBI) went 4-for-10. Josh Harrison went two-for-four in Saturday's game. Still, the Pirates need guys like Andrew McCutchen (.212 BA) and Jordy Mercer (.203 BA) to wake up and contribute.
Nationals Play Phillies MLB Moneyline Free Pick
The Pirates are on a slow roll here, having won two straight. After a long 17-game stretch, they finally got a night off on Monday. That rest may help. Still, Washington is a major force these days. Our Nationals play Phillies MLB moneyline free pick is the Nats at -158. We like over 8 runs at -118. Game time is 7:05 p.m. E.T.
Nationals Play Phillies MLB Moneyline Free Pick: Nats at -158 and over 8 runs at -118