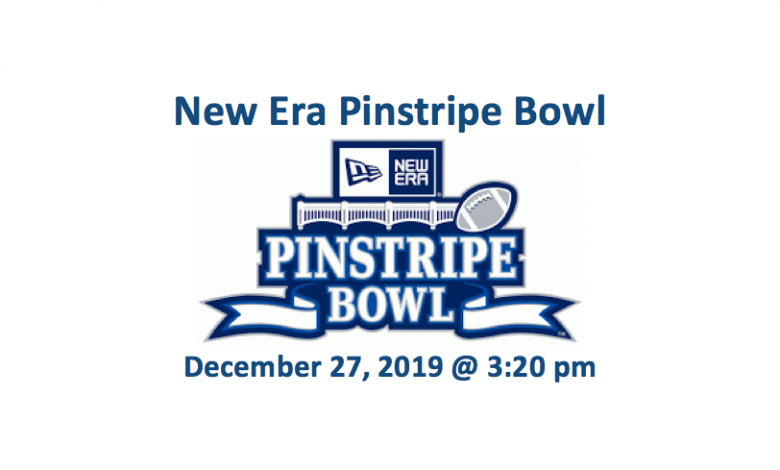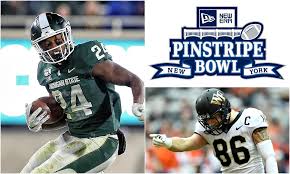 Our 2019 Pinstripe Bowl pick favors Michigan State by 3.5. This Pinstripe Bowl prediction carries an over/under of 49.5. The New Era Pinstripe Bowl is the second of five bowl games being played on a very busy Friday, December 27. This contest is slated to start at 3:20 pm ET at Yankee Stadium in New York, NY. The first game of the day is the Military Bowl Presented by Northrop Grumman where North Carolina meets Temple at noon. The final bowl played on December 27 is the Cheez-It Bowl featuring Air Force vs. Washington State. Kickoff for that game is 10:15 pm ET. See our bowl schedule page for links to all of our picks during this very busy college football bowl season.
In the Big Ten, the Michigan State Spartans (6-6) were 4-5 in conference play finishing fifth in the East. The #2 Ohio State Buckeyes took the division with a 9-0 record. The Buckeyes also won the Big Ten crown and are in the CFP Semifinals. The Wake Forest Demon Deacons (8-4) were 4-4 in ACC. They finished third in the Atlantic Division four games behind the division-winning #3 Clemson Tigers. The Tigers went on to win the ACC and will meet Ohio State in the CFP Semifinals at the Fiesta Bowl on December 28 at 8 pm ET.
2019 Pinstripe Bowl Pick – Regular Season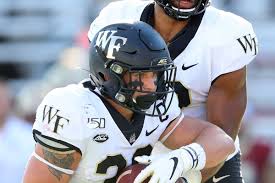 Michigan State started the season with four wins in their first five game. Their one loss was 7-10to Arizona State. Four of their next five games were against top 25 teams. MSU lost all five games. The string started with a 34-10 loss to #4 Ohio State and end with a 44-10 beating by #15 Michigan. When they met OSU, MSU was ranked 25th. By the time they played the Wolverines, they were long gone from the national rankings. The Spartans won their final two games of the season, beating Rutgers 27-0 and Maryland 19-16.
After winning seven of their first eight games, the Wake Forest Demon Deacons went 1-3 to end the season. Their first loss was to the Louisville Cardinals 62-59 on October 12. Our 2019 Pinstripe Bowl pick notes that big wins included North Carolina, Boston College, and Florida State. In their final four games, the Demon Deacons lost to Duke 39-27. Losses were to Virginia Tech 36-17, #3 Clemson 52-3, and Syracuse 39-30 OT.
Michigan State Spartans vs. Wake Forest Demon Deacons – Stats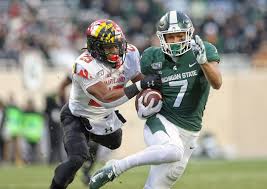 This year, the Spartans had a tough time scoring, averaging 22.0 PPG. In contrast, the Demon Deacons averaged 32.8 PPG. MSU totaled 361.5 offensive YPG, while Wake Forest had over 100 more yards, averaging 473.4 YPG. The MSU offense is averaging 123.0 YPG on the ground and 238.5 YPG in the air. Wake Forest is averaging 297.8 passing YPG and 175.7 rushing YPG.
On defense, MSU is holding teams to 22.7 PPG. On the other hand, the Demon Deacons are allowing opponents 29.3 PPG. The Spartans are allowing 319.2 defensive yards per game with 210.6 being passing and 108.6 rushing. Wake Forest is giving up a hefty 162.6 YPG on the ground and another 247.2 YPG in the air. That's 409.8 YPG total.
Michigan State at Wake Forest – Players
MSU has had quarterback issues with Lewerke's inconsistent performance. However, the rush attack has a fearsome freshman who's putting up solid numbers. The Spartan D will have to keep them in the game. Wake Forest puts a versatile quarterback on the field and deep receiving and rushing units. The defense has some fine players, but it is questionable.
Michigan State Spartans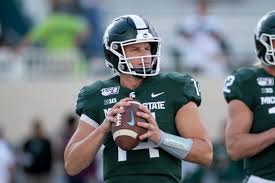 For the Spartans, QB Brian Lewerke has been inconsistent. He's tossed 16 TDs and 12 INTs while being sacked 17 times. Lewerke is completing 58.6% of his passes. Our 2019 Pinstripe Bowl pick finds that he'll be looking to pass to wideouts Cody White and Darrell Stewart Jr. White has 58 catches with five for TDs and Stewart 47 receptions and four scores. Freshman RB Elijah Collins has 201 rushes for 892 yards and five scores. He's averaged 4.4 YPA.
The solid MSU defense comes with 36 sacks, 11 INTs, and 13 FF. They've recovered 10 of those fumbles. The Spartans also have 45 PD. Two players, Jacub Panasiuk and Raequan Willams, have five sacks, and two others, Antjuan Simmons and Joe Bachie, have 3.5 sacks. DE Kenny Willekes has posted nine QB bring downs. Corner Josiah Scott has garnered three picks, seven PD, and one FF.
Wake Forest Demon Deacons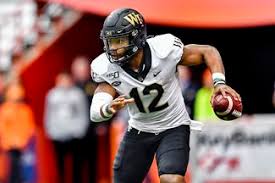 Wake Forest QB Jamie Newman has thrown 23 TD passes and rushed for six more scores. Newman has thrown for 2,693 yards and rushed for another 487. He has a completion rate of 62.3% and has thrown 10 picks and been sacked 18 times. He has four receivers that he likes to throw to with Kendall Hinton topping the unit with 70 catches and Sage Surratt right behind him with 66. Hinton has accumulated 953 yards and three TDs, while Surrat has 1,001 receiving yards and 11 scores. This season Cade Carney and Kenneth Walker III have each rushed for 550-plus yards. Walker is averaging 6.3 YPA and has made four TD runs. Carney, who's scored five times, is averaging 3.9 YPA.
The Wake Forest defense has posted 30 sacks, 13 INTs, and 42 PD. Of the dozen fumbles they've forced, the Demon Deacons have recovered 10. In the secondary, DB Amari Henderson offers stealth defensive skills. He's grabbed four picks and has 10 PD. DL Carlos Basham Jr. tops the team with 10 sacks and three FF. LB Ryan Smeda Jr. leads the club in total tackles with 72.
.
Five Keys to the Game
In creating our 2019 Pinstripe Bowl pick, we see the following as being the keys to this contest:
Spartan QB Lewerke has struggled; needs a solid game
WF offensive line must control oncoming MSU rush
Spartan defense may have to win this one
Wake Forest QB Newman is versatile and knows how to score
Demon Deacons defense is penetrable
Our 2019 Pinstripe Bowl Pick
Our 2019 Pinstripe Bowl pick, we expect Michigan State to score about 31 points. We think they'll keep Wake Forest to around 21. Those projections put us in the over category when it comes to totals. They also make the Spartans the winner at -3.5.
New Era Pinstripe Bowl Pick – Summary
Michigan State Spartans at -3.5 and over 49.5