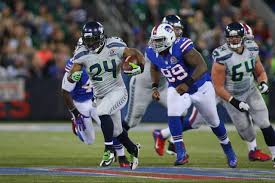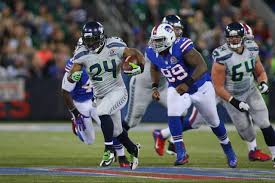 Our 2016 week nine Monday Night Football free pick has the Buffalo Bills (4-4) at the Seattle Seahawks (4-2-1). The Seahawks are seven-point favorites in a game that features two teams that a few weeks ago seemed to be on the right track. This week both are struggling. This should an interesting game, as Seattle and Buffalo are is dealing with some major injuries on defense.
The Bills had run off four straight wins a few weeks ago, including a 16-10 victory against the Patriots. But since then, they've lost their past two games, falling to Miami 28-25 and, last week, getting hammered by New England 41-25. Buffalo is now in third place in the AFC East and desperately needs a win.
Seattle had won three in a row, including a tight 26-24 victory against the Falcons, when they managed a bizarre 6-6 tie in Arizona against the Cardinals on Sunday Night Football two weeks ago. Last week the Saints beat them 25-20. Seattle is in first place in the NFC West with Arizona in second place at 2-4-1.
Buffalo Offense vs. Seahawks Defense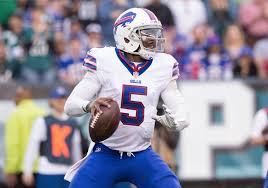 In his last two games, QB Tyrod Taylor (58.7 COMP%, 9 TD, 2 INT, 18 Sacks) has competed just 50% of his passes. He's been sacked a total of 18 times. Taylor needs to keep out of trouble and connect on more passes. He has a major problem in that RB LeSean McCoy (112 ATT, 598 YDs, 5.3 AVG, 6 TD) is injured and listed as questionable. If McCoy cannot play, then RB Mike Gillislee (34 ATT, 222 YDs, 6.5 AVG, 3 TDs) will need to come to the forefront. He certainly has the jets to do so. More bad news, WRs Robert Woods and Marquise Goodman are both questionable.
Seattle has a solid defense that includes DEs Cliff Avril (7.5 Sacks, 3 PD, 3 FF) and Frank Clark (5.5 Sacks, 1 TFL, 1 FF). CB Richard Sherman (2 INT, 6 PD) and DB DeShawn Shead (9 PD, 1 FF) are both big forces on D. Seattle, which has suffered some key losses on defense, comes to this game with 22 sacks, 35 PD, and seven FF. At the same time, they've struggled against the run, accumulating just 18 TFL. But they are tough in the red zone, leading the league at 38.89 overall and 33.33% over the past three games.
Seattle O vs. Bills D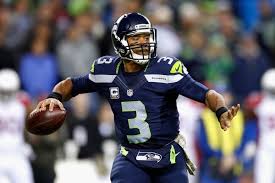 Seattle QB Russell Wilson (65.6 COMP%, 5 TDs, 2 INTs, 12 Sacks) has, overall, played mistake-free football. He's not extraordinary but he is good. Although his completion percentage is sound, he has not tossed a TD pass in the past three games, and he has not run the ball into the end zone all season. He'll try to connect with WR Doug Baldwin (38 REC, 481 YDs, 12.7 AVG, 2 TDs). Baldwin leads the team in receptions and receiving touchdowns. RB Christine Michael (107 ATT, 446 YDs, 4.2 AVG, 5 TDs) is essential to this team's success. He needs to have a solid night for the Seahawks to win.
Injuries are also rampant in the Buffalo defensive ranks. LB Lorenzo Alexander, who is the team's sack and forced fumble leader with nine and three respectively, is listed as questionable. LB Zack Brown, who is healthy, leads the team in tackles and TFL, with 87 and seven respectively. He has also forced two fumbles. Buffalo certainly has some impressive defensive stats that include 26 sacks, 39 PD, and 12 FF. But a large number of their important defensive players are ailing. The Bills have shown a very fine red zone D, as they are third at 42.31%. But in the last three games they have fallen off to 50.00%.
Monday Night Football Free Pick
Here's the tough thing about this game, both teams are hurting from injuries. This looks like a defensive contest. That being the case it seems as if Seattle has the advantage, as they have fewer guys out.
At the same time, we have to consider PF and PA. The Bills are averaging 26.5 PPG and allowing 21.5. Although Buffalo has an advantage when it comes to scoring points, Seattle is averaging offensively 18.7 PPG, they are no match for the Seahawks on points allowed, as the home team has allowed just 15.6 per game. The game starts at 8:30 pm.
Our Monday Night Football free pick takes Buffalo at +7.0.
Monday Night Football Free Pick: +7.0