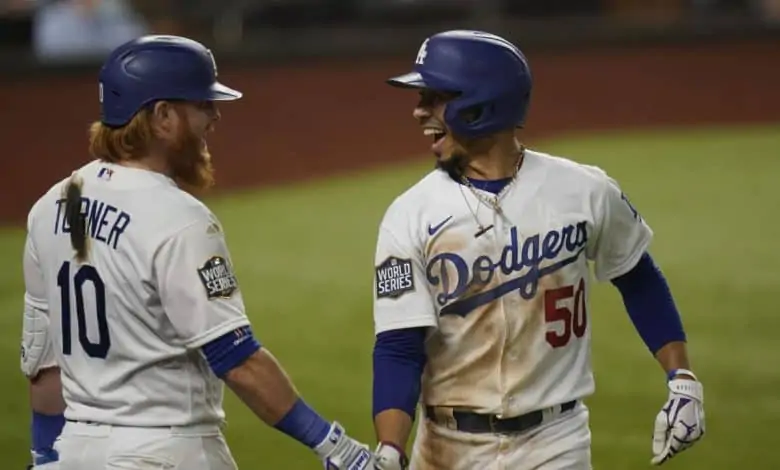 Tampa Bay comes into the 2020 World Series game 2 betting matchup facing a 1-0 deficit to the Dodgers. Los Angeles was able to ride some star power to an 8-3 win on Tuesday powered by HRs from Mookie Betts and Cody Bellinger, cashing in as -160 favorites, +150 on the run line, and soaring past the total of 7.5 runs.
The Dodgers are on a roll winning with a four game winning streak, so it's no surprise L.A. is a -132 favorite for World Series game 2 betting. Tampa Bay sends 2018 Cy Young winner Blake Snell to the mound on Wednesday, so the Rays would seem to have value at +110. The total is just 8, in what many think should be another high scoring game.
Rays Try to Even Things Up
Tampa Bay and Los Angeles felt each other out like two prized fighters on Tuesday, going scoreless until the Dodgers plated two runs in the bottom of the 4th inning. The Rays were huge underdogs in game one with Tyler Glasnow on the mound, the left-hander who gave up 6 ER in 4.1 IP.
The Rays were up against it in game one, facing Clayton Kershaw, who despite his postseason struggles is still one of the best pitchers in the last couple decades. Kershaw had allowed 7ER in 11.0 IP so far this postseason (5.73 ERA), but held the Rays to 2 hits and 1 ER over 6.0 IP in game one.
Tampa Bay has some legitimate concerns heading into World Series game 2 betting. The Rays beat Houston 4-2 in game 7 of the ALCS to get to the Fall Classic, but they also dropped three straight after taking the 3-0 series lead. The Rays would seem to be in a good spot Wednesday with Blake Snell on the hill, but the left-hander hasn't gotten out of the 5th in his last three postseason starts.
Dodgers to Keep Rolling
Los Angeles hammered out their fourth straight win on Tuesday, and they're getting boosts from their big name players. Cody Bellinger had a HR for the second straight game, Mookie Betts is 7 for his last 16, and Corey Seager drew three walks to power the Dodgers offense.
The Rays won't have to face Walker Buehler until game 3, as the Dodgers send Tony Gonsolin to start out game 2. The right-hander gave up 7 ER in 6.1 IP in the NLCS vs. the Braves, and allowed 4 ER in 6.0 IP to the Angels in his last start of the regular season vs. the Angels.
Rays vs Dodgers World Series Game 2 Betting Free Pick
If the Rays are going to get a win in this series, Wednesday night is their best option. Buehler and Dustin May are coming up in the rotation and Gonsolin has struggled a bit as of late for L.A.
The big problem for the Rays though is their offense, or lack thereof. Tampa Bay won't score more than 4 runs, and if Snell can lock things in the Dodgers will see a much less productive night as well.
Rays 4-Dodgers 3
Free Pick: Under 8