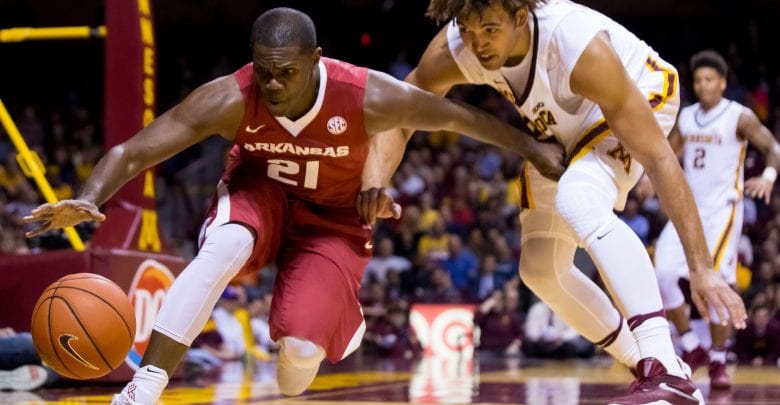 In the 12/9 college basketball total pick we see #15 Minnesota traveling to Fayetteville to take on the Arkansas Razorbacks. The Golden Gophers are still ranked despite a 10 point loss at Nebraska four nights ago as -8.5 favorites. It was the second loss in three games for Minnesota (8-2) which is why Arkansas (6-2) finds themselves favored by -5 on Saturday afternoon.
What we're more interested in for the 12/9 college basketball total pick however is the over/under, which oddsmakers have set at 164.5. That number seems a bit off – but in which way?
Is 'Over' the Safe Bet for Saturday Afternoon?
Looking at past results, both teams can score the rock when needed. Minnesota has dumped in 85+ points in seven of their last 10 games. The Razorbacks have tallied 85+ points in five of their last eight games. Not only can the squads score, they have also been apt to give up points. The Golden Gophers have allowed opponents to score 78+ points in three of the last four while Arkansas has allowed 83+ in three of the last five.
Minnesota sports the #23 ranked offense in the country in scoring (87.3) while Arkansas is #25 (87.2). Both teams hit better than 47% from the field, and greater than 37% from three point range. Jordan Murphy scores 19.9 points per game for the Golden Gophers while Arkansas' Jaylen Barford chips in 19.6. If those two players hit for their average, they teams are a 1/4 of the way to the 'over' for the 12/8 college basketball total play.
With Michigan coming back and obliterating UCLA in OT, here are my updated Big Ten basketball power rankings:

1) Michigan State
2) Minnesota
3) Purdue
4) Michigan
5) Maryland
6-14) an absolute mess

— Brian Fonseca (@briannnnf) December 9, 2017
164.5 Is an Incredibly High Number – Play the 'Under?'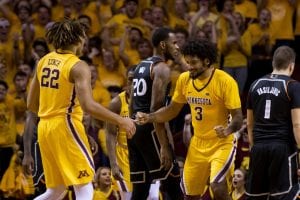 Last year when these two teams met up, it was by all accounts a shootout with Minnesota getting the 85-71 win at home. The Golden Gophers shot over 50% from the field and an astounding 60% from beyond the arc – and the game still fell below today's total of 164.5. Can Minnesota score a lot? Sure, but they've also been held to 68 points in a loss to Nebraska and 69 points in a win over UMass in two of their last five contests. The Golden Gophers 'D' can also buckle down at times, limiting four of the last seven opponents to under 67 points.
Arkansas can also score – at times. The Razorbacks have scored 68 or less in two of the past four. The Arkansas 'D' has also stepped up a bit lately, limiting two of their last three opponents to under 67 points. Arkansas allows 74.8 points per game and Minnesota 71.9 – neither great, but also not horrible.
So far this week in basketball… #1 Duke lost, #2 Kansas lost, #5 Florida lost TWICE, # 7 Texas A & M lost, #9 Notre Dame lost. Hogs are looking to add #14 Minnesota to that list with @MikeAndersonUA 100th home win at 5:45 tonight. Come join me at BWA or catch it on SEC Network.

— Jaison Scott (@Jaison009) December 9, 2017
The 12/9 College Basketball Total Pick
The 12/9 college basketball total pick is only Minnesota's third true road game of the season while Arkansas is an impressive 4-0 at home on the year. Arkansas has matched up with Oklahoma's #3 offense this year as well as UNC's #19 scoring unit. Both losses, but at the same time good games to benchmark on. The Razorbacks should be able to contain Minnesota, and keep the points low. After all 164.5 is a big number in college hoops.
Pick: Minnesota / Arkansas *Under 164.5