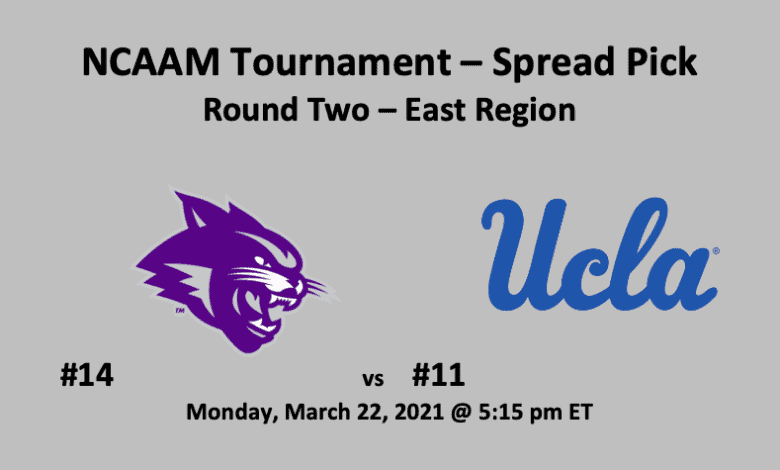 This Abilene Christian vs UCLA pick has the Wildcats as the underdog. This 2021 NCAAM Tournament East Region Round Two game has the Abilene Christian Wildcats at +4.5 (-101). The best line for the favored UCLA Bruins is -4.5 (-113). In Round One, Abilene Christian managed to upset the #3 Texas Longhorns 53-52. Over their last five games, the Cats are 5-0. The UCLA Bruins, who've won their last two games, beat the #6 BYU Cougars 73-62. The Wildcats and Bruins will meet on Monday, March 22 at 5:15 pm ET. The game will take place at Bankers Life Fieldhouse in Indianapolis, IN. Make sure you check out all of our March Madness picks, as we've got every game covered including Ohio vs Creighton.
Abilene Christian vs UCLA Pick – Stats
Abilene Christian is a fine team that, as they have proved, should not be discounted. In terms of shooting percentage, the Wildcats match the Bruins in field-goal and three-point success rate. However, UCLA is better from the free-throw line (72.1% to 67.3%). In addition, Abilene Christian outpaces UCLA in rebounds (36.3 to 35.0), assists 18.2 to 13.6), and points (77.6 to 72.8). Finally, the Wildcats are making 9.9 SPG. The Bruins are recording 5.1. That's a major advantage.
Key Players
Expect the Wildcats frontcourt to be a major factor in this game. Center Kolton Kohl is averaging 12.0 PPG and 4.8 RPG. Forward Joe Pleasant is contributing 10.8 PPG and 5.5 APG. In the backcourt, guard Coryon Mason is adding 10.7 PPG, while guard Reggie Miller is averaging 4.3 APG while scoring 6.2 PPG and pulling down 4.4 RPG. Four other players are combining for 27-plus points per game.
The UCLA backcourt is a high-powered group. Four guards are scoring in double-digits as are two forwards. Guard Johnny Juzang is the top scorer on the team with 15.0 PPG, while Jaime Jaquez Jr. is good for 12.3 PPG and 6.0 RPG. Tyger Campbell, with 5.5 APG, is a top-notch set up man. He's also scoring 10.2 PPG. In the paint, Cody Riley is scoring 10.0 PPG and 5.1 RPG and Jalen Hill is recording 6.1 PPG and 5.5 RPG.
Abilene Christian vs UCLA Pick – Final Thoughts
Our Abilene Christian vs UCLA pick notes that the UCLA Bruins have a deep and solid team. However, Abilene Christian brings a fine group of players to this game. The Wildcats are efficient and effective. We like the Wildcats against this UCLA team that has had its share of issues when it comes to winning. We're going with the Abilene Christian Wildcats at +4.5 (-101).
#14 Abilene Christian Wildcats vs #11UCLA Bruins
Abilene Christian Wildcats at +4.5 (-101)